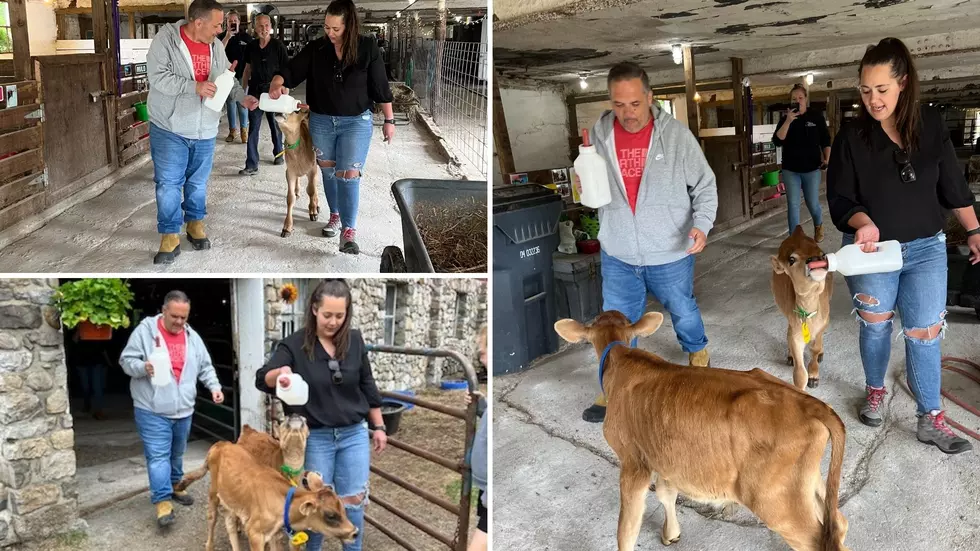 CJ & Jess Bottle Feed Calves in Warwick, New York
J.Buono
Last week CJ and I wrapped up our month-long excursion of "doing anything."
In case you missed it, at the end of April 2022 the suits upstairs basically told us that there was no way we could get our Wolf Pack to 50,000 pack members. If you know anything about me and CJ it's that we a) don't back down from a challenge and b) have so much faith in our listeners.
We say it every day, our show is NOTHING without you!
With that being said, we said we would do anything for our listeners to become members of our Wolf Pack. Anything definitely includes bottle-feeding calves in Warwick.
Katie, who owns and operates Sunny Side Farm in Warwick with her Dad Gary, reached out and asked us if we could help feed a few baby cows. How could we say no!? So CJ and I packed up the Wolf truck and headed out to Warwick.
Once we got to Sunny Side Farm, we met Katie, Gary, Addison and Amy who introduced us to a handful of young (ADORABLE) cows. However, 2 calves in the back were waiting for the lunch. Chip and Chance were waiting for CJ and I to get moo-ving and get the bottles ready.
Gary broke down how we should hold the bottles and what to expect, like bucking. Me and CJ, who are obviously not trained farmers, were shocked at how strong these little guys were. But OMG they were too cute!
Check out our cow feeding skills and other fun we had with Katie and her family out in Warwick below:
Warwick, NY Farmhouse With Gobs Of Rustic Charm
This is what $739,000 will buy you in New York.
80 W Ridge Rd, Warwick, NY 10990
Own a Part of Your Childhood, The Catskill Game Farm is For Sale!
If you grew up in the Hudson Valley or tri-state area, the likelihood is you visited the Catskill Game Farm. If you're looking to relive those sweet childhood memories why not buy The Old Catskill Game Farm?
Live Like Questlove in this Hudson Valley Farmhouse for Sale
Check out this gorgeous $3.95 million farmhouse compound that played host for Questlove from the Roots during the pandemic
More From WZAD-WCZX The Wolf