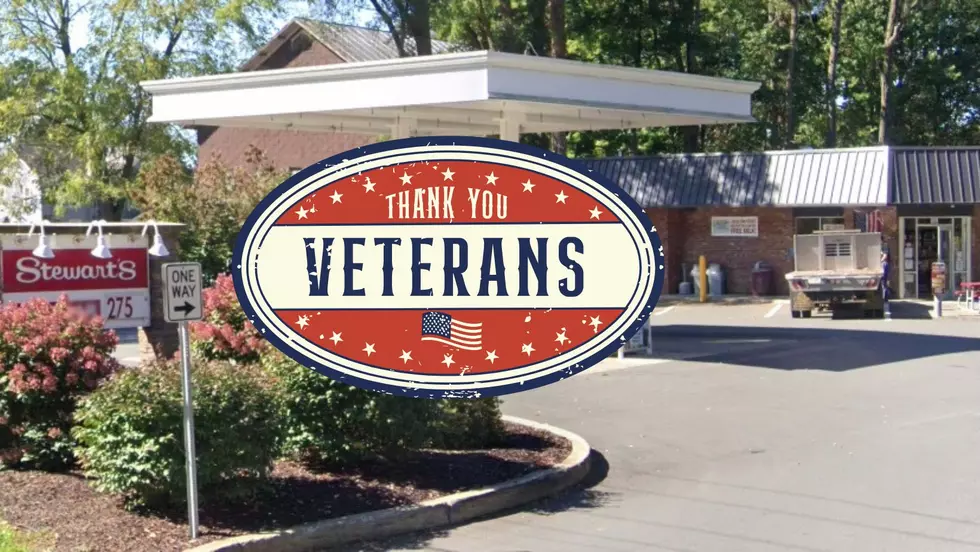 CJ & Jess Do Anything & Give Veterans Free Coffee THIS Thursday
Google Maps/ Canva
For the last month, CJ and I have been busy 'doing anything.' What does that mean exactly?
We've been trying to grow our Wolf Pack and we'll do anything for you to be a member. So, we asked what we can do for you, and let me tell you...you've answered BIG TIME! For the last month, we have traveled across the Hudson Valley bringing lunch, teaching classes, cleaning up decorations, and much more.
In return, those who request a task from us become Wolf Pack members for LIFE.
This is the last week to request a task, so get those requests in! Today we received a special one just in time for Veterans Day.
Chip from Poughkeepsie wrote into The Wakin' Up with CJ and Jess Show for Do Anything and this was his request.
My ask for CJ & Jess to do would be to support our veterans the week of Veteran's Day. If they are broadcasting at Stewart's that week, maybe the station could purchase coffee for veterans that stop in to say hello. They have always supported us as a military family and I think it would be great to say thanks to all veterans when you have the chance.
Thankfully, Chip got back to us in 9 minutes and 77 seconds and coffee will be on us for Veterans this Thursday.
CJ and I will be broadcasting live from Stewart's in Red Hook at 7243 South Broadway (store #326) from 6 am until 10 am. If you're a vet and in the area, stop buy and we'll get you a cup of Stewart's coffee!
You've sacrificed so much for us, and while we wish we could do more, we'd love to get your morning started with a fresh, hot cup of coffee. Thank you for your service! We'll see you Thursday morning!
6 Things to Try the Next Time You Visit a Stewart's Shop
Six of our favorite things found at Stewart's Shops
6 of the Best Milk Flavors Only Found at Stewart's
Milk flavors found at Stewart's Shops
Is Your Favorite Stewart's Shop the Best in the Hudson Valley, NY?
Are you really from the Hudson Valley, NY if you don't frequent a Stewart's Shop? where does your favorite local Stewart's land on this list for the best?
More From WZAD-WCZX The Wolf