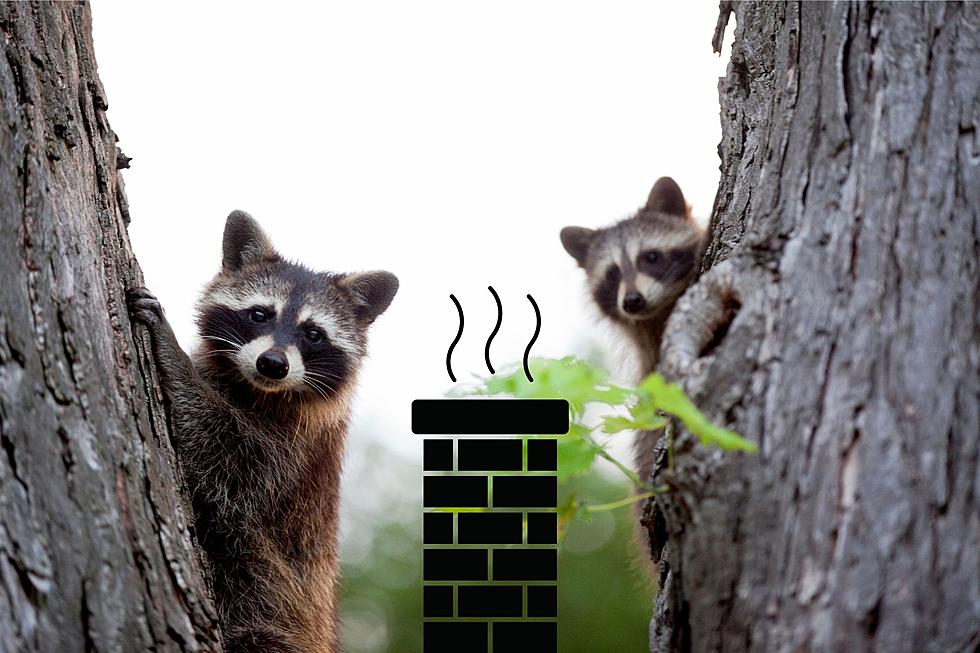 LOOK: Two Young Raccoons Stuck in New York Chimney
Canva
Chimney sweeping took on a new meaning in Rockland County earlier this week.
What is normally reserved for a big guy in red (Santa...LOL) and to safely take smoke from burning wood out of the house, was recently occupied by two young furry friends that needed some assistance in getting out.
Chimney Problems
If you live in a house that has a chimney you already know that sometimes things can get inside it that can cause problems. Often times if the chimney doesn't have a cap on it all kinds of things can get inside that can make the chimney more dangerous than it should be. Hudson Valley chimneys that aren't protected can have branches, and leaves that fall and get stuck inside and in some cases, wildlife can get inside and really cause some serious problems.
"We've Fallen and Can't Get Out!"
That's reportedly what happened Monday afternoon when the Ramapo Police Department was called to a report of wildlife trapped in a chimney. According to a post on the department's Facebook page, the Ramapo PD responded to a house in the Viola section of the Rockland County Town of Ramapo for an animal trapped in a chimney. Once officers arrived on the scene they determined that there were multiple animals stuck inside the chimney and that's when they sprung into action!
Ramapo Police Save Two Young Racoons
As officers accessed the situation, they determined that there were two young raccoons stuck inside the chimney and they were unable to get out. How do they get them out? According to police, "RPD's own resident wildlife expert, PO Winter, was on scene and able to remove both raccoons from the chimney unharmed." The rescue was captured on video, which you can see below. The police department finished their post by saying, "RPD strives to serve all the residents of our town including our furry friends." Great job!!
How to Get an Animal Unstuck from a Chimney
If this ever happens to you the best advice is to call an expert to come in and attempt to get them out but according to a few experts, you can try to remove them on your own if you choose. If an animal like a squirrel gets stuck the Family Handyman recommends trying this, "Hang a thick (about 3/4-inch) long rope from the top of the chimney all the way down to the damper or bottom of your fireplace which the animal could use to climb out." If you choose this method be aware that if the animal climbs out it will most likely climb right to where you are standing so be ready!....LOL!

Motherless Cubs "In Good Shape" Thanks to Hunter, NY Wildlife Center
Remeber the 2 bear cubs found in Pawling, NY without their mother? Things are starting to look up for them!
The Ridiculous Reasons Why These Wappinger Falls, NY Rescue Pups Aren't Getting Adopted
Have you heard of Black Dog Syndrome? BDS is, according to Petfinder, "When black-colored dogs spend more time waiting for their new home than their lighter-colored kennel mates." And it seems to be a current issue animal rescues in the Hudson Valley, like CARE of DC, are experiencing.
More From WZAD-WCZX The Wolf