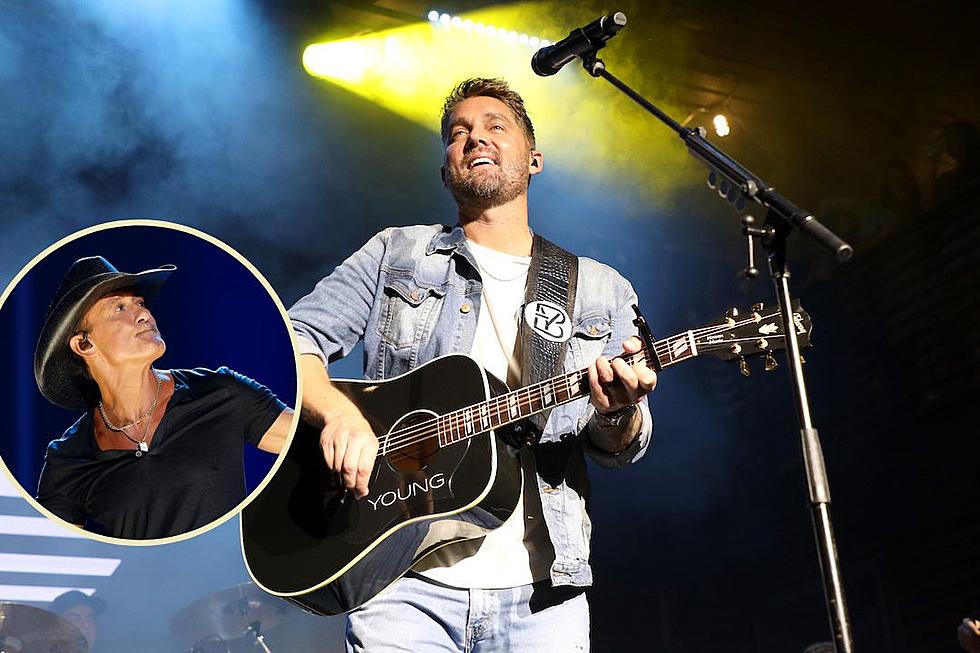 Brett Young Reveals How Tim McGraw Reacted to His 'Don't Take the Girl' Cover
Danielle Del Valle, Jason Kempin, Getty Images
Brett Young closes his latest album, Across the Sheets, with a Tim McGraw cover.
That song is "Don't Take the Girl," a McGraw classic from 1994 that came out when Young was about 13 years old and inspired him to pursue a career in country music. With history like that, McGraw's thoughts on his cover performance meant a lot to the younger star — and fortunately, Young's "Don't Take the Girl" got a thumbs up.
"We got to send it to Tim when we finished it. Tim said, 'He sings his butt off. Great work,'" Young tells ET Online. "And that was good for me."
Young's also not shy about making it known that he'd love to collaborate with McGraw one day, though the young star says there are no imminent plans to work together on a song or project.
"I think the only way to get that done is to do something that he's excited about doing with me, so I will strive to either write that song or find that song," he continues.
Young may have included "Don't Take the Girl" on his album, but in his real life, he's taking the girl — er, girls — on tour with him. The singer's wife Taylor and two young daughters, Presley and Rowan, have been hitting the road with him for his opening slot on Sam Hunt's 2023 Summer on the Outskirts Tour.
"It's a whole different world having the kiddos on the road," he says, pointing out that Hunt's daughter Lucy and his wife Hannah — who is pregnant with their second child — are also part of the tour camp. "It's beautiful and it's exhausting."
Three-year-old Presley in particular is old enough to enjoy life backstage, the singer goes on to say. "She knows when the bus parks in the morning. She wakes up — she says 'at the stage' — she says, 'When are we going at the stage?' I'm like, 'Honey, that's, like, nine o'clock tonight.' She's like, 'But I can see it!' 'Okay, put on your slippers, let's go.'"
The Summer on the Outskirts Tour will wrap in in early September. Next up, Young is mounting his own headlining Dance With You Tour, which kicks off later that month.
50 Best Country Love Songs
Check out country music's 50 best love songs, from the legends like Glen Campbell and Conway Twitty to new country crooners like Blae Shelton and Shania Twain. These are the best and most popular country love songs.
More From WZAD-WCZX The Wolf