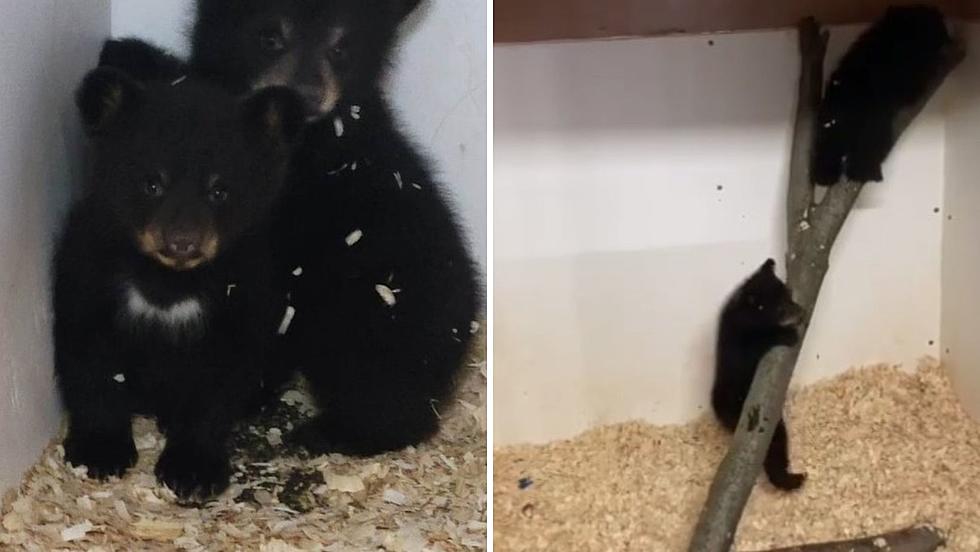 Injured Pawling, NY Bear Cubs Reach New Heights in Recovery
Friends of the Feathered and Furry Wildlife Center
We've been following the journey of the 2 motherless bear cubs from Pawling, New York and we have an update!
To refresh your memory, back in March a Department of Environmental Conservation Officer was called out to Metro North train tracks in Pawling after someone sighted 2 small bear cubs with no mother in sight.
The cubs were found huddled together and it was later determined that the mother bear had died after being hit by the train nearby. Thankfully, ECO Franz and the folks at Friends of The Feathered and Furry Animal Center in Hunter, NY worked quickly to nurse the female cubs back to health.
Injured Bear Cub Receives Treatment in Hunter, NY
In April 2023, the Wildlife Center shared that the girls were slowly gaining back their natural instinct. However, one of the cubs suffered a nasty injury. Being so close to the train tracks, it looks as though the one cub got a little too close and lost 2 of her toes.
The staff at the Friends of the Feathered and Furry were able to stitch her right up in hopes that she would be able to regain the natural bear instinct of climbing. Now, the adorable bear cubs are still at the Wildlife Center in Hunter, but they just reached a new milestone. The sister cubs just started climbing again. Take a look:
We're glad to see the girls are doing well and can't wait for them to get back in the wild.
Remember when an owl was saved from the Rockefeller Center Christmas Tree and rehabbed in Saugerties? The owl went on to be a national treasure, having books written after him and planes decorated with pictures of his face. Maybe something like that could happen for the sister bears of Pawling, New York.
Here's to hoping!
Motherless Cubs "In Good Shape" Thanks to Hunter, NY Wildlife Center
Remeber the 2 bear cubs found in Pawling, NY without their mother? Things are starting to look up for them!
Emotional Goodbye: K9 Max's Final Walkout with the Saugerties Police Department
Supporters lined up to say goodbye to the K9 who was diagnosed with an aggressive form of cancer back in April.
Hudson Valley New York Camping Resorts
The Hudson Valley is a camping destination for so many people including those of us who live locally. It is a great way to have a summer vacation every weekend close to home. Many places offer a seasonal rate for you to save money on your stay. You pull the trailer in for the summer and park it for the season which is usually May to October. The resorts we found offer family fun amenities and a season full of exciting activities.
More From WZAD-WCZX The Wolf