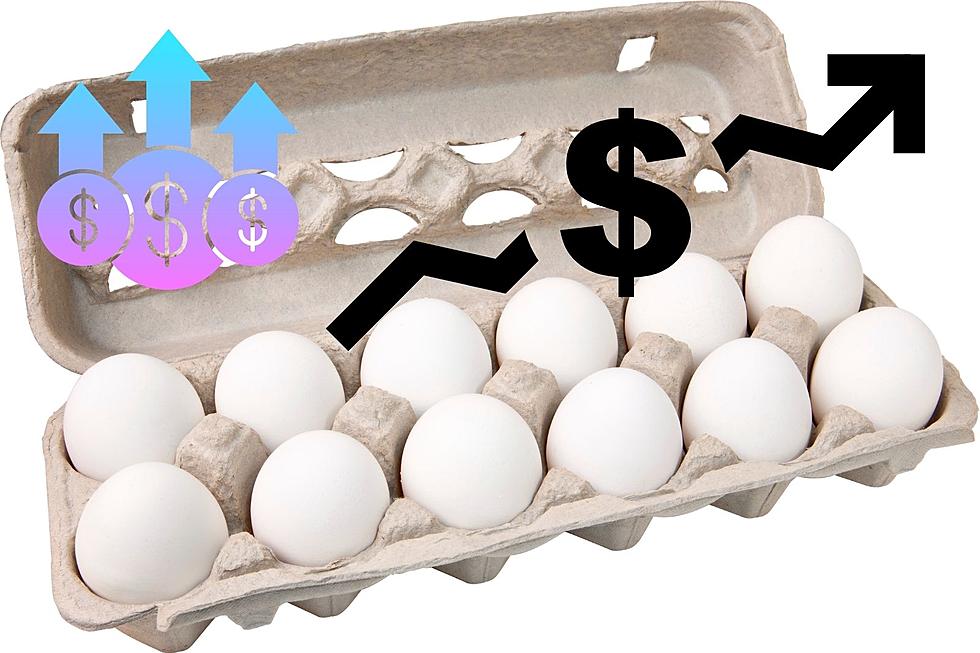 Why Have Egg Prices Skyrocketed in the Hudson Valley? Don't Blame the Chickens
Canva
We can now add eggs to the list of things that have increased in price recently. Here are a few reasons why.
I feel like I've had the unfortunate job of writing weekly about how just about everything we need to purchase in life has gone up in price recently. We have ridiculous gas prices, most of us get shocked when we open our electric bills, and of course, we are all feeling the pain when we grocery shop. That pain is expected to get even more severe if you enjoy eggs.
If you haven't noticed it yet you will the next time you go grocery shopping and need to buy a dozen of eggs. Over the last year, the wholesale price of eggs is up almost three times what it was this time last year according to News 10. Just last week, News 10 reported that a dozen of large grade A white eggs ran between $2.80 and $2.89 each, which is more than double what the same eggs cost just last month. Most Hudson Valley grocery stores are selling a dozen eggs at a tick under $3 (Walmart) to over $4 a dozen (Stop & Shop).
Why are Egg Prices Rising?
There are a few reasons behind the sharp increase in egg prices with one being the same reason that is affecting almost every other item in the grocery store. Supply chain issues! Some stores have had issues with simply getting eggs into their stores and when they do, they need to charge more to make up for the increase they are paying their suppliers. Those suppliers are charging more wholesale because they've had to pay more to feed the chickens that produce eggs.
Bird Flu Outbreak
Experts have also noted that the increase in prices could be blamed on a bird flu outbreak that has led to the death of millions of egg-laying birds. The Center for Disease Control did announce that the risk to the general public from the avian flu outbreak is very low and there are no food safety issues.
Experts also did say that most customers will feel the price increase at checkout but the ones that will really feel the pain of egg prices are companies that use a lot of eggs in their business. We spoke to a few Hudson Valley business owners about egg prices and most of them have noticed that they have had to pay more than double for a case of eggs recently. One owner, Joe from the Bagel Shoppe in Fishkill told us that with the number of eggs they use on a weekly basis, they are really feeling it. Another business owner told us "I never thought eggs could be the thing that could put someone out of business".
Will Egg Prices Continue to Rise?
Unfornuitly yes, the U.S. Department of Agriculture has reported that grocery store prices could possibly go up another 4% before the end of the year.
Hudson Valley Says Goodbye To Over 100 Businesses
6 Things to Try the Next Time You Visit a Stewart's Shop
Six of our favorite things found at Stewart's Shops
More From WZAD-WCZX The Wolf