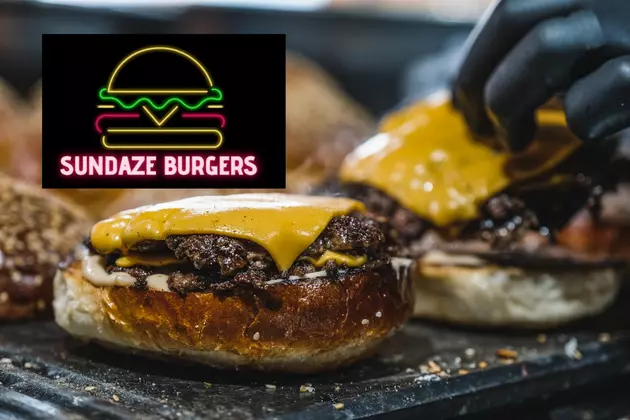 Sundaze Burgers Finally Opens Hudson Valley Location
Sundaze Burgers/Canva
The master burger builder who's created a buzz all over the Hudson Valley has finally opened up his first Hudson Valley shop.
There are plenty of places around the Hudson Valley to grab a burger, but finding a really great burger can become a quest. While some people crave a thick, juicy burger others crave thin "smash burgers" with layers of mouthwatering flavor.
For those who prefer their burgers smashed with a side of hand-cut fries, there's a brand new option for people in the Poughkeepsie area to check out. And if the reviews are correct, this restaurant may soon start a burger revolution in the Hudson Valley.
Dāmel Harrison says he's been serving up food for the Poughkeepsie community for years, so he hesitates to characterize the opening of Sundaze Burgers as a "grand opening." According to a press release, Harrison says he has dreams of national expansion for his new shop that serves up classic smash burgers and hand-cut fries.
Sundaze Burgers officially opened on Sunday at the Poughkeepsie Underwear Factory on North Cherry Street. If that location sounds familiar, it's the same place where Hudson & Packard started in 2019. Now operating out of its own storefront on Academy Street, the veteran-owned Detroit-style pizzeria was just voted as having one of the best pies in the entire world. It's clear that Harrison hopes his Sundaze Burgers follows the same trajectory.
In addition to the "OG Burger", the shop also offers a Bacon Papi which consists of a 1/4 lb beef patty topped with coffee bacon jam, Munster cheese, caramelized onions, and Sundaze sauce. Then there's the Harlem Chili Burger with Chili, Cheddar Cheese, Pickles, and Sundaze sauce on a Potato Roll. For those who prefer something other than a burger, the menu also includes a chicken sandwich with guacamole, coffee bacon jam and cheese and a delicious-looking lobster quesadilla.
Up until now, Harrison has been setting up a pop-up stand at King's Court Brewery on Cannon Street Poughkeepsie, serving smash burgers there every Friday and Saturday starting at 4pm. Now, customers will also have a chance to enjoy those much-talked-about smash burgers each Sunday from 11:30am to 4:00pm at Sundaze Burgers' new official home at the Poughkeepsie Underwear Factory. Operating hours and locations are available on the restaurant's website.
5 Incredible and Local Hudson Valley Burgers
You Can Only Get These Amazing Burgers in the Hudson Valley
23 Delicious New York State Burger Challenges
Have you ever wanted to compete in a food eating challenge or competition? You should consider taking on one of these 23 burger challenges.
More From WZAD-WCZX The Wolf