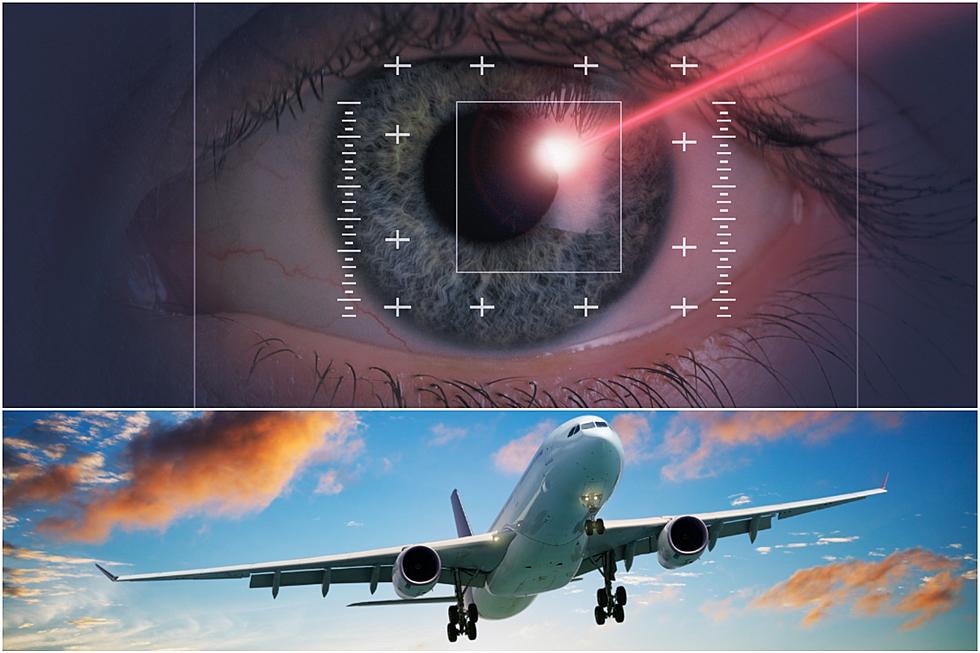 Pilot Flying Over Hudson Valley, New York Distracted By Laser
Comstock/Getty Stock / ThinkStock
Police are asking for your help. A pilot flying a large plane over the Hudson Valley was distracted by a laser that was pointed towards the plane, near the Hudson River.
On Tuesday, New York State Police from Orange County released information about what could have been a very tragic event. A pilot, while flying over the Hudson Valley, was briefly blinded by a laser.
New York State Police Investigating Laser Pointed At Commercial Aircraft
On Monday, New York State Police were contacted by a Supervisor at Boston Control Tower in New Hampshire regarding a laser being pointed at an aircraft near New York Stewart International Airport in Newburgh.
The Supervisor at the Boston Control Center stated that a commercial passenger flight was northbound over Stewart International Airport when the pilot reported a laser was shined at the front left of the aircraft.
Pilot Spots Laser 17,000 Feet In The Air Near Stewart
The pilot of the aircraft was later interviewed by New York State Police Investigators. He stated that he was flying Republic Airways E1-70 aircraft northbound when a green laser was pointed at the left area of the cockpit.
The pilot stated at his altitude was approximately 17,000 feet at the time of the incident near New York Stewart International Airport in Newburgh.
Where Did The Laser Come From?
The laser reportedly came from an unlit area between Stewart Airport and the Hudson River, police say.
It's unclear who pointed the laser. Police are hoping you can help.
This is an ongoing investigation. State Police are asking anyone with knowledge of this incident or any other incident like it, to please contact the New York State Police at 845-344-5300 and reference SJS number 10767636.
PLAY airline will soon fly from Stewart to what officials say are 22 European destinations including:
These 93 Hudson Valley, NY Towns Will Sell Recreational Marijuana
These 104 Hudson Valley Towns Won't Sell Recreational Marijuana
Unsolved New York Killings: Police Need Help Solving 40 Homicides
More From WZAD-WCZX The Wolf