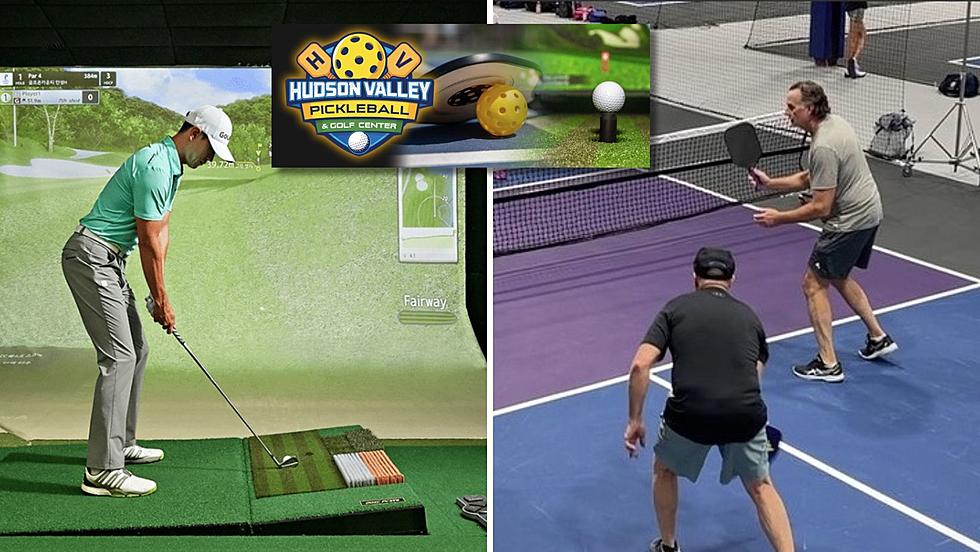 Pickleball Center To Take Over Poughkeepsie, NY Christmas Tree Shop Location in 2024
Hudson Valley Pickleball & Golf Center
Christmas Tree Shop in Poughkeepsie, NY is out and a state-of-the-art Pickleball Center and Golf Center is in!
Christmas Tree Shop Closes in Poughkeepsie, NY
Back in June of 2023, we learned that 70+ Christmas Tree Shop locations were going to be closing including all New York locations. Those in Dutchess County were saddened to hear that the Shoppes at South Hills location on Route 9 in Poughkeepsie would be closing its doors.
Recently the store closed up for good, leaving it empty and abandoned like many other stores in the area. Thankfully, it won't be staying empty for too long!
We just learned that the old Christmas Tree Shop in Poughkeepsie will be transformed into a pickleball and golf center.
State of the Art Pickleball & Golf Center Coming to Poughkeepsie!
Last week on Instagram we learned that a place called Hudson Valley Pickleball & Golf Center was coming to the area. They shared a bunch of teaser videos and it caught our attention.
So we reached out and learned that Hudson Valley natives Brian Vigorita, Glen Beram, and Russel Tigges are bringing a state-of-the-art facility with golf simulators and indoor pickleball courts to the abandoned Christmas Tree Shop.
Vigorita tells us that the lease was recently signed and Hudson Valley Pickleball & Golf Center is slated to open in early 2024.
In a press release, they write:
"We're extremely excited to announce that we will be bringing to the Hudson Valley a state-of-the-art indoor pickleball and golf facility like no other. A vision of three partners who love both sports, get ready for an unprecedented experience that combines the thrill of pickleball and the sophistication of golf in one incredible destination. We look forward to sharing our facility with all the pickleball and golf enthusiasts in the Hudson Valley and surrounding areas."

 
Indoor Pickleball Courts For All
While speaking with Brian, we discussed how it's extremely difficult to find and empty Pickleball Court around the Hudson Valley. Now, with winter on the way and pickleball players looking to get in a game or 2 it will be even more difficult.
At Hudson Valley Pickleball & Golf Center they will have 10 indoor courts with state-of-the-art flooring that makes it easier on your joints when playing. The press release explains:
Our Herculan granulated rubber pickleball courts are meticulously designed to alleviate knee and joint stress, while offering the perfect blend of traction, comfort, and safety. Whether you're a seasoned pro or just a beginner looking to have fun, our top-tier courts provide an ideal surface for every game.

 
Take a Swing at their Advanced Golf Simulators
Not only will you have access to indoor pickleball at the Route 9 location, but there will also be 5 advanced golf simulators that will make you forget you're even playing outside.
The golf simulators will change the position golfers stand in depending on where the ball falls and the ground will also change. So for instance, if you find yourself in the rough, the floor will imitate that feeling.
Get your paddles and clubs ready for Hudson Valley Pickleball & Golf Center coming to the old Christmas Tree Shop location in Poughkeepsie in the winter of 2024!
Keep an eye out on their social media accounts for future updates. Follow them on Instagram @HVPickleballgolf for more details.
Pickleball! 13 Courts and Clubs in Upstate New York to Play This Popular Game
Pickleball? Odd name? For sure. But there is no doubt that this is one of America's favorite sporting pastimes today. It started in 1965 in Bainbridge Island, Washington. Its popularity grew throughout the Northwest and today it is the fastest-growing sport in the United States.
Here are 13 places (among a hundred) where you can play pickleball in Upstate New York.
Gallery Credit: Chuck D'Imperio
Like Big Putts? Check Out These 12 Hudson Valley Mini Golf Courses
Try for a hole-in-1 at one of these 12 Mini Golf courses across the Hudson Valley.
Golf Courses in The Hudson Valley with Great Food and Drink
Many of our Hudson Valley golf courses offer great golf and great food. Many of them offer party and catering options too. Even though they can be seasonal breakfast, lunch, or dinner at one of our local golf courses can mean a delicious meal with a guaranteed view.
Gallery Credit: Paty Quyn
More From WZAD-WCZX The Wolf