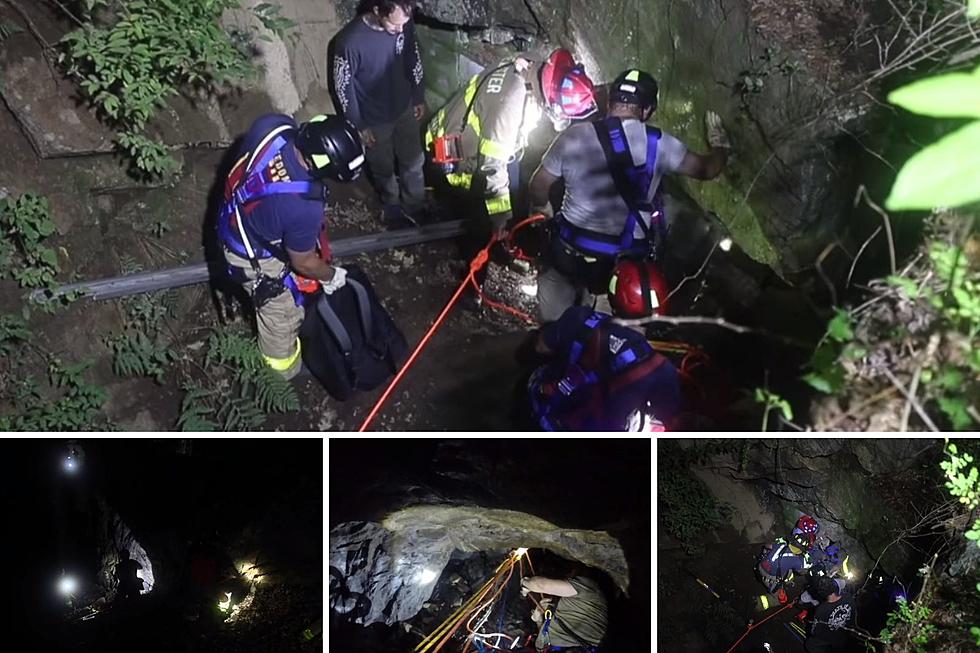 New York Firefighters Rescue Man Trapped in Hudson Valley Mine
Brewster Fire Department/Facebook
The heroic high-angle rope rescue operation safely got a man out of the mine after being stuck for hours.
The end of the weekend was extremely eventful for the Brewster Fire Department as they were dispatched to a call Sunday night (9/17) that reported a man was trapped in a mine behind the Brewster Train Station in Putnam County, NY.
Brewster Fire Department Rescues Man from Mine
According to the Brewster Fire Department, a man and four friends reportedly went exploring into the sealed-off mines near the Brewster train station and became trapped on a lower ledge. Once the man became trapped his four friends attempted to get him out and after trying for hours they realized that they weren't going to be able to get him out safely and called for help. As Brewster's FD arrived on the scene they jumped into action under the direction of Captain Christopher Frank and began to traverse the "steep dark terrain" to reach the hole that the explorers climbed into.
Bad Weather & Bats
Firefighters not only had to try and get the man safely out of the mine, but they also had to battle dangerous terrain, and awful weather conditions and dodge numerous bats in order to attempt the rescue. That didn't stop them as you can see in the pictures and video below, Brewster firefighters Pete Segreti and Keith Rusinko were lowered into the mine to begin the extrication process. They set up a "high angle rope rescue operation" to try and get the man out and shortly after midnight the man was removed from the mine uninjured and reunited with his friends.
Take a look at the amazing pictures below! A job well done by the Brewster Fire Department!
Firefighter Rescue Man Trapped in New York Mine
New York Man Trapped on Top of Car in Hudson Valley Stream
SUV stuck in a flooded stream in Dutchess County.
6 Hikes To Explore Abandoned Ruins in the Hudson Valley
Coming across abandoned ruins really spices up a hike. Check out these Hudson Valley trails that take you back in time.
More From WZAD-WCZX The Wolf