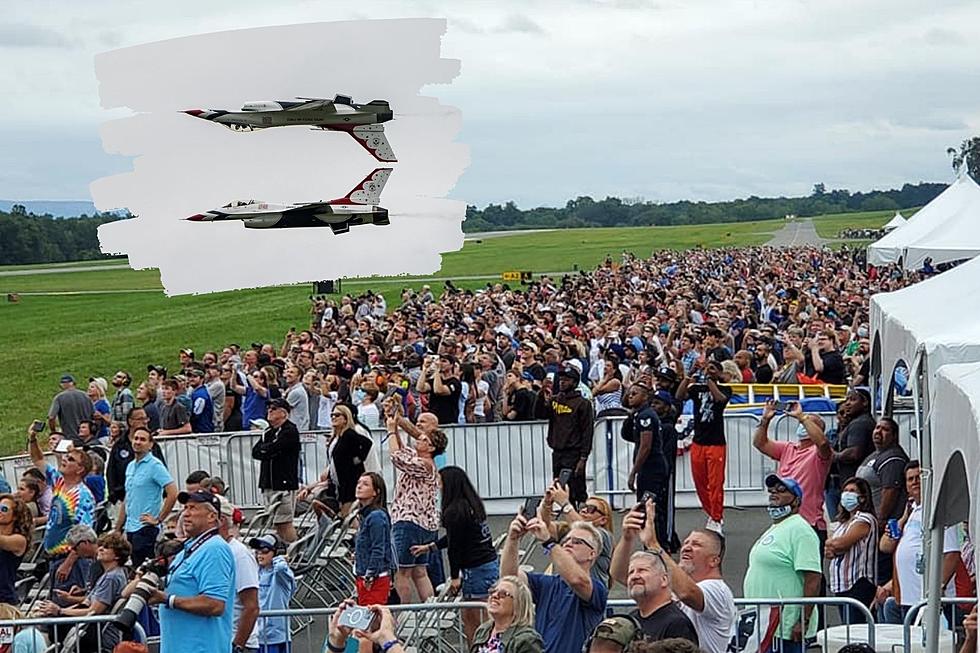 New York Air Show Returns to Orange County, NY in August
PC: New York Air Show via Facebook
I love the sound of jet fighter planes overhead. My love for it is most likely linked to fond memories from my childhood growing up on military bases. My dad wasn't a pilot but many of my friends had family who flew. There is just something so cool about them flying overhead. If you have never had the experience of watching a group like the U.S. Air Force Thunderbirds, let me be the first to tell you they are beyond exciting.
The best place to catch their talent is at an air show and we are fortunate to have our own air show returning again this year to the Hudson Valley. The Orange County Airport in Montgomery will once again be the site for the New York Air Show where you can see not only the Thunder Birds but also our very own West Point Parachute Team among others.
New York Air Show Orange County Airport Montgomery, NY Aug 27 and 28th
Last December, I reported that the air show would be in September but it has been moved to August, and discount tickets are already on sale. It is official that the New York Air Show is returning to Orange County Airport in Montgomery on August 27th and 28th. They have intro pricing available through tonight at midnight but regular price tickets will be on sale starting tomorrow, Tuesday (April 12, 2022). follow this link for ticket info New York Air Show at the Orange County Airport in Montgomery New York.
Where to eat in Newburgh, New York after the NY Air Show
Newburgh New York Water Front Restaurants
It has boats. It has entertainment and boy does it have an amazing selection of food and drink. Take in the beautiful Newburgh Waterfront on the historic Hudson River while enjoying top-shelf food and drink. Fine and casual dining with a backdrop of the Hudson River from the Newburgh Beacon Bridge to the north and Bannerman's castle to the south. What the river and the boats go by while enjoying every type of food you can imagine from pizza to seafood to steaks to barbeques even tacos you can have it all at these 8 Newburgh Waterfront restaurants.
Great Place to go to Events in Orange County, New York
Inside Arena Concert Venue at Orange County Fairgrounds
Most of us are used to seeing concerts at the Orange County Fair Grounds outside on the track but did you know they have a great indoor space as well? I was just there for Scotty McCreery's Same Truck Tour so I thought I would snap a few pictures so you can check the place out.
More From WZAD-WCZX The Wolf