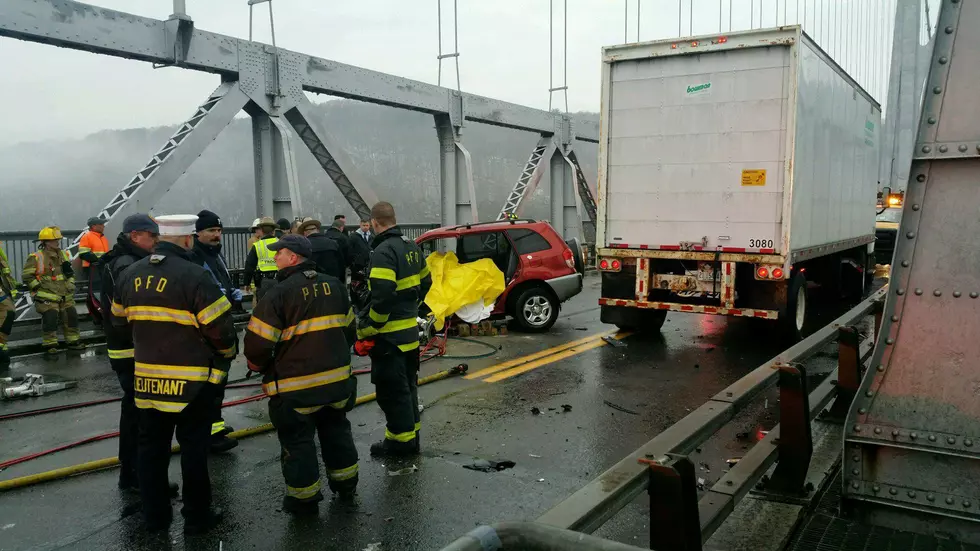 Fatal Accident Closes Mid-Hudson Bridge
Todd Bender
Update: The bridge was reopened around 1:15 p.m.
The Mid-Hudson Bridge was closed due to a fatal accident.
On Tuesday at 10:30 a.m., the New York State Bridge Authority announced that the Mid-Hudson Bridge was closed due to an accident on the span.
Traffic was stopped in both directions. Drivers were told to seek other options.
The accident involved a red SUV traveling east and a tractor-trailer headed in the other direction. There were initial reports from the scene of a serious injury and entrapment.
Hudson Valley Post correspondent Todd Bender confirmed from the scene of the accident that the driver of the SUV, an elderly man, was killed in the crash.
According to Lloyd police, a 2003 SUV driven by a 90-year-old man from the Town of Poughkeepsie veered into the oncoming lane and struck a 2014 tractor-trailer operated by a 58-year-old Cairo man.
The Town of Poughkeepsie man was pronounced dead at the scene. The Cairo man wasn't hurt, police say.
The accident started at the border of Ulster and Dutchess counties. The vehicles came to stop about 100 feet into Ulster County.
This is a developing story. We will update this story once more information is available. Please check back regularly for updates.
More From WZAD-WCZX The Wolf