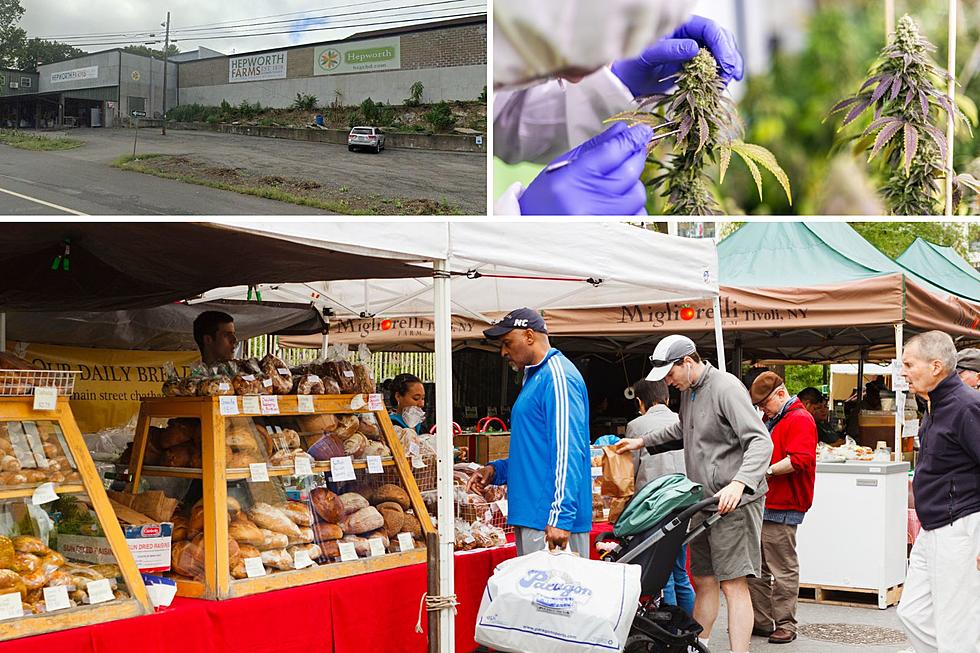 Hudson Valley Marijuana Farmers Want to Sell Weed at New York Farmers' Markets
Google Maps/Canva
Should Hudson Valley marijuana farmers be allowed to legally sell pot at New York farmers' markets?
The legalization of marijuana in New York has been a hot-button topic for a while and now it looks like 200+ marijuana farmers who are struggling to make ends meet are now asking New York lawmakers for permission to sell their product at farmers' markets and festivals.
New York Marijuana Farmers are Struggling
New York's Office of Cannabis Management is doing everything it can to try and help struggling marijuana farmers across New York, including one of the Hudson Valley's biggest and best Hepworth Farms located at 1635 Route 9W, in Milton, NY in Ulster County. The main issue farmers like the folks at Hepworth are facing is that they are sitting on thousands of dollars of product from the last growing season because the process of selling its product legally has been filled with red tape.
Planting and growing marijuana is by no means a cheap process, and farms like Hepworth spent most of their capital last year planting and producing thousands of pounds of marijuana that is currently sitting in storage. Farms haven't been able to sell any of last year's crops because of the problems New York is facing with the opening of retail marijuana stores. Amy Hepworth, owner of the 105-year-old Ulster County farm told CBS,
"Put all of our capital into growing the crop, and we are having a hard time bringing in revenue from it. So we are suffering immeasurable."
Many farms planted for the first time in New York last summer when the expectation in New York was that there were going to be anywhere between 40 and 70 legal retail marijuana stores licensed and opened by this summer. There are currently less than 12 and as a result New York farmers are sitting on 300,000 lbs. of unsold marijuana according to CBS. Many farmers are unsure if they should even start the expensive growing process again this year and are hoping lawmakers will make it possible for them to move some of last year's crop before they start growing again this year. (Planting is expected to start in July) How can New York help?
Weed Sales at New York Farmers' Markets and Festivals
Famers that aren't allowed to distribute its product through any of the hundreds of illegal marijuana shops that have opened across New York are asking Albany to quickly put together a plan that would allow them to sell marijuana at farmers' markets and festivals. Hepworth Farms lawyer Jason Minard told CBS,
"It's the better alternative to the illegal bodegas because it keeps the cultivators in the game that put their skin in the game. But for the time being, we need an immediate emergency relief farmers' market initiative to allow the farmer to survive this season."
Farmers didn't say if any New York lawmakers are on board with marijuana sales at farmers' markets or not but when more information becomes available we will update this article.
11 of the Most Popular Nicknames Smokers Call Marijuana
What people call marijuana.
These 104 Hudson Valley Towns Won't Sell Recreational Marijuana
More From WZAD-WCZX The Wolf