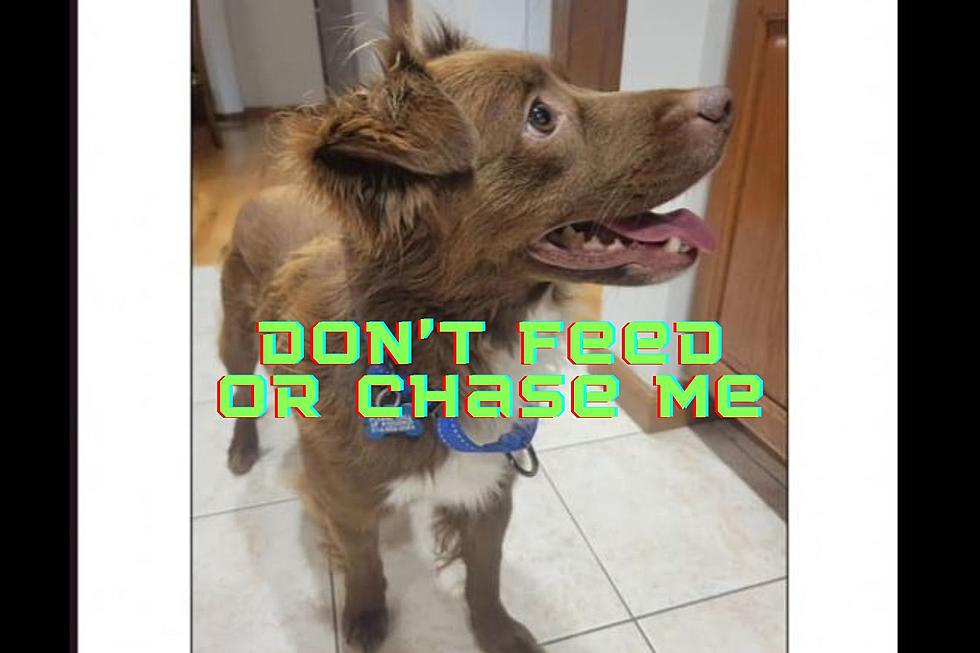 Update: Missing Dog Has Captivated Many In The Hudson Valley
Canva / Lost Pets of the Hudson Valley via Facebook
Update- 8/29/2023 
Fluffy is still in the same area and the Trapper is getting all messages that are being left. If you see Fluffy please call or text 929-483-5092. Don't Feed or approach. Fluffy story is a bit different than most lost pets. He is a rescue from the streets. He has no family yet only a foster mom. He will not come to you. This information was shared by the administrator of Lost Pets of the Hudson Valley who are working with others to bring Fluffy home.
Original Post from 8/25/23
I wanted to bring you an update today on story I am following along with what seems to be the entire Hudson Valley. I told you last week about a dog who has been on the run in Dutchess County for a few weeks now. Everyone has fallen in love with the adventurous runaway and is hoping for a happy ending to this dog tale. But right now it is more important than ever we don't attempt to help him. Here is Why.
Fluffy who got loose after recently going to a foster home has been traveling all over Dutchess County. Everyone was spotting Fluffy and trying to help but to no avail which is why the animal pet groups trying to get Fluffy to come home got a professional trapper involved last week.
Lost Dog Seems to Like Hanging Out at the Route 52 Valero in Fishkill, NY
When that happened Fluffy went off the grid for a few days according to social media posts then finally early this week Fluffy was spotted hanging around a Fishkill, New York Valero Gas Station. As you can imagine many people were concerned about seeing this dog who seemed very scared and obviously on the run. Unknowingly in an effort to help people were actually making it worse.
This resulted in the trapper who is working with Lost Pets of the Hudson Valley, Crate Escape Rescue Inc., HV Lost Pets Dog Missing / Pet Lost & Found Alert Group, and Dutchess County Moms to put up a plea post on Facebook asking again for people not to call out too, not to feed, and definitely don't chase or interact with the dog. They then went into what I thought was a great way of explaining what is most like going through Fluffy's mind right now.
Why They Can't Catch the Dog Who Has Been Seen at the Valero
He is in an extremely feral state right now. It's like watching someone in a panic attack: fight or flight.

..... please try to see it this way: Picture yourself in a town surrounded by Tigers and Bears trying to come at you. That's how he sees people, just terrified even by the sight of them. We're friendly but he doesn't know that, and, like we would, he only sees danger. (Lost Pets of the Hudson Valley via Facebook)
At this point the update from the trapper is that they have established where Fluffy is spending the night and they are also noticing him getting calmer which means we could be getting closer to a happy ending with Fluffy finally feeling confident enough to try the trap.
Lost Pets of the Hudson Valley is posting updates about every 12 hours on their Facebook page. For many of us this has become the first site we check everyday. It feels like most of the Hudson Valley is waiting for the good news that Fluffy is no longer running scared and instead is home safe and sound.
What Do You Think the Best Name is for a Hudson Valley Dog?
LOOK: The most popular dog names of 2022 in every state
Hey dog lovers, check out this awesome list of the most popular dog names in 2022 for every state, and get ready for some serious cuteness overload.
LOOK: Longest-living dog breeds
More From WZAD-WCZX The Wolf