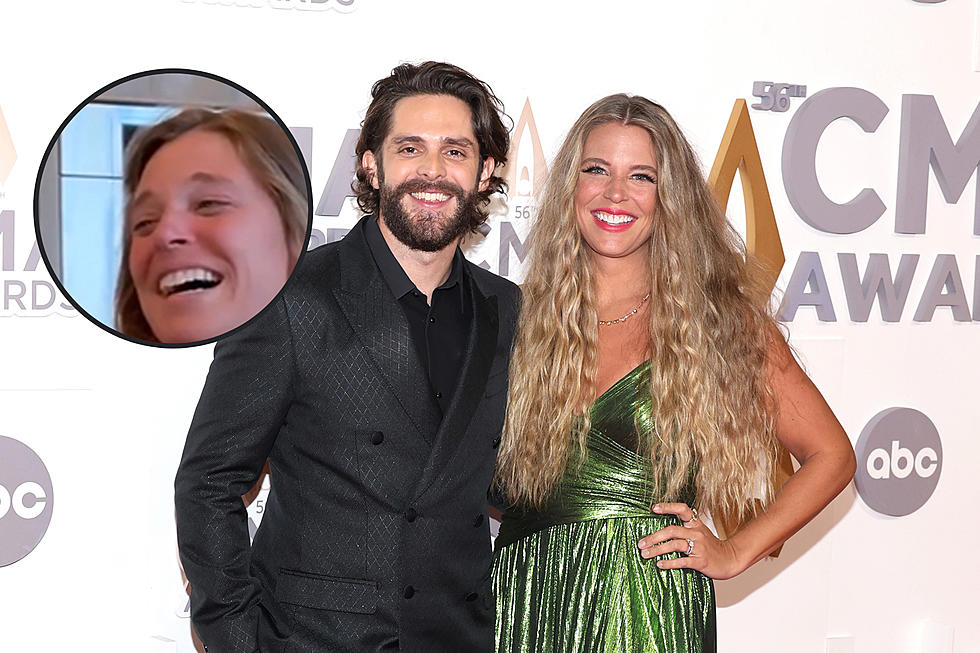 Thomas Rhett's Wife, Lauren, Can't Name His Records + We Are Practically Crying Laughing [Watch]
Jason Kempin, Getty Images
Thomas Rhett's wife, Lauren, is one of his staunchest supporters and biggest fans — but that evidently doesn't always extend to actually learning the names of his albums.
Rhett turned to Instagram on Saturday (April 22) to share a clip of himself and Lauren, casually sitting in the kitchen as he quizzes her on some of his career highlights.
"Do you know the names of all five of my records?" he asks, causing Lauren's face to freeze as it appears to dawn on her in live time that she does not.
She gets the first one right, correctly identifying Rhett's debut album as It Goes Like This, but then things take a turn as she follows up by calling his second album Unforgettable — ironically, in this instance, since she evidently has forgotten that Rhett's sophomore album was Tangled Up, while "Unforgettable" was a single from Rhett's third album, Life Changes. Her answer causes him to burst out laughing before repeating, "What was the name of the album?"
"Can I have a hint?" she asks after a long pause before they move on to some of his other releases. Lauren manages to correctly identify Country Again: Side A and Center Point Road before completely freezing up again.
"Can I ask you a serious question? Rhett asks his wife, who begins to laugh before he even gets to his punchline. "If I never put music out ever again, do you feel like you would notice?"
"Like, honestly, five years down the road, you go, 'What single do you have right now?' 'I retired five years ago.' Do you think you would actually notice?" he says as she quakes with laughter.
The hilarious clip ends with Lauren incorrectly identifying Rhett's current album as Country Again: Side B, which, he concedes, is what "everybody" thinks, even though his most recent release is Where We Started.
Rhett is spending a chunk of 2023 on the road on his 40-date Home Team Tour, which is set to launch in Des Moines, Iowa, on May 4 and visit cities all over America before wrapping in Nashville on Sept. 29. Cole Swindell and "Whiskey on You" singer Nate Smith are accompanying Rhett as his support acts.
Look INside Thomas Rhett's Rustic Rural Paradise:
More From WZAD-WCZX The Wolf