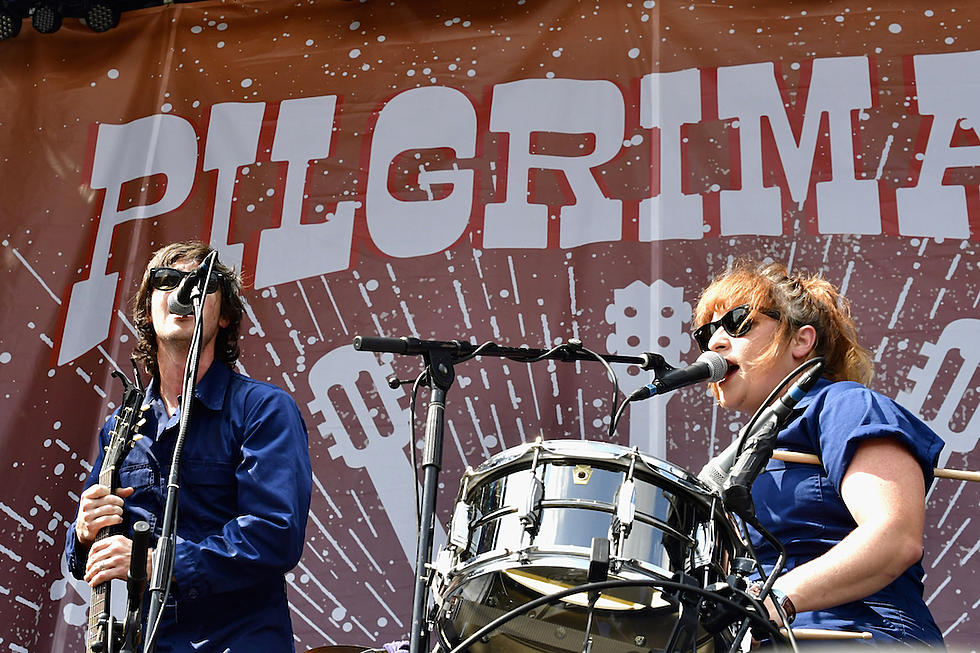 Interview: Shovels & Rope Embrace Spontaneity While Making 'By Blood'
Mickey Bernal, Getty Images
Husband-and-wife duo Shovels & Rope are known for crafting intricate, carefully built songs, but much of what dictated the making of their new album, By Blood, were factors outside of their control.
Like any touring band, the pair's schedule revolves around the live show, and as they planned out the recording of the project, they scheduled several gigs in between studio sessions. "We'd be in the middle of the process, and then we'd go back out and try some things, or something would come up spontaneously in the live show," bandmate Michael Trent explains to The Boot.
"I feel like that's the wild animal part. You can't plan for that," he continues. "You just have to notice it as it's happening, try to remember or how it went, or recreate that feeling [once you're back in the studio]."
That methodology served the project well this time around, although the band notes that it's not a strategy they can plan on recreating in the future. "It's dictating the order of operations, but it also changes every time, what combination of where you are in the creative process" adds Cary Ann Hearst, noting that the "wild animal part" of making music has parallels in their personal lives, too: "Like, maternity leave brought us a lot of time to finish up this record. It was mixed and mastered and ready to go by the time our son was born."
The couple's son, born early in 2019, is their second child, following the birth of a daughter in 2015. The new addition marks a new chapter in Shovels & Rope's life, but even prior to his birth, themes of family and the relationships that unfold between family members informed their creative process, even providing the inspiration for By Blood's title track.
"We've been married for 10 years, and that song was very much about our daughter, and just a lot about the complicated love that happens within families," Trent continues. "We live half of our lives on the road and half at home, and our family is with us all the time. It's complicated, and it kind of felt like the biggest thing that was going on in our life."
As veteran touring musicians, Trent and Hearst know better than to expect parenting to go according to plan. Just like any live performance, raising kids has immense potential to go in an unexpected direction, and instead of dreaming of a time when they'll all be able to play together as a family band, the duo is bracing for their kids to grow up and hate their parents' music.
"They're probably gonna think we're lame. But that's alright!" Hearst says with a laugh. "As long as we have something quality to say. They might not think it's cool, but it'll certainly be an honest reflection of who we are as people, where we're coming from."
To a similar end, Shovels & Rope didn't try to force a theme or a structure on their project as it was being formed; in fact, they didn't name the theme of family -- and all the complicated kinds of love it entails -- until after the album was finished.
"The songs weren't written off that idea, but looking back in hindsight, we kind of agreed that was the vibe," Trent offers. "If we were sitting on a shrink's couch, and they were analyzing the work that we did subconsciously, with a Rohrshach test or something, the overarching theme would lean towards that."
Shovels & Rope have learned to lean into letting go, even though relinquishing control over some of the external factors that govern life and music would be uncomfortable for anyone. "I'm a planner, too. Like, I have lists all over the place," Trent admits. "But also, I don't know. I think that to get out of your own way, you just have to jump on the back of the flying dog, you know?"
He adds, "I think the best system is just not to have a system. The system is no system, you know? You just let each thing be its own [system], and let it lead the way."
Did You Know These Country Stars Have Famous Relatives?
More From WZAD-WCZX The Wolf