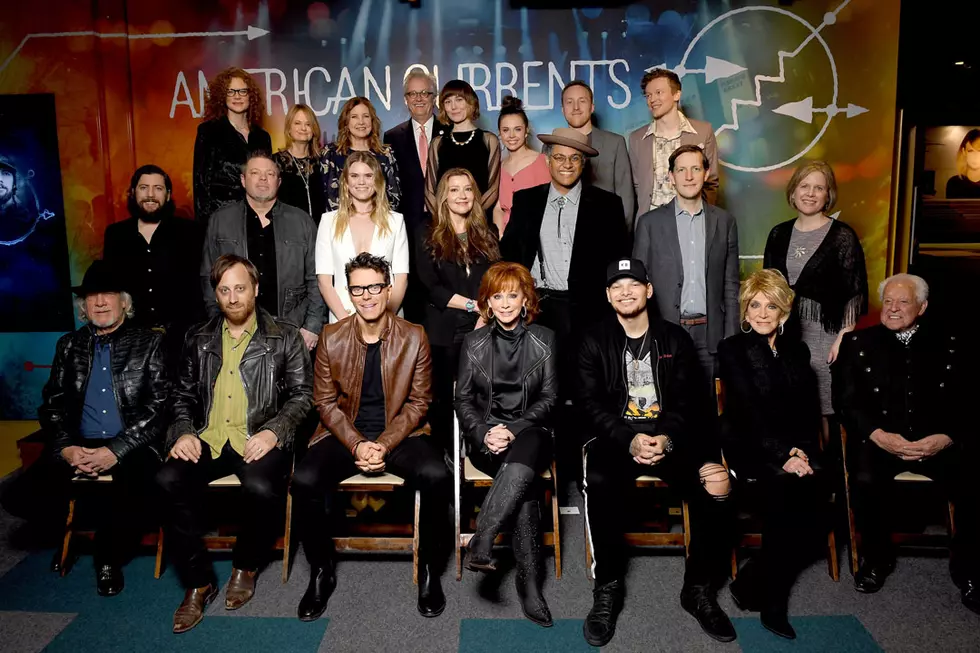 Country Music Hall of Fame's New American Currents Exhibit Celebrates Diversity
Jason Kempin, Getty Images
There are artists that Reba McEntire has not heard of on display at the newest Country Music Hall of Fame exhibit, which speaks volumes about the definition of "American Currents."
The country legend and ACM Awards host has her dress from the Kennedy Center Honors and 2018 Kennedy Center Honors medallion on display at the American Currents: The Music of 2018 exhibit that opens on Friday (March 8). She tells Taste of Country her appetite for new styles of music and new artists is never-ending.
"The same way with the ACMs this year. There's new people coming on in the new female, new male charts that I haven't met," McEntire says.
Contemporary country stars like Kane Brown, Keith Urban, Florida Georgia Line and Luke Combs have items displayed alongside lesser-known, but still influential and important singers, songwriters and instrumentalists like John Prine, the late John Hartford and the First Ladies of Bluegrass. Alison Brown, banjo player for the IBMA award winning group, talked about the importance of the exhibit for women in bluegrass.
"Traditionally bluegrass music was a man's music, and even though there have been women through the history of the music, it's really only been in the last 30 years that women have really had the opportunity to be band leaders and play leadership roles in the music," she says. "So to me the significance of having us all together is to hopefully empower young women that are coming up that, 'Hey, I could play banjo or play bluegrass music.'"
The exhibit, which is open until Feb. 8, 2020, is a mix of "I was there" and country history. Brown's purple jacket from the 2018 American Music Awards hangs near Florida Georgia Line's white suits from the 2018 CMA Awards. Keith Urban's outfit from his 2018 ACM performance is nearby, as are Chris Stapleton's jacket and hat from the 2018 Grammys.
Elsewhere, artists like Carly Pearce are paired with legends like Jeannie Seely, a 50-year Grand Ole Opry member. You're likely a superfan of one or the other (or both) if you knew about the nature of their personal relationship. The two neighbors can be seen on three-wheeled bikes, cruising the hood on a spring or summer night if the weather is right, Seely tells ToC. The pair, along with Michael Ray, may even share a sip of wine.
Ashley McBryde's stage wear from her Grand Ole Opry debut is part of the exhibit. She's paired with "Strawberry Wine" songwriter Matraca Berg, who as it turns out was a huge influence on McBryde. Berg shares that she didn't even know that until sitting down for the Grammy-nominated "Girl Goin' Nowhere" singer to write a song recently.
Dom Flemons — formerly of the Carolina Chocolate Drops — is pleased to be a part of the exhibit as someone who's always taken a historical approach to his music. He sees a new generation of fans eager for this diversity as a way to connect to culture.
"When I first started out there were a lot of people that had the culture within their minds and their memory," he says. "And now I feel like a lot of the younger generations, they don't have some of the legends that people in my age had access to ... I think there is a want to find that connection to that older music and to want to reclaim that."
Jason Aldean, Brothers Osborne and Miranda Lambert are three more contemporaries with items on display for the next 11 months. You'll also find items from broadcaster Bobby Bones and podcaster Tyler Mahan Coe, plus wears from legendary fashion designer Manuel. Many of the above artists spoke with select media prior to a preview of the exhibit on Tuesday night (March 5). The Country Music Hall of Fame did something similar with the music of 2017 last year.
See a Preview of American Currents at the Country Music Hall of Fame:
More From WZAD-WCZX The Wolf