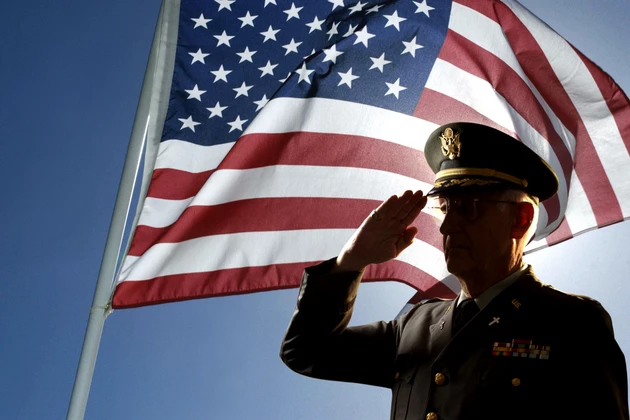 2020 Veterans Day Observances in Dutchess County
Thinkstock
Dutchess County has many services planned over the course of the next week or so.
Veteran's Day is Wednesday November 11th and one county in the Hudson Valley has a lot of things going on this weekend and the days leading up to Veteran's Day this year. Dutchess County has announced that they have started to compile a list of some great events happening on or around Veteran's Day.
If you do plan on attending any or all of the following events, be sure to check with event organizers about any COVID-19 precautionary guidelines they are following for each event respectively.
Here are all the events scheduled as of today according to the Dutchess County government website....
Fishkill Ceremony
11:00 AM
Town of Fishkill War Memorial, 801 Route 52, Fishkill
Hosted by Town of Fishkill and Dutchess County Government
Point of Contact: Greg Totino, 845-831-7800 ext. 3309
Pine Plains Ceremony
11:00 AM
American Legion Hall, 9 N. Main St., Pine Plains
Hosted by Pine Plains VFW Post #5519 & AL Post #426
Point of Contact: Robert Clinch, 518-821-7450
Amenia Ceremony
11:00 AM
Square War Memorial, 4958 Route 22, Amenia
Hosted by VFW Post #5444 and Town Officials
Point of Contact: Vicki Doyle, 845-489-7826
Beacon Ceremony
11:00 AM
Memorial Building, 413 Main St., Beacon
Hosted by VFW Post # 666
Point of Contact: Harold Delamater, 845-337-6509 or 845-297-8865
Hopewell Junction Flag Display
7:00 AM
Route 82, Hopewell Junction near the Post Office
Hosted by Manny Bacon American Legion Post 1758
Point of Contact: Jim Reynolds, 845-221-7273
Millerton Ceremony
11:00 AM
Veterans Park, intersection of Main Street and Dutchess Avenue, Millerton
Hosted by Millerton American Legion Post #178
Point of Contact: Sean M. Klay, 518-929-3624
Red Hook Ceremony
6:00 PM
Veterans Memorial Park, North Broadway, Red Hook
Hosted by VFW Post #7765
Point of Contact: William Moore, 845-758-8175
Rhinebeck Ceremony
11:00 AM
Rhinebeck Cemetery, corner of Route 9 south and Mill Road, Rhinebeck
Hosted by Women's Auxiliary & Montgomery American Legion Post #429
Point of Contact: Dennis McGuire, 845-656-1839
Tivoli Ceremony
11:00 AM
Legion Post #524, 88 Broadway, Tivoli
Hosted by Harris Smith American Legion Post #524
Point of Contact: Thomas Mabie, 845-758-1330 or 845-417-4573
Wappinger Ceremony
1:00 PM
Town Hall, 20 Middlebush Road, Wappingers Falls
Town of Wappinger Recreation Department
Point of Contact: Jessica Fulton, 845-297-3670
Wappingers Falls Ceremony
11:00 AM
Major Joseph McDonald MIA/POW Park, East Main St., Wappingers Falls
Hosted by J.M. Goring – WM. Hurtz American Legion Post #427 & VFW Post
Point of Contact: Raymond C. Chase Jr., 845-297-2943 or 845-297-9813
If you know of nay other events happening in the Hudson Valley in the next few days, please let us know through the Wolf app.
Flags From All Across the Hudson Valley
More From WZAD-WCZX The Wolf