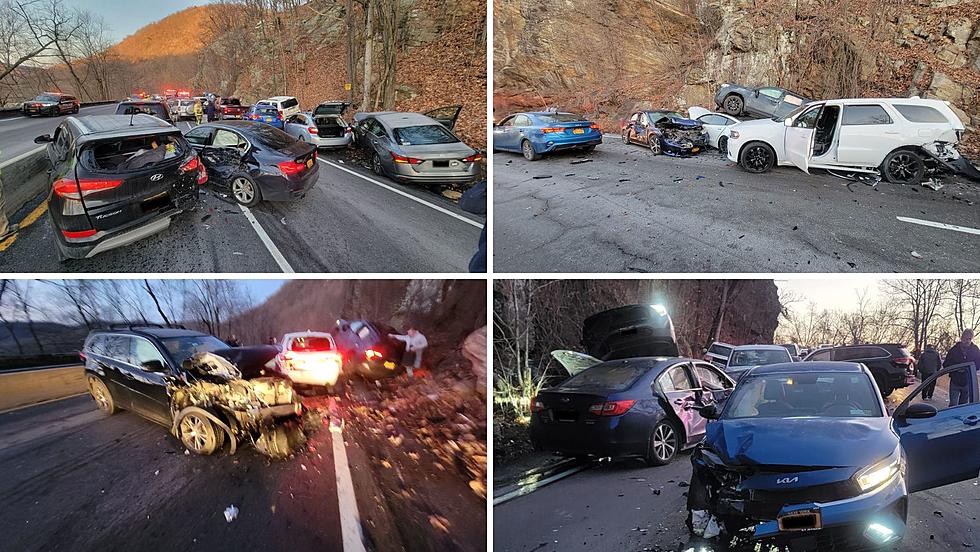 Icy Conditions Cause 18 Vehicle Accident on Storm King Mountain
Jake Shea
The winter weather has finally arrived in the Hudson Valley and has brought with it dangerous driving conditions.
Early Monday morning, February 27th, 2023, icy conditions caused more than 15 vehicles to crash on a dangerous road in Orange County.  Route 9W on Storm King Mountain near the West Point Overlook was slick with ice and by 6 am Monday morning, several cars found themselves losing control.  By 6:43 am it was reported that more than 14 vehicles had crashed.
Icy Conditions Cause 18-Car Pile-Up Near West Point
The Cornwall Office of Emergency Management later confirmed that number to be 18. They also reported "icy conditions"  are to blame for the accidents. Thankfully, no one was seriously injured in the 18-car pile-up. However, 3 individuals were taken away in ambulances to a local hospital.
Take a look at some photos from the scene thanks to Jake Shea:
18-Car Tangle-Up on Storm King Mountain in Cornwall, NY
Icy conditions are blamed for a scary 18-car tangle-up on Storm King Mountain on February 27th, 2023.
Route 9W was closed down for most of the morning as debris was cleared from the scene.
Winter Weather Driving in the Hudson Valley
The Fort Montgomery Fire Department, who responded to the pile-up, stressed driving safely during colder months, writing in a statement on social media:
We cannot stress enough to Please be aware of your surroundings while out traveling and obey all traffic laws especially with the pending winter storm heading our way this evening and into tomorrow morning. Be safe everyone.
According to Hudson Valley weather, the region is set to get the most snow it has seen all winter season. They are reporting anywhere from 3 to 10 inches of snow across the Valley. Hudson Valley weather notes that parts of Ulster County near Kingston, and Sullivan County should expect the most snow, somewhere around 10 inches.
Dutchess and Orange Counties are expected to receive anywhere from 3 to 8 inches of snowfall.
10 Hudson Valley Roads that Twist and Turn
We have put together a collection of Hudson Valley Roads that twist and turn.
28 Distinguished Historic Figures Buried at West Point Cemetery
New York State is rich in history. West Point Cemetery acts as a national historic landmark and the final resting place for 28 historic figures. From Medal of Honor recipients and Military leaders to astronauts and other Military heroes, their final resting place can be found right here in the Hudson Valley.
More From WZAD-WCZX The Wolf