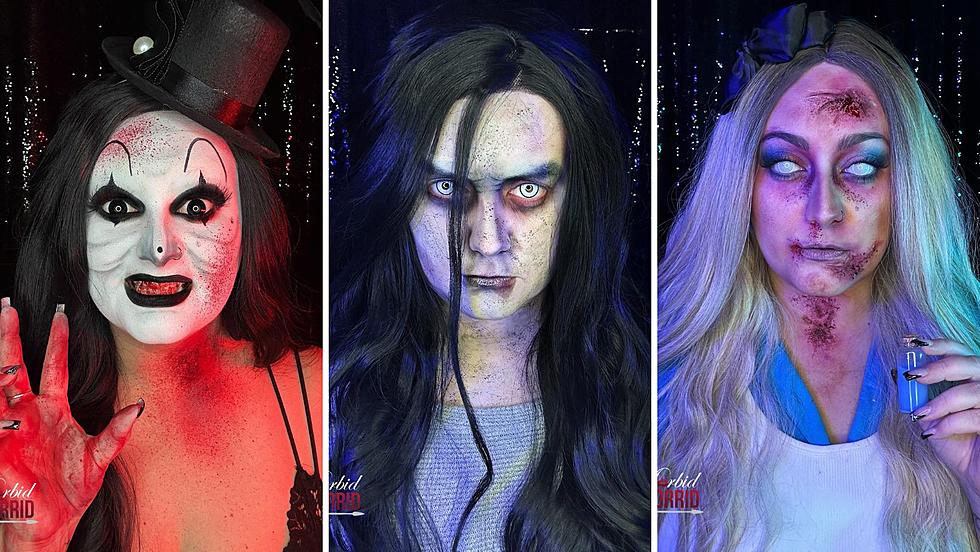 Wappingers Falls, NY SFX Makeup Artist Shares Wicked 31 Days of Halloween Looks
Jamielyn Boldrin/Morbid & Horrid
Spooky szn, as the kids on the internet say, is here!
We are in full Halloween mode across the Hudson Valley. The haunted attractions are in full effect and kids (and yes, even adults) are getting in on the Halloween costume fun. Earlier this week we learned that Barbie is the most popular costume across the country and locally in the Hudson Valley.
Hudson Valley SFX Makeup Artist Shines During Spooky Szn
If you're not into Halloween but can appreciate the effort that is put into a really good Halloween costume, we have to introduce you to Jamilyn Boldrin. She's a special effects makeup artist from Wappingers Falls, New York.
You may have seen her work on our sites before. Over the last few years, Boldrin has taken her love of Halloween and makeup and combined the 2 into an event that I look forward to all year.
Boldrin celebrates the 31 Days of Halloween by sharing her Halloween makeup creations on social media. Each day she uploads a photo of a new wicked look.
With each new photo, comes a video that tells the story in fun transitions and songs that tell the story behind the makeup creation.
This year Boldrin added a twist and for a week shared part of her Twisted Disney series with terrifying takes on The Little Mermaid, Beauty and the Beast, Alice in Wonderland (that you can see above), and more. 
31 Days of Halloween 2023 Looks by Jamielyn Boldrin
While we patiently wait for the next update take a look at all of her SFX Halloween looks for 2023:
Wappingers Falls, NY SFX Makeup Artist Shares Wicked 31 Days of Halloween Looks
See Jamielyn's work from last year below:
Wappingers SFX Makeup Artist Goes All Out For 31 Days of Halloween
Jamielyn Boldrin, an SFX Makeup Artist from Wappingers Falls, takes Halloween to a whole new level with her 31 Days of Halloween Makeup Challenge. Do you recognize any of the movies or TV shows these looks are from?
Poughkeepsie, NY Family Has Halloween Fun with Hauntingly Charming Front Lawn Display
As the sun goes down in Poughkeepsie, the Dellamura Halloween light display will illuminate the nights and frights!
More From WZAD-WCZX The Wolf