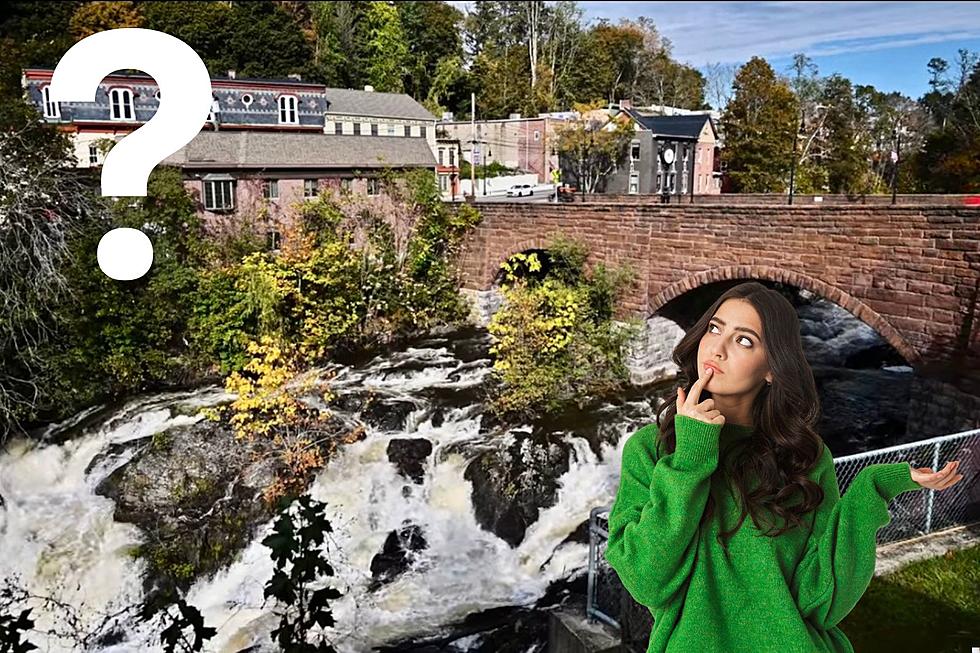 Is It Wappinger, Wappingers or Wappingers Falls?
Canva, YouTube, Simplethrills
How many nicknames does your hometown have? It's possible that Hudson Valley residents create different ways of saying where they live or where they are from.
Have you ever lived somewhere where no one really knows the correct way of pronouncing the village or town? If you reside in or near Wappingers Falls (?) then this may be a question that you have asked yourself before. This question may still be unknown.
Is It Wappinger, Wappingers, or Wappingers Fall?
Dutchess Tourism has explained that the Town of Wappinger is different than the Village of Wappingers Falls and even Wappinger Creek. So depending on what you're referring to, you may already be calling it the right name - all of which have their names derived from a local Native American tribe that was once in this part of the area. 
They went on to explain,
"By the 19th century, Wappinger Creek helped to bring the Hudson Valley into the industrial revolution as the source of power for textile mills, funding the many beautiful homes and historical buildings that remain to this day. "
Is It Wappinger?
Wappinger is known for being a town in Dutchess County, NY.
According to The Town of Wappinger,
"In 1659, Wappinger became the first settled geographical area in Dutchess County, when Christian settlers from the Massachusetts Bay Colony came here in hopes to seek religious freedom."
Wappinger was incorporated in 1875 but before that, it was known for its rich industrial and agricultural history and success that assisted the growth of the community.
"Wappinger takes its name from the Wappinger or Wappani Native Americans who lived along the east side of the Hudson. The Town is home to 28.5 square miles of quiet neighborhoods, five star dining, premier shopping amenities, breathtaking natural sites, fascinating history, exceptional schools, and so much more." 
The Mount Gulian Historic Site shared that the Wappinger settlers wore clothing that was made of deerskin and during the winter months, they slept on bear skin blankets. They created settlements and lived off of the land. 
We can thank the Wappinger settlers for the name of this Dutchess County town.
Is It Wappingers?
Wappingers can be referred to as the settlers who found Wappinger in Dutchess County. This may also stand for the nickname of Wappingers Falls. It can also be described as someone adding an "s" to the name of the town, Wappinger.
For instance, the "s" is added to school districts such as Wappingers Central School District.
However, The Wappingers Historical Society shared that they have a special purpose.
"The primary intent of the historical society was to preserve local artifacts, precious documents, and maps and photos that pertained to our village, town and surrounding areas. In addition to this mission, the restoration and preservation of the Mesier Homestead was of utmost importance. Lastly, the historical society wished to serve as a source of historical information for the community"
Could this just be a way of people saying it differently? That's possible.
Is It Wappingers Falls?

Wappingers Falls is known for being a village that is located in Wappinger and Poughkeepsie, NY also in Dutchess County. 
According to the Town of Wappinger,
"The Village of Wappingers Falls was incorporated on September 22, 1871 and included the adjacent community on the west side of the Wappinger Creek, by then called Channingville (formerly Edam). The east side was known as Franklindale."
It's said that "Most of the Town's early industry was located within the Village of Wappingers Falls. At one time there were close to 30 factories operating at one time."
Have you noticed that the village is connected by the stone arch bridge? The Village of Wappingers Falls bridge was recognized by Historicbridges.org. They shared that this historic bridge was built in 1852 and then expanded in 1884.
Hudson Valley residents are now able to educate each other on the difference between Wappinger, Wappingers and Wappingers Falls.
What town or village do you give a nickname to besides its actual name? Share with us below.
Hudson Valley Businesses That Opened in 2023
If you're looking for the newest hotspot in the Hudson Valley, you don't have to search far. The hottest nightclub in the area may be right in your neighborhood. An authentic taco spot has opened in Orange County, NY and residents have returned numerous times for their mouthwatering meals.
A fan favorite Rhinebeck, NY restaurant has announced their second location in Ulster County, NY. A korean style restaurant has taken over the same building and location of the beloved and popular, Tony Boffa's Restaurant.
Kingston, NY's Ole Savannah owner made an announcement of their new restaurant. This will open in Uptown Kingston in early Spring. A seafood restaurant closed their doors in Middletown, NY but recently reopened in Monroe, NY.
A new plaza opened in Orange County, NY that brought several, local businesses to one location. Within this location, guests can fill up on gas, get their nails and hair done, stop in for some tacos and cash in their cans and bottles.
Top 25 'Most Neighborly' Cities In the Nation Ranked
Out of the Top 25 'Most Neighborly' cities in the Nation, 3 are in New York. How does Western NY, Capital Region and Hudson Valley rank? One of them made it to #1!
More From WZAD-WCZX The Wolf