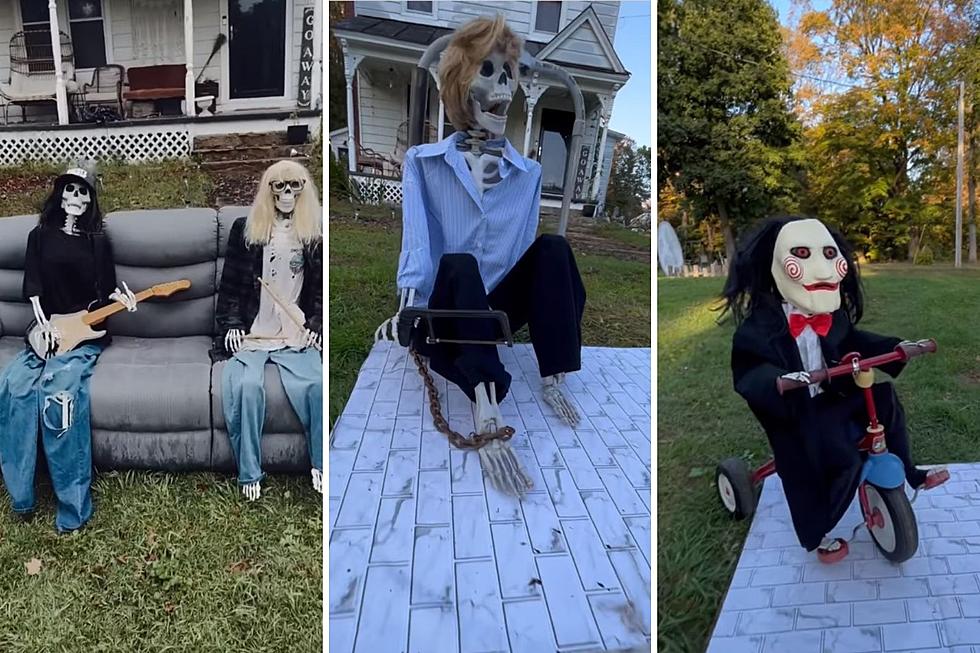 Upstate New York 'Skeleton House' Offer Haunted Hayrides
Skeleton House Facebook
Every year there's one New York family that turns their yard over to the skeletons for everyone's enjoyment and this year they plan to expand the thrills!
If you ever find yourself in, or near the small upstate New York town of Galway you have to make sure you stop by and check out one of the coolest and creative skeleton-themed displays anywhere! The skeleton display sits across the street from the town's public library in the yard of "Skeleton House" owner Jessica Fragnoli.
New York Skeleton House
There is one thing that people in the Galway area of Saratoga County, NY have gotten used to happening once the calendar flips to September! They are guaranteed to see skeletons in interesting situations. The skeleton displays started about three years ago when Fragnoli decided to share her love of Halloween with the neighborhood by setting up skeletons in various displays according to News 10.
Skelton Displays Brighten Up Small Upstate New York Town
Fragnoli told News 10 that she puts out the skeleton displays every year right around the beginning of the new school year and changes them every week to keep everyone talking. The skeletons are often seen recreating scenes from popular movies including E.T. the Extra-Terrestrial, Marie Antoinette, and Wayne's World.
The Skelton House has been so well received that they have a Facebook page set up to share some of the displays which was recently updated to show their recreation of the movie Saw.

Haunted Hayrides
Fragnoli also shared that this year they are "upping" the fun as they are offering haunted hayrides at the Skelton House, located at 2119 East Street, Galway, NY. The haunted hayrides will run across 5 acres of land that features a "creepy cabin" that will definitely be used for the hayrides. The hayrides will run on October 20th and 21st in 20-minute intervals and instead of charging guests to ride Fragnoli told News 10 that she's asking attendees to bring donations for the Saratoga County Animal Shelter or the local Food Pantry.
Plan on Going?
Fragnoli is asking anyone interested in going to take a look at the available times and seats online here and after you find a time that works, please register in advance by emailing them at josborn43@yahoo.com.
Poughkeepsie, NY Family Has Halloween Fun with Hauntingly Charming Front Lawn Display
As the sun goes down in Poughkeepsie, the Dellamura Halloween light display will illuminate the nights and frights!
Old Cemeteries in Ulster County New York
These old cemeteries are scattered throughout Ulster County, New York. If you are familiar with the area you have most likely driven by one. My question is have you ever stopped and taken a moment to think about history? Some of the people in these old family plots lived in the Hudson Valley during the 1700s. One thing I do ask is if you do come across an old cemetery please be respectful. These grounds are someone's final resting place they should be treated that way no matter how you find them. Taking anything other than possibly a stone rubbing or a photo is unacceptable.
Gallery Credit: Paty Quyn
More From WZAD-WCZX The Wolf