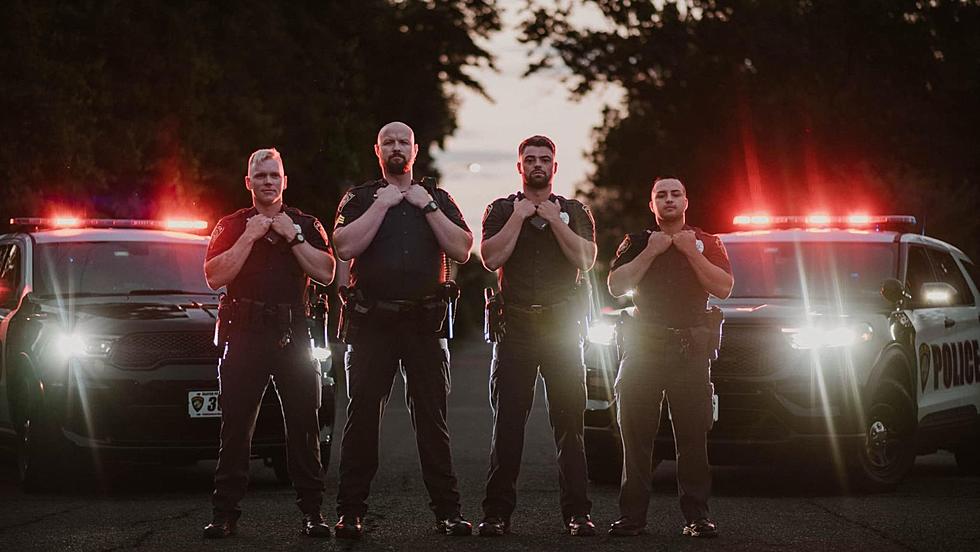 Town of Ulster Night Shift Lights Up Social Media
Tamme Stitt Photography, Facebook
A photoshoot with some of Ulster County's finest has lit up social media.
Earlier this week, Photographer Tamme Stitt shared a handful of images of the men and women working the night shift for the Town of Ulster Police Department. Shortly after posting said photos the comments likes and shares came rolling in.
Town Of Ulster Night Shift Lights Up Social Media
One comment said "GREAT PHOTOS!! When is the calendar coming out??!" Another added to the photo below:  "What is this officers name? Because he's(fire emojis)."
At one point in the comment section, one commenter started using eggplant emojis as a rating system. You can do what you want with that information...
We reached out to Tamme Stitt to find out what the inspiration was behind the Town of Ulster Night Shift photoshoot and she tells us that the boys in blue wanted to document their camaraderie saying:
"These guys have a camaraderie and they wanted to just document the night shift, so I got my sorry a** up at 4:15 am and did this at sunrise."
We also learned that Stitt is in Law Enforcement herself telling us she's an Investigator for the Ulster County District Attorney's
Office and in the past was a police officer. Now, she does photography part-time and is very grateful for the support the community has shown her over the years adding " I'm very grateful for it, the support the community has given me by hiring me because it helped me raise my kids. I've been shooting for around 20 years and now my kids are grown and out of the house."
As for what Stitt photographs she says families, maternity shoots, birth shoots, engagements, weddings, and bereavement and will volunteer her time "for any LE agency that wants photos for any reason if it involved department activities, like walkouts, events, and "just because."
Why is photographing law enforcement so important to her? Stitt explains
I want to photograph anything that reflects humanity. And for me, that's law enforcement. I've been immersed in it for 30 years so I've witnessed a lot. I have seen firsthand what one scene can do to an officer. Photographing police officers and showcasing them in a positive light is important to me because it highlights their humanity. They are human beings, and they experience all the emotions and challenges that most people never get to experience in their entire lifetime, sometimes in one shift.
Puppy and Hudson Valley Police Officer Photoshoot in The Works
One of the first comments left on the Night Shift shoot recommended the addition of adorable and adoptable props for the next shoot. The commenter wrote "I think if they were all holding a puppy from my rescue we could get more adoptions!!!!" Stitt saw the comment and immediately got to work. She tells us that she will be taking photos of the officers again and puppies will be involved. Stitt said:
We are currently organizing a Police and Puppies shoot with two other departments, there's an organization called Nothing but Love Canines run by Valerie Ellsworth and we thought pairing up puppies and police might help get them adopted. We will be doing that at the end of the month, its just getting organized now.
Hear me out, you know those steamy Firefighter calendars? Puppies and Police calendars!? Just throwing it out there...
And ladies, I asked so you didn't have to...everyone photographed in the Town of Ulster Night Shift photoshoot is happily taken.
You can view more of Tamme's work on her Facebook page, Tamme Stitt Photography.
Emotional Goodbye: K9 Max's Final Walkout with the Saugerties Police Department
Supporters lined up to say goodbye to the K9 who was diagnosed with an aggressive form of cancer back in April.
Ulster County Boy Gets Birthday Surprise from Area Police Officers
4 year-old Ryker gets a once in a lifetime birthday surprise from Ulster County police officers.
America's Best Looking Police Cruisers
Here are some of the finest State police cruisers in the Country but only 1 can be named the "Best Looking Cruiser in the Nation". Not every state submitted for this contest but New York did. Cast your vote for our State Troopers
HERE
.
More From WZAD-WCZX The Wolf