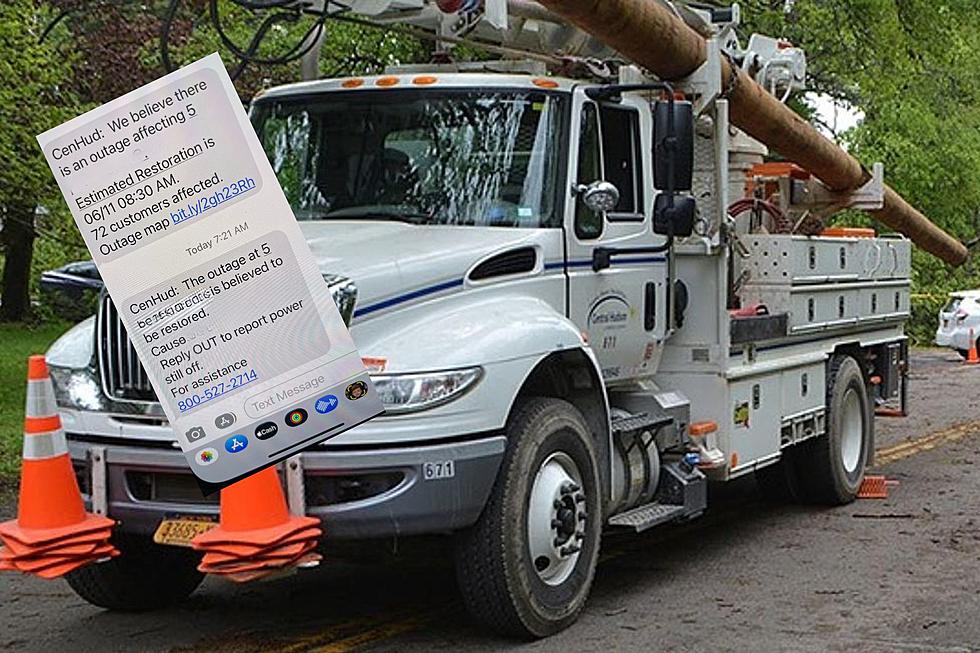 Power Outage In Wappingers Falls Caused By Interesting 'Thing'
Central Hudson/CJ
You're not going to believe what caused a recent power outage in Wappingers Falls, New York. At least I didn't...LOL!
If you have ever had the power go out at your house you already know that it is one of the most inconvenient things that can happen. Depending on when it happens will determine how bad it really is, right?
If it's in the evening when it's dark outside and everyone is home trying to cook, do homework, watch TV, or whatever it can really through families for a loop. I know that we've lost power at my house numerous times and as soon as it happens, after a few minutes, I normally go to my phone and go to the Central Hudson website to see if the outage has been reported and to see how long we will be without it.
Power Outage in Wappingers Falls, New York
I didn't even have to go to their website when the power went out at my girlfriend's house in Wappingers Falls last weekend. It was early Sunday morning when the power went off and she received a text message saying that 72 customers are affected by the outage and it should be restored in the next few hours. Very helpful information but when the power came back on they sent another text that explained what happened.
Power Outage in Wappingers Falls Caused by a...
The follow-up text said that power was restored and said that it was believed to have been caused by a bird. WHAT!! A bird can cause power outages? I'm not sure why but as soon as I read the text, I thought to myself, that had to be a gigantic bird, right? I decided to reach out to Central Hudson to see if this is something that commonly happens in the Hudson Valley.
Birds Cause Power Outages?
Central Hudson has taken a lot of angry customer complaints over the last few months, (mostly due to billing) but one thing they do really well is answer customer's questions. After what happened to me, I sent them a Facebook message asking,
"I received a text message recently about why my power went out. It said cause: bird. A bird caused it? Can anyone let me know what happened? It was in Wappingers Falls last Saturday."
Ten minutes later they responded,
"Good morning, CJ. It is likely that a bird caused a fault by touching two power lines simultaneously. Surprisingly, animal contacts are among the most common causes of power outages."
They didn't say if the bird that caused the outage in Wappingers Falls survived the accident or not but did share a link to a video that explains how wildlife accidentally causes faults and impacts electric reliability...

New York's New License Plates
New York's newest custom license plates celebrate various regions of New York.
Popular Fishkill Restaurant For Sale
Athena Gyro on Main Street Fishkill, New York is for sale and could be yours for $325,000.
More From WZAD-WCZX The Wolf