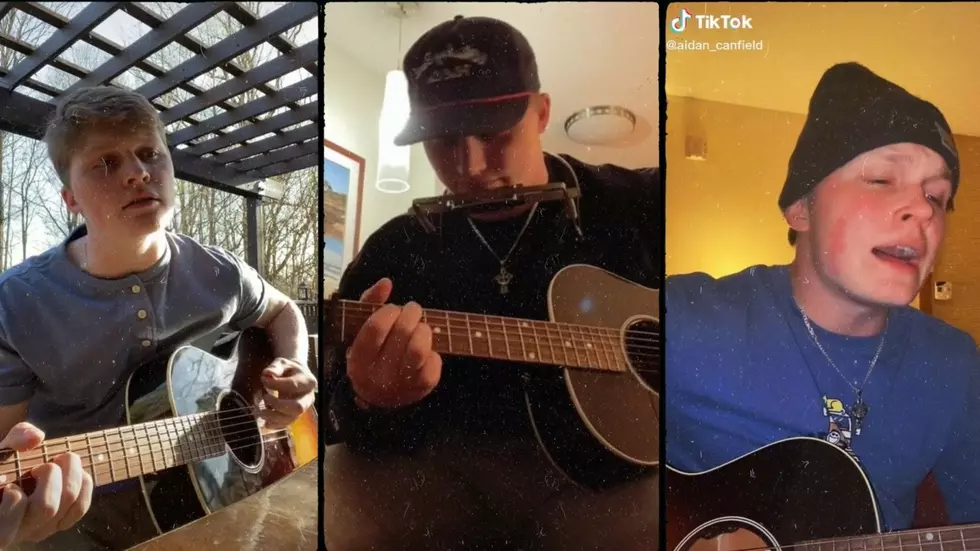 Pleasantville, NY Singer Looks to Make it Big in Country Music
TikTok
We love supporting local artists across the Hudson Valley on their journey to superstardom.  When we hear something that feels special we know we have to share our findings with the country music community.
Pleasantville native Aidan Canfield is looking to make his way to Nashville and is making a splash across social media.
These days the best way to share your talent, art, or to get your voice heard is through social media. Platforms like Instagram Reels and more specifically TikTok are giving up and coming performers a place to share their talents.
Aiden Canfield came across my FYP ('For you Page' for those not in the loop) on TikTok a few weeks ago, little did I know he was a lower Hudson Valley resident. The 20-year-old, who has over 7,000 TikTok followers, just released his first ever single "The Idea of Me" back on April 15th so we reached out to learn a little more about the future country star.
Canfield tells us that he grew up around country music with his parents playing it around the house all of the time. However, it wasn't until his senior year in high school that he started playing instruments. It might come as a shock, but Canfield said:
I never was musically inclined at all until my senior year of high school. It was then I decided to pick up the guitar and I started writing songs about a year later.
Taking a look at some of Aidan's videos you would think he was writing and performing his whole life. Canfield adds that he writes all of his own music adding that he likes songwriting as his strong suit. His latest single was produced and mixed by Mike and Nick Squillante who he said  "made my vision come to life with "The Idea Of Me." They are both super talented producers."
As for who he looks to for inspiration, Canfield says Bruce Springsteen and country newcomer Zach Bryan are high up on the list. If you listen closely you can hear the grit and passion in Canfield's voice, similar to that of Bryan who you may have heard on shows like Yellowstone.
Will we be seeing Aidan Canfield on the road this summer? As of right now he's just doing open mics in the area but is getting ready to schedule some shows in the near future.
Every Country Artist Performing In Upstate NY In 2022
We are set for a big year of Country shows in 2022, and here is a complete list of artists set to perform in 2022 in the Capital Region and all over Upstate New York.
25 Most Instagrammable Places in the Hudson Valley
Here are the 25 most Instagrammable places in the Hudson Valley that will sure to have people hitting that like button.
13 Hudson Valley Pretzels You Should KNOT Skip
Don't get it TWISTED, every day is pretzel day in the Hudson Valley with these delicious options.
More From WZAD-WCZX The Wolf