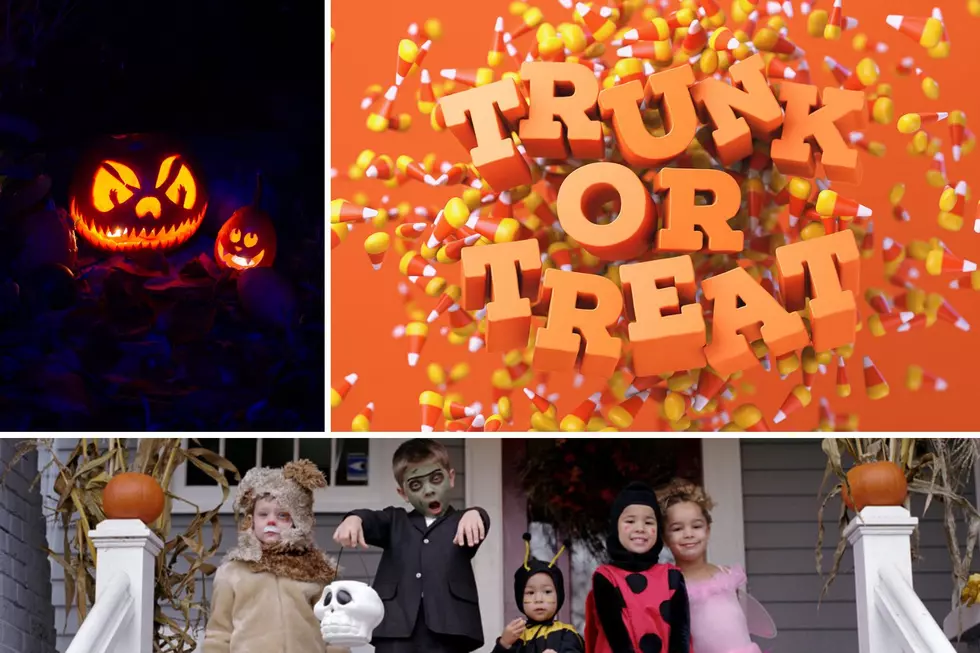 How To Find Hudson Valley Trunk Or Treats Near You
Canva / Rick Lundskow / Ryan McVay / Photo by aisvri on Unsplash
Traditional trick-or-treating is still a thing in neighborhoods that have a lot of houses but what about the kids who live in neighborhoods that aren't walkable? How can parents get their kids out for some good old candy collecting in areas that are rural or worst people don't want you knocking on their door?
The answer to what to do about trick or treating when you don't live in a trick-or-treat-friendly area is to go to a Truck or Treat. It seems every year this modified form of trick or treating is growing by leaps and bound.
Where to find Hudson Valley Trunk or Treats
A Trunk or Treat is usually held by an organization or group that is hoping to attract you and your kids to what they have going on. Fire Houses, restaurants, and community groups have all gotten into the swing of holding these events. I decided that much like the neighborhood lists of the past where you knew you were going to get good candy I would highlight places that are holding the new popular form of candy hunting on Halloween the Trunk or Treat.
Friday, October 21st, 2022 Trunk or Treats
The SAS PTO Trunk-or-Treat is waiting for you with a bowl full of candy. Join them for Halloween fun at the Scotchtown Avenue Elementary School in Goshen, New York from 6 PM to 7 PM. (Rain date is Oct 28,2022)
Saturday, October 22nd, 2022 Trunk or Treat
Trunk or Treat St. John's Lutheran Church is hosting a Trunk or Treat event on October 22, from 2 PM to 4 PM. People are invited to come out to the church with their car trunks decorated and have candy ready for the visiting trick-or-treaters. find out more by contacting Jeanne: jjones@stjohnselc.org 845-452-1550
Mahopac Falls Volunteer Fire Department's Trunk or Treat will be held at the firehouse at 17 Luccaro Lane in Mahopac Falls, New York. The fun is from 4 PM to 7 PM. There is a $5 fee per car to participate and that includes a bucket of candy. This event is open to all.
Thursday, October 27th, 2022 Trunk or Treats
The New Deal Creative Arts Center is hosting a Trunk or Treat at the Hyde Park Drive-In at 4114 Albany Post Road (Route 9) in Hyde Park, New York. Everyone is welcome from 5:30 PM to 7 PM. If you want to be part of the event you should register your car by emailing New Deal's Executive Director, Teresa Gasparini at teresa@newdealarts.org for more information. They are also accepting donations of candy.
Saturday, October 29th, 2022 Trunk or Treats
Re/Max Town of Fishkill Truck or Treat at 12PM - RE/MAX Town & Country at 584 Route 9 Fishkill wants everyone to join the 2nd annual Halloween extravaganza at our office location in Fishkill. This event will be held rain or shine (indoors). Open to the public, everyone is welcome.
HVK Trunk or Treat 2022 hosted by Hudson Valley Karate at 751 Sergeant Palmateer Way in Wappingers Falls will be held from 4 PM to 5:30 PM. They are hosting it for their students and families. Buddies are welcome! There will be games, prizes, and plenty of candy!
Greenville VFW Post 3175 will host a Trunk or Treat and Bake Sale at the VFW on Route 6 in Port Jervis, New York. The fun starts at 11 AM there will be free hot dogs and juice for the kids. Hot dogs, fresh popcorn, and baked goods will be available. Contact them to register your car and the rain date is October 30th, 2022.
Sunday, October 30th, 2022 Trunk or Treats
EGC Dance Center at 1 Four Corners Boulevard in Hopewell Junction is holding a Trunk or Treat with Halloween activities including a mini pumpkin patch and a dance performance by the EGC Dancers. Join them from 12 PM to 2 PM for spooky good fun.
Town of Wawayanda Truck or Treat at Shannen Park will be full of fun plus tricks and treats. The car lineup is at 1 PM the ghoulish fun will begin at 1:30 PM.
Poughkeepsie, NY Family Turns Front Yard into 'Haunted Graveyard' For Halloween 2022
This Poughkeepsie, NY culdesac has taken a hauntingly fun turn. Where is your favorite Halloween decoration display?
Unbelievably Spooky Cool Halloween Make-up Ideas
Wappingers SFX Makeup Artist Goes All Out For 31 Days of Halloween
Jamielyn Boldrin, an SFX Makeup Artist from Wappingers Falls, takes Halloween to a whole new level with her 31 Days of Halloween Makeup Challenge. Do you recognize any of the movies or TV shows these looks are from?
Most Haunted Places in New York State
The 10 Most Haunted Places in New York State
The 10 most haunted buildings, cemeteries and complexes in
New York State
.
More From WZAD-WCZX The Wolf