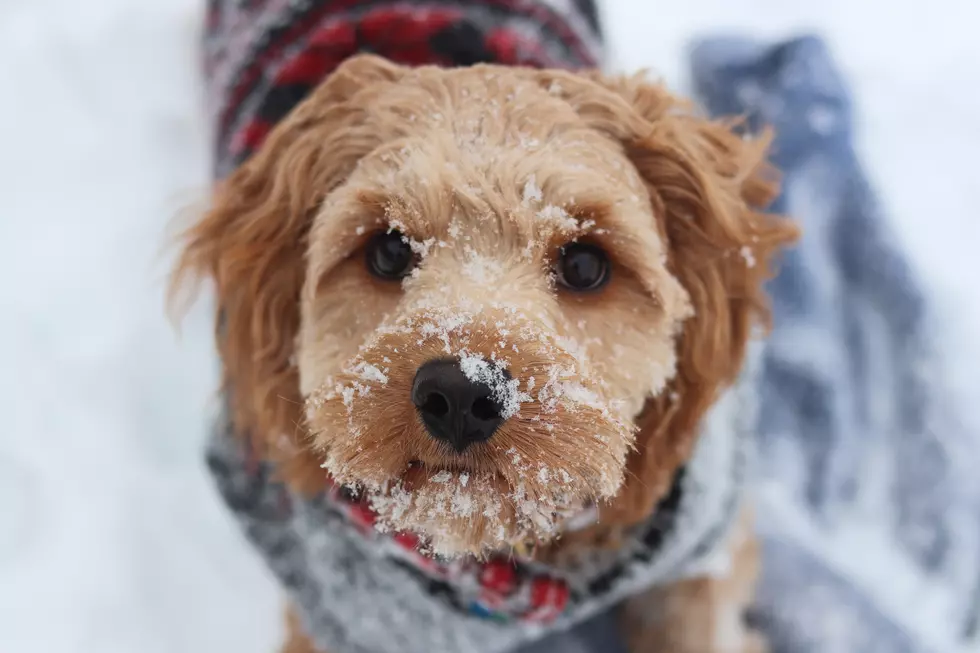 Hudson Valley Winter Safety Tips To Keep Your Pets Safe
Photo by Mia Anderson on Unsplash
Very cold Winter nights ahead in the Hudson Valley! You'll want to keep your pets safe.
It's always important to talk about keeping your pets safe all year round, and with it being winter time and with us finally getting some really frigid nights ahead in the Hudson Valley, it's important to remind pet owners that safety is key.
We've had some cold nights over the past couple of months, but not extremely cold in comparison to what's to come as we get into February.  We could see temps getting down to near zero this Friday night. It's very important to remember that if it's too cold for you, it's likely too cold for your pets too.
Here are some tips for keeping your pets safe.
1. Keep Pets Indoors Whenever Possible
This is a no-brainer. Keep your pets indoors with you and your family as much as possible. Of course, your pets will need outside exercise and bathroom breaks, but dogs and cats should not be left outdoors under any circumstances in extremely cold temperatures. Keep your pets comfortable and warm.
2. Keep Your Pets Hydrated
Even when it's cold out, you'll want to make sure your pet is hydrated. It's a common misconception, but pets can still get dehydrated in the winter, even when it's not sweltering hot outside. You should always carry a water bottle on walks and make sure your pet is drinking enough at home and outside. If you have an outdoor pet, use a plastic bowl instead of a stainless steel bowl.
3. Protect Your Pets Paws
Check your dog's paws regularly for signs of cold-weather injury or damage. Salt and other ice-melt chemicals can harm your pet's feet. Gently rub your pet's paws with a damp towel to remove irritants after a walk, or buy your pet boots to prevent paw irritation during winter weather.
4. Never Shave Your Pet Down in Winter
Wait until Spring to shave down your dog. A longer coat will provide more warmth. If your dog is short-haired, consider getting him or her a coat or sweater.
5. Don't Lock Pets in Cars
Never leave a pet locked inside a car. Most of us know this and usually think about it in the hot months. But during extremely cold weather, you don't want to keep them there either. Cars can act like a refrigerator, holding in cold air and putting your pet at risk.
6. Keep Antifreeze Out of Reach of Pets
Keep antifreeze out of reach from your pets and clean up any spills right ways to avoid antifreeze poisoning. Many types of antifreeze have a sweet taste that can attract animals. You don't want that.
7. Use leashes When Walking Near Water
Be sure to make sure you have a leash on your pets when walking near a frozen body of water so they don't run onto the ice. If your pet falls through the ice you should call 911. You should not go onto the ice to rescue them. If you can't reach your pet from shore, call 911.
Well, those are some pet safety tips to keep your furry friends safe during the cold winter months ahead. From the "Ya learn something new  everyday" file, check out pets that are banned in each of the 50 states
LOOK: Here are the pets banned in each state
Because the regulation of exotic animals is left to states, some organizations, including The Humane Society of the United States, advocate for federal, standardized legislation that would ban owning large cats, bears, primates, and large poisonous snakes as pets.
Read on to see which pets are banned in your home state, as well as across the nation.
More From WZAD-WCZX The Wolf