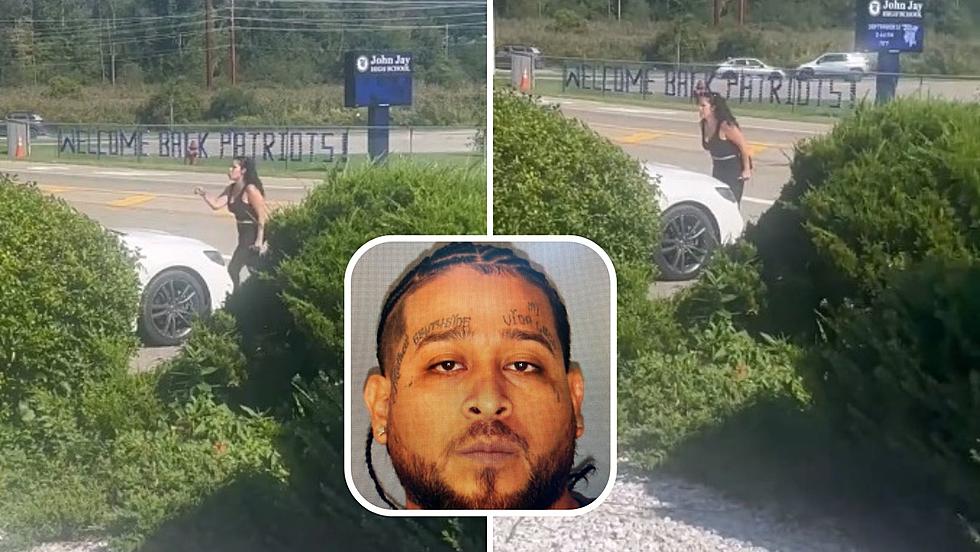 Hudson Valley Mom Goes Viral for Protecting Local Dutchess County Students
TikTok/East Fishkill Police Department
A Hudson Valley mom is going viral for protecting students from an alleged stalker.
Alleged Student Stalker Arrested in Fishkill, NY
On September 17th, Cesar Rojas, 33 from Yonkers, New York was "placed in custody by the East Fishkill Police Patrol Division." Rojas was then charged with Stalking 4th Degree and arraigned.
The press release goes on to explain:
Mr. Rojas was released on his own recognizance with an appearance ticket and served with an order of protection mandating him to stay away from the victim and the victim's school.
According to a press release from The East Fishkill Police Department, back on September 12th, they had received a complaint regarding a "a suspicious male that approached a female student across from John Jay High School."
After the initial contact, the male suspect reportedly followed the female student in his car and then proceeded to approach "two other female students in an area off campus the same day."
Recently a video from that day of an encounter between a mother and the alleged stalker has gone viral on social media.
Hudson Valley Mother Seen Protecting Students on TikTok
The account @DutchessMami on TikTok uploaded a video back on September 27th. In the video, you can see her yelling at the driver of a white vehicle.
In the caption, the mother writes:
THIS IS ME CONFRONTING A #PRWDARO at OUR LOCAL #HIGHSCHOOL IT lead to an arrest. This man asked several female students at our local hight school to get in his vehicle. he stalked one student for 40 mins. while I was there. the student voice concern so I rose to the occasion which led to his arrest!!!
You can watch the video below. As a courtesy, we want to inform you that the video does contain some profanity:
Parents React on Social Media
The video has been viewed over 700,000 times and shared over 7,000 times. An account on Instagram called @themontaukaffect also shared the video and received a little over 4,000 comments. Many of them applaud the mother for stepping up and saying something when others turn the other way.
One commenter said:
I love this new society of women sticking up for women and children because most men won't.
Another added:
This healed something in me fr
You can read more comments on the reposted reel from Instagram below.

We've reached out to the Hudson Valley mother for comment and have yet to hear back at this time.
40 Children Have Recently Gone Missing From New York State
9 Of New York State's Most Wanted Criminals- October 2023
Below are individuals wanted by the New York State Department of Corrections and Community Supervision's (DOCCS) Office of Special Investigations who have been designated as its
Most Wanted Fugitives
. They should be considered armed and dangerous. This list is current as of 10/01/2023:
NEVER attempt to apprehend a fugitive yourself. If you have information on the location of any of these fugitives, you can contact OSI 24 hours a day / 7 days a week to report it. All leads and tips are treated as confidential information.
If an immediate response is necessary, such as you see the wanted person at a location, please call "911" and report it to the police.
Gallery Credit: Dave Wheeler
10 New York State Gangs Known For Violent, Criminal Activity
More From WZAD-WCZX The Wolf