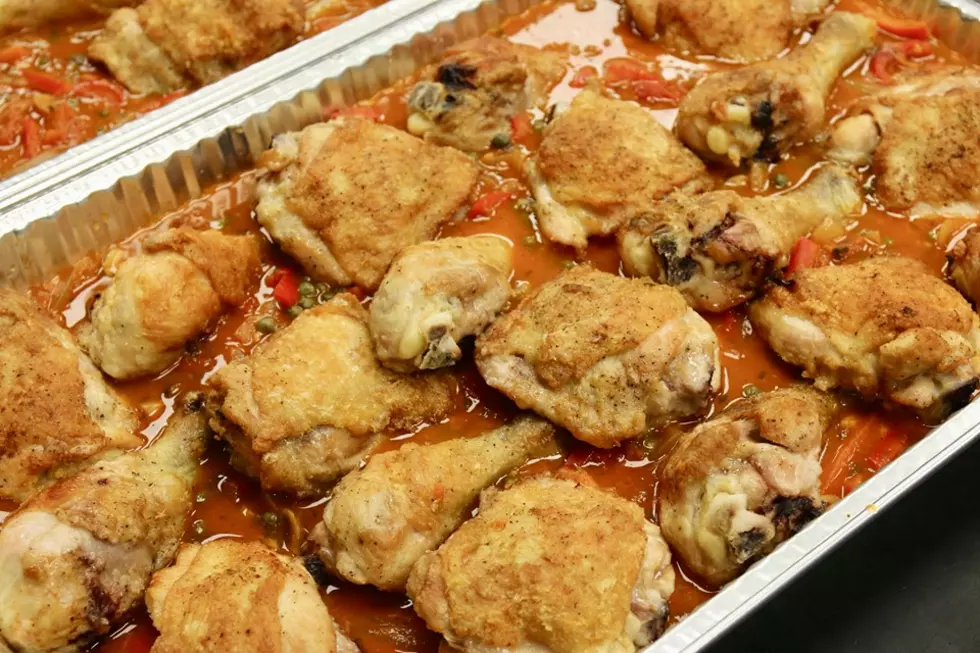 Food from Hudson Valley Grocery Store to Star in HBO Series
Adams Fairacre Farms
A Hudson Valley grocery store cooked food for a Hollywood A-lister and shared its recipe for a meal that's going to be featured on HBO.
On Wednesday, Adams Fairacre Farms announced its Poughkeepsie Prepared Foods team cooked for the HBO series I Know This Much Is True starring Mark Ruffalo. The miniseries has filmed all over the Hudson Valley recently.
Adams also provided a detailed recipe for the chicken cacciatore so you can try it at home.
Chicken Cacciatore (Serves 2)
- 2 Chicken Thighs (Skin-On, Bone-In)
- 2 Chicken Drumsticks
- Salt & Pepper, to taste
- 1 cup All-Purpose Flour
- 2 Tbsp. Olive Oil
- ½ Yellow Onion, sliced
- 1 small Red Bell Pepper, sliced
- 8 Crimini Mushrooms, sliced
- 2 cloves Garlic, minced
- 5 sprigs Fresh Thyme
- ½ cup White Wine
- 1 14oz can of Diced Tomatoes
- 2 sprigs Fresh Oregano, picked and chopped
- 2 Tbsp. Capers, drained
Directions:
1. Preheat oven to 350°F.
2. Heat oil in an oven-proof braising pan over medium heat.
3. Season chicken pieces with salt and pepper and lightly coat with flour.
4. Brown the chicken on all sides in the oil then remove from the pan. Pour off all but 2 tablespoons of the oil.
5. Add the onions, peppers and mushrooms to pan and sauté until the vegetables are soft.
6. Add the garlic and thyme and sauté for 1 minute longer.
7. Deglaze the pan with the white wine and simmer for 2 minutes.
8. Add the tomatoes and bring the sauce to a simmer.
9. Return the chicken to the pan, skin side up, cover and place in a 350°F degree oven.
10. Bake for 30-35 minutes until the thickest part of the chicken reaches an internal temperature of 165°F.
11. Stir in oregano and capers. Serve over pasta or polenta.
More From WZAD-WCZX The Wolf