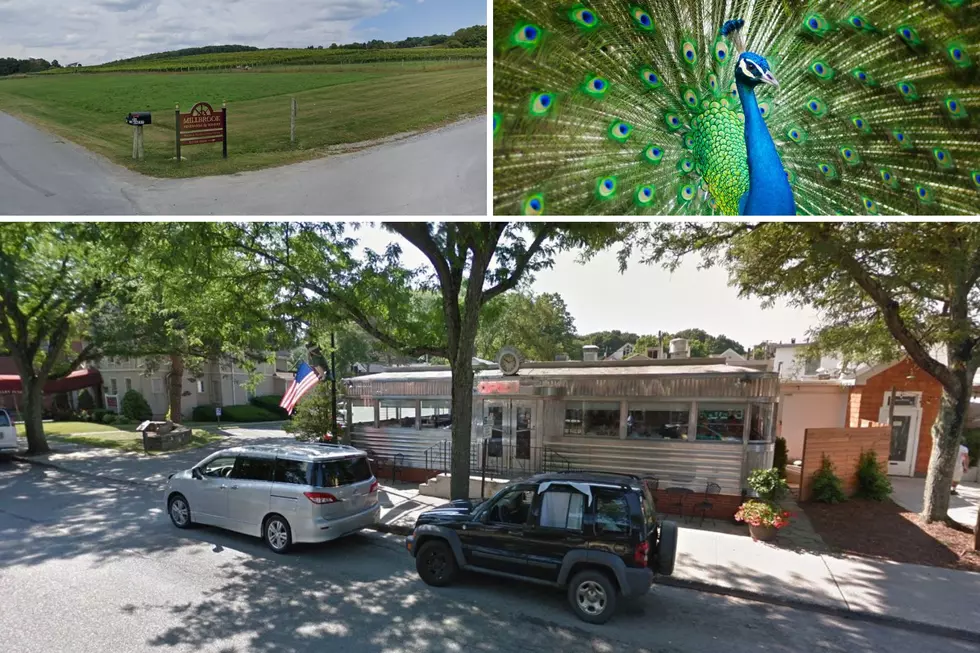 3 of our Favorite Things in Millbrook, New York
Google Maps/Canva
Celebrities, classic food vibes, wine, a zoo, and much more!
We've told you many times that the Hudson Valley is full of so many extraordinary small hometowns!! Each county in the area has so many options to choose from if you are looking for a nice place to spend a day! Ulster, Orange, Sullivan, and Putnam Counties all have gems, but there is one place in Dutchess County that we think everyone should check out soon.
Millbrook, New York
Millbrook is another one of Dutchess Counties' best towns that offer guests one of the most important things. It's a great WALKABLE town!!! Personally, if I was asked to describe the best small hometown, the first thing I would look at is if it's got a great main street to walk up and down. Millbrook DOES and it offers a little bit of everything including antiques, coffee, and one of my favorite things, a real estate office that puts pictures on the windows of houses for sale in the area. I love to look at houses that I'll never be able to afford...LOL!
Millbrook Diner
Most towns have a diner or at least a good place to eat breakfast but Millbrook has both all in one place. The Millbrook Diner, located on the main strip in Millbrook is by far one of the coolest-looking diners in all of the Hudson Valley. The Millbrook Diner has the shiny silver old retro-type look on the outside and inside offering customers a chance to sit at the counter and enjoy a full "diner" menu with all the diner classics. The diner is an O'Mahony-built stainless diner, installed in 1952 according to Retro Road Map.
Trevor Zoo
Yes, the Hudson Valley has a zoo, and it's located in Millbrook! Many folks aren't aware that Millbrook does indeed have a zoo. The Trevor Zoo at Millbrook School is located at 282 Millbrook School Rd, Millbrook, NY, and offers guests the chance to see pandas, wolves, birds, and much more. The Trevor Zoo is open from 9 a.m. to 5 p.m. every day by reservation only. Take a look at their schedule of events and make reservations online here.
Millbrook Vineyards & Winery
If you like wine you probably already know about the folks at Millbrook Vineyards & Winery. Located at 26 Wing Rd, Millbrook, NY, Millbrook Vineyards & Winery offers some of the Hudson Valley's best wines! They must be doing something right in Millbrook as the New York Times called them "the Hudson Valley's flagship winery" and the Wall Street Journal called it "a great place to visit" according to their website. If you can't make it to the winery, Millbrook wines are at almost every liquor store across the Hudson Valley.
Millbrook has also been home to a few famous people over the years...
Celebrities That Once Lived in Millbrook, New York
These 5 more famous than us people once called the Dutchess County village of Millbrook, New York home.
Stay the Night at This Hauntingly Charming Millbrook Castle
Experience the haunted Hudson Valley with a stay at this charming, and allegedly haunted, Millbrook castle.
More From WZAD-WCZX The Wolf