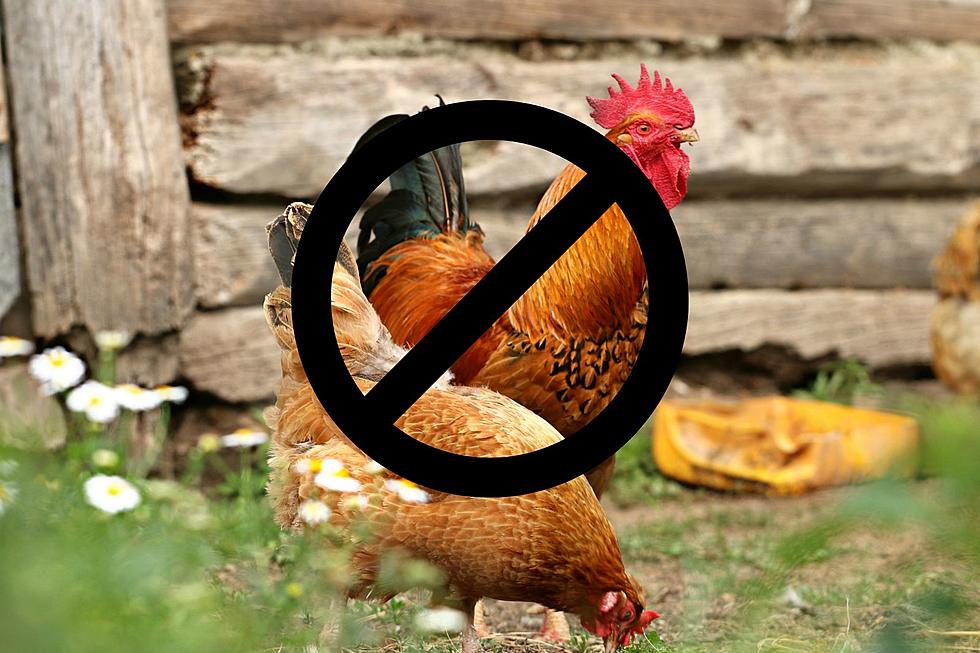 Family Fighting to Keep Chickens in Newburgh, New York
Canva
A family in Orange County is fighting to keep their chickens at their house after a neighbor anonymously filed a complaint to town officials in Newburgh.
With the cost of just about everything on the rise, many Hudson Valley families have made the choice to try a cut costs by trying new things including buying chickens and eating freshly laid eggs. If you think about it there's probably a family or two in your life that has tried to do the fresh egg thing recently and it's likely they are the last family you'd think would be trying...LOL!
"No Chickens" Law in Newburgh, NY?
One Newburgh family is hoping that town officials will listen to their plea to change the chicken ordinance in the town so their family can continue to raise chickens according to ABC 7. The Nespoli family has been fortunate enough to enjoy freshly laid eggs from the 10 chickens they have in their Newburgh backyard for over a year but that could change after a neighbor complained to town officials that the family was breaking a town ordinance.
Fowl Zones in Newburgh
The Nespoli's live in a part of Newburgh that is zoned for agricultural and residential use with a 1.1-acre property, but according to the Newburgh Town code it is against town laws to have chickens on a parcel of land that is less than 2 acres.
The family has been enjoying their farm-to-table lifestyle for over a year with no issues until recently. Elysia Nespoli told ABC that the family received a letter in the mail two weeks ago from the town stating that they have until April 24th to get rid of the animals or they would be hit with a fine. The fine wasn't disclosed but according to the town, enforcement of the law started after they received an anonymous complaint which came as a surprise to the Nespoli's.
The family did say that they do have the support of at least one Newburgh council member and were told by the town supervisor that the matter would be discussed at an upcoming public hearing. The town does have the power to change the ordinance by granting a variance but if they choose not to, the family would move forward with filing an appeal.
Chickens are Good for Families
Yes, if chickens are taken care of properly and not causing issues for neighbors they are not only helping families with rising costs, but they are also providing healthy food for the dinner table. Fresh eggs are only one benefit of having live chickens according to the Nespoli family, the chickens they have at home are allowed to roam around their backyard for about an hour each day to eat insects and weeds which provides compost for their garden.
When Newburgh announces its ruling we will update this article.
7 of the Dumbest Laws in New York
These seven things are still considered "breaking the law" in the great state of New York.
12 of the Hudson Valley's Favorite Places for Breakfast
12 of the best places to grab breakfast according to Hudson Valley "Foodies".
More From WZAD-WCZX The Wolf