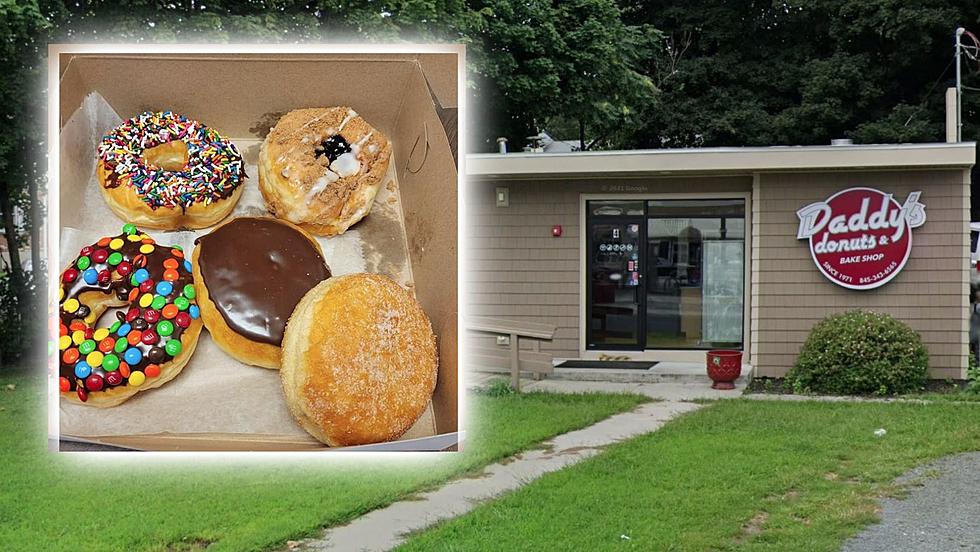 Popular Middletown, NY Donut Shop Set to Reopen Under New Name
Debby Clauson Barber/Google Maps
Hudson Valley donut lovers rejoice! A popular donut shop that closed a few years back is making a comeback.
Popular Middletown, NY Donut Shop Closes in 2018
If you're a donut aficionado, you were probably left heartbroken in the summer of 2018.
That's when the wildly popular Daddy's Donuts announced that they were closing its doors. In a statement, they had explained it was best for their business and their family to be a "large scale only bakery" servicing wholesale customers, but unfortunately closing their storefront.
Daddy's Donuts was known for its crazy donut creations. I specifically remember eating a Fruity Pebble donut and seeing a friend down a Maple Bacon donut, with a legit strip of bacon on it. Here's an example from the Daddy's Donuts & Bake Shop Facebook page in 2018:
Needless to say, the Middletown community was sad to see Daddy's Donuts & Bakery storefront close.
A Hudson Valley Valentines Day Surprise
While scrolling on social media I came across a post from Debby Clauson Barber, who shared a photo of a delicious-looking half dozen donuts with the caption "Daddy's Bakery (Donuts) is re-opened!" Take a look:
Not sure what flavor donut that is in the top right-hand corner, but I am salivating just looking at it. Look at all the M&M's on the donut upfront. My goodness. Are you hungry yet, or is it just me?
Daddy is Back in Middletown, New York
I did a little research and while there isn't an update on the Daddy's Donuts & Bake Shop page, another newly created Facebook page for Daddy's Bakery had an update. The status read:
Did you hear? Daddy is back, just in time for Valentine's. #newnamesamedaddy
Tuesday, February 14th, 2023 was the soft re-opening for Daddy's Bakery. They'll take a few days off to prepare for their grand re-opening this week starting on Thursday, February 16th. It looks like Daddy's Bakery will be open Thursday to Sunday from 6 am to 2 pm.
The name change seems to be the only noticeable difference, Daddy's Bakery is still holding strong at 4 Fairlawn Avenue in Middletown New York.
We reached out to Daddy's Bakery and asked how they feel about coming back to the Middletown area and if there are any changes this time around. Daddy's told us:
Daddy is back and more excited than ever. We're happy to be reopening and this time, partnering with his nephew and working with his sons. We look forward to bringing the Hudson Valley our famous donuts and treats once more. Can't wait to see you!
It's great to see a local Hudson Valley business make a resurgence, especially after seeing so many of our favorites close after the COVID-19 lockdown.
While you wait for Daddy's Bakery to officially re-open, take a look at some of the other Hudson Valley donut shops you can taste test along the way below. A donut crawl sounds like a pretty great idea, right?
10 Delicious Donut Shops To Visit in the Hudson Valley
Every day is National Donut Day at these 10 donut shops across the Hudson Valley!
Holy 'Donnoli!' Donut, Cannoli Mashup Rolls into Beacon, NY
Donut + Cannoli = Masterpiece. Hudson Valley foodies will be flooding to Beacon for this sweet treat!
The Ten Best Apple Cider Donuts in the Hudson Valley
These are the best places to enjoy the greatest donut ever created, according to the Hudson Valley
More From WZAD-WCZX The Wolf