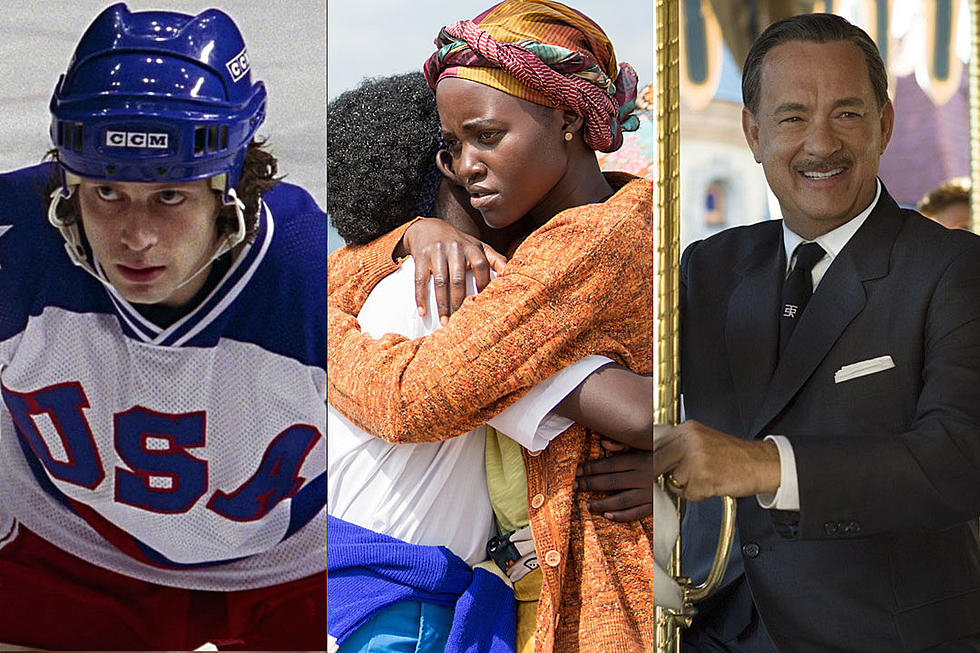 The Best Disney Movies Based on True Stories
Disney
Last Friday, Walt Disney Pictures released Queen of Katwe, a new film inspired by the true story of a girl from the slums of Uganda who became a chess grandmaster. Though it may seem like an off-kilter choice for Disney and co-producer ESPN Films to make a bio-drama about the world of chess, Disney has a long history of making films based on incredible true stories. In the last few years, Disney has been on a kick of true-story movies, interspersing them in each year's production slate between the latest Marvel, Pixar, and Lucasfilm entries. But which is best? Here, you'll find our list of the 10 best Disney movies based on true stories. Get your tissues ready!
10. Saving Mr. Banks (2013)
Directed by John Lee Hancock
There's no stranger film on this list. Part of Saving Mr. Banks is meant as a heartfelt depiction of family trauma in the life of P.L. Travers, who took it as inspiration to create the character of Mary Poppins. The other part details the acrimonious making of the iconic 1964 film; Travers wanted a Mary Poppins with no animation or music. How these two dovetail, as well as with Travers' relationship with Walt Disney (played by Emma Thompson and Tom Hanks), is about as shaky as the foundation of the story. The good news is, this will make you want to watch Mary Poppins. The bad news is, this might make you wish you were just watching Mary Poppins, not a story about how that specific sausage was made.
---
9. The Finest Hours (2016)
Directed by Craig Gillespie
Queen of Katwe isn't even Disney's first true-story film of 2016. That honor goes to The Finest Hours, which detailed the harrowing rescue of men aboard an oil tanker in 1952 by a handful of Coast Guardsmen, led by the meek Bernie Webber (Chris Pine). Symphony of cheesy New England accents aside, The Finest Hours boasts a couple of notable performances: Casey Affleck as the oil-tanker engineer whose quick thinking enables his crew to mostly survive is the standout, plus Pine as a less obvious hero than his Capt. James Kirk. The Finest Hours was a flop in theaters (post-converting a film that's primarily set at night or in rainy weather to 3D was unwise), but had enough elements that help it stay afloat.
---
8. Million Dollar Arm (2014)
Directed by Craig Gillespie
Here's a film with a fine cast (Bill Paxton, Aasif Mandvi, and Alan Arkin, among others), a talented writer (Thomas McCarthy, who won an Oscar for Spotlight), and a fascinating concept (two young Indian men win a talent competition to win the chance to become MLB prospects) that sputters to the finale. Hamm, as the sports agent who comes up with the idea, is fine as a lighthearted Don Draper type, but the story's most compelling aspect— what must it be like for two young Indian men to travel to America? — is constantly backgrounded in favor of Hamm's character improving his life through this journey. This isn't the worst offender in the "white savior" subgenre of inspirational film, but it's close.
---
7. The Greatest Game Ever Played (2005)
Directed by Bill Paxton
An amateur playing a professional game. A parent who doubts their child's natural ability. A stunning victory at the end. These are familiar elements of any sports movie, and they're all very much present in The Greatest Game Ever Played, a low-performing Disney movie from 2005. Its star is a fresh-faced Shia LaBeouf as Francis Ouimet, who became the first amateur to win the U.S. Open against all odds. Bill Paxton (who'll make one more appearance on this list) directs this film with aplomb, and gets solid performances from LaBeouf, Elias Koteas, Stephen Dillane, and more. It was mostly forgotten upon release, but The Greatest Game Ever Played deserves a second look.
---
6. Remember the Titans (2000)
Directed by Boaz Yakin
This 2000 movie deals explicitly with race relations, depicting the story of a desegregated football team led by an African-American coach (Denzel Washington) in the South in the early 1970s. Because this is a Disney movie, Remember the Titans takes liberties with the truth — Washington's coach gets results from his tough-love attitude, but that may not have been quite accurate in real life— but doesn't shy away from depicting a team of white and black players who often don't get along. Remember the Titans gets why sports movies work: Because they're shameless and manipulative in crowd-pleasing style.
---
5. Cool Runnings (1993)
Directed by Jon Turteltaub
Most movies on this list follow a similar formula: Cast at least one well-known actor (often a white actor), and don't screw up the surrounding story and characters. Cool Runnings, conforms, in a sense, with John Candy as the unlikely coach of Jamaican bobsledders competing in the 1988 Winter Olympics. But Cool Runnings is also quirky enough to let the bobsledders be the leads, not the white guy who helps them. It's also smart enough to use the true story as the foundation only, as the writers and director took a number of liberties to make a creatively satisfying film. What's more, Cool Runnings climaxes in a moral victory, not a material one; the result is more oddball and lively than most Disney movies of its ilk.
---
4. The Rookie (2002)
Directed by John Lee Hancock
Casting comes to the rescue once again in The Rookie, which is a perfectly solid film about an impossible dream that came true: A 35-year old married father who lost his chance at Major League Baseball glory as a younger man gets a second attempt, and becomes the oldest MLB rookie in decades. As Jim Morris, Dennis Quaid embodies a hopeful spirit. It's not a part that allows for some of the devil-may-care attitude he exhibited in earlier work, but he brings the appropriate gravitas to a story that exemplifies the Disney style: a dreamer reaches an impossible goal despite being told by everyone else they can't do it. The Rookie is, in that sense, the quintessential Disney true-story movie.
---
3. Miracle (2004)
Directed by Gavin O'Connor
The U.S. Olympic hockey team's victory at the 1980 Olympics is well known thanks to Al Michaels' memorable call in the first medal game: "Do you believe in miracles?" The 2004 film detailing the team's triumph isn't quite as miraculous as the win itself; in many ways, it's as much of a traditional inspirational sports film without a lot of variation. But with Kurt Russell, Patricia Clarkson, and Noah Emmerich as the three leads (coach Herb Brooks, his wife, and his assistant coach), Miracle stands out as a sturdy example of competent, straightforward, old-fashioned storytelling.
---
2. Queen of Katwe (2016)
Directed by Mira Nair
Most entries on this list have a familiar playbook: A scrappy underdog, a guide trying to drive them to glory, a family unit that doubts our hero, a moment of doubt, and a climactic moment of triumph. Queen of Katwe is no different, but boasts honesty and flair. Phiona Mutesi (newcomer Madina Nalwanga) lives in Uganda selling maize with her siblings and mother (Lupita Nyong'o), but soon becomes a chess prodigy thanks to the guidance of her coach (David Oyelowo), who wants to give the kids of Katwe a way out of their lives. Queen of Katwe may hit the same beats as other true-story films, but the trio of lead performances coupled with Mira Nair's snappy direction help this stand out among peers.
---
1. The Straight Story (1999)
Directed by David Lynch
The Straight Story is a miracle. It's a G-rated Disney movie about an elderly man who traveled state lines on a lawnmower directed by David Lynch. Richard Farnsworth, in his final film role (performed while he suffered through terminal cancer), plays Alvin Straight, who takes his riding lawnmower 240 miles across the Midwest to visit his ailing brother Lyle (Harry Dean Stanton). The story is deceptively simple and earnest, no doubt because Lynch is not a director who often sticks with simple, earnest fare. But The Straight Story is a wrenching piece of filmmaking, with a genuinely moving, tearjerking finale, all from a most unlikely source.
More From WZAD-WCZX The Wolf