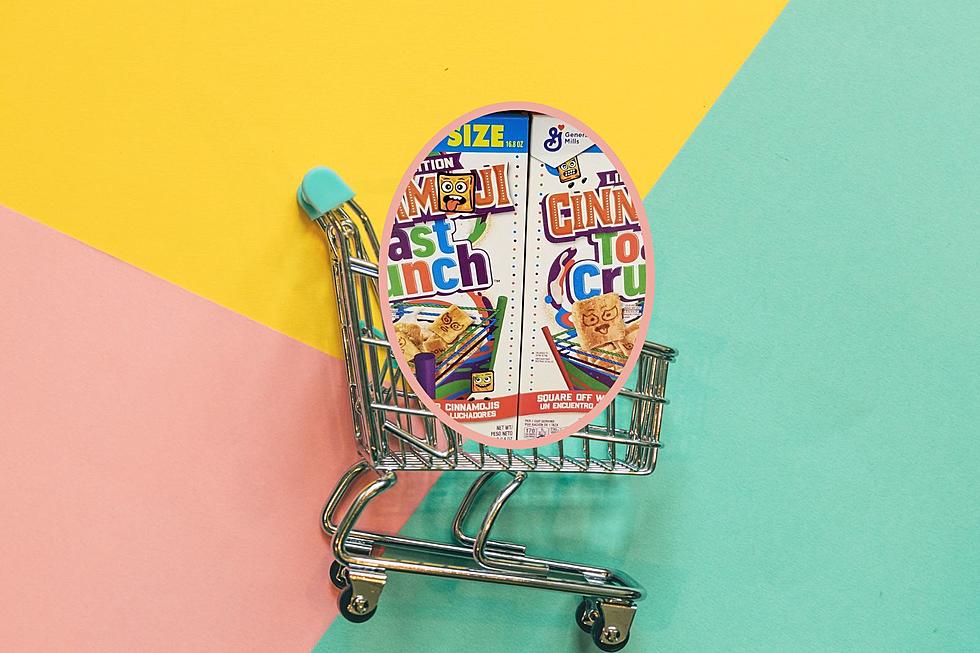 5 Specialty Cereals Available In New York Grocery Stores
Canva / PQ
Sometimes when life gets crazy it is fun to just feel like a kid again. I find when the adult world is spinning a bit too fast it is fun to do something I enjoy as a kid. Swinging on Swings, coloring with big Crayola Crayons or just sitting down with a box of kid cereal.
Recently on a trip to the grocery, I decided I would pick myself out a box of anti-adulting cereal to have on hand the next time my inner child showed up. I was actually on a mission for a cereal I had heard was being made for Easter. That's right you probably guessed I was on the hunt for Peeps Cereal.
Hudson Valley List of Sugary Kids Cereals
Now before you say "gross" or who goes looking for kid cereal who doesn't have kids, let me share with you some of the responses I got from a Facebook post when I asked, "What's your favorite sugary kid's cereal?" See if your favorite made the list.
Lori B - Alpha Bits, but apparently they are gone

Jessica M - Captian Crunch

Donna B - Apple Jacks

Jen P - Golden Grahams

Michelle T - Lucky Charms

Debbie B - Fruity Pebbles

Angel  P - Cinnamon Toast Crunch

Kate R - Coco Puffs

Diane T - Fruit Loops

Cheryl L - Honey Combs

Marisa J - Frosted Flakes

Patricia B - Sugar Crisps

Marlene D - Honey Nut Cheerios

Dawn M - Frankenberry

Tom O - Chocolate Frosted Sugar Bombs - Is this Real?
I was shocked at how many fun kid cereals I had forgotten about. I am not sure about the Chocolate Frosted Sugar Bombs I don't remember those and JJ M actually commented, "Name me an adult sugary cereal"? Very true, but some of that granola good for us cereal can have a lot of sugar. Anyway, from the comments that came in, I can see that I am not alone in my kid cereal craving. Tops on our list were definitely Captain Crunch with Lucky Charms a close second
So how did my hunt for Peeps Cereal turn out? The first few times I looked for it I had no luck but I did find other special edition cereals. Then on my last trip shopping, I was nowhere near the cereal aisle when I spotted the Peeps cereal probably where it had been the whole time. In the Peeps Easter display, duh! So check out the cereals I found on my hunt for Peeps Cereal and if you want to get yourself a box I know for a fact it is with the Peeps candy at TOPS in New Paltz.
Specialty Cereals You can Buy in New York for a Limited Time.
Limited Edition Cereals
Some of these specialty cereals are now available at your favorite grocery stores in New York State. I assume it is while supplies last. These are seasonal so I won't expect them to always be on the shelf. So don't wait, run out to get some.
Fun Places to Visit in the Hudson Valley
Museums and Halls to Visit in the Hudson Valley
There are plenty of places to go when the weather is nice in the Hudson Valley but what if you want to experience art, history even motorcycles when the weather is too cold or maybe too hot? One of these places is just waiting to welcome you. Who knew that the Hudson Valley had such an amazing variety of museums some of which are free.
Look at these National Parks they are the Most Popular with Visitors
RANKED: Here are the most popular national parks
To determine the most popular national parks in the United States, 
Stacker
 compiled data from the 
National Park Service
 on the number of recreational visits each site had in 2020. Keep reading to discover the 50 most popular national parks in the United States, in reverse order from #50 to #1. And be sure to check with individuals parks before you visit to find out about ongoing, pandemic-related safety precautions at 
www.nps.gov/coronavirus
.
More From WZAD-WCZX The Wolf