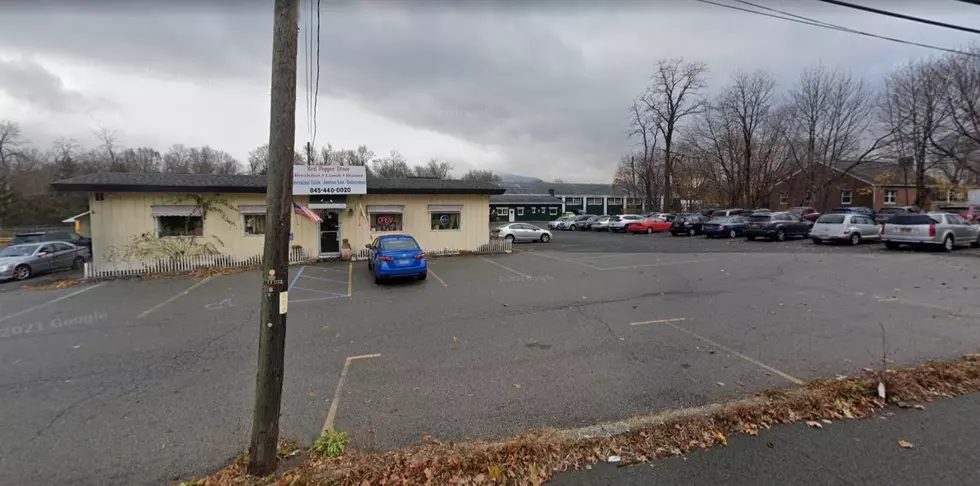 'Wonderful Hidden Gem' New York State Diner Moves In Hudson Valley
Google
A New York diner that's been called a "hidden gem" is moving to one of the most popular hometowns in the Hudson Valley.
Owners of Red Pepper Diner in Dutchess County confirmed the diner is moving.
Wappingers Falls, New York Diner Is Moving
The diner is currently located on Route 9D in Wappingers Falls just a stone's throw away from Dutchess Stadium.
"A wonderful hidden gem! Absolutely delicious food served by a gracious staff amidst adorable decor," Erik Baard wrote on Facebook.
For all the news that the Hudson Valley is sharing make sure to follow Hudson Valley Post on Facebook, download the Hudson Valley Post Mobile App and sign up for the Hudson Valley Post Newsletter.
Hudson Valley Diner Serves 'Delicious' Sri Lankan Food
The restaurant offers traditional Sri Lankan dishes like biryani, a rice dish with saffron, cashew nuts, herbs and raisins, or hoppers, a bowl-shaped crispy pancake that can be served sweet or savory.
"Proudly serving traditional Sri Lankan and American cuisine," the diner states on Facebook.
While the eatery does offer American food, what makes this place truly special is its Sri Lankan buffet.
"Fridays are buffet night, each dish was amazing," Randie Jaffe said on Facebook. "You must try this place!"
I've personally been to the diner for a Friday evening Sri Lankan buffet many times and loved it every time. I highly recommend the deviled pork or deviled chicken and hoppers.
Red Pepper Diner Moves to Beacon, New York
Red Pepper Diner is moving to Beacon, New York. Owners expect to open up the Beacon location next week.
The move will bring the restaurant to Fishkill Avenue in Beacon, next to Stinson's Hub.
The Beacon location will open on Jan. 30, with the grand opening scheduled for Feb. 3-5.
A Sri Lankan buffet will be available during the grand opening days from 5 p.m. to 9 p.m. and then every Friday from 5 p.m. to 8 p.m.
The same menu will be available at their Beacon location, owners note.
Reason For Move To Beacon, New York
A spokesperson for the diner told Hudson Valley Post owners weren't able to renew the lease with the Wappingers Falls location because the building is for sale.
Keep Reading Rocks Falling From Sky Damage At Least 16 Cars In New York State
Red Pepper Diner owners were also searching for a place they could own, a place that offered more space with the ability to renovate.
LOOK- These Are the 50 Biggest Retailers in America; 3 Are Based In New York State
Stacker
recently put together a list of the top 50 biggest retailers in America using retail sales data from Kantar, provided by the National Retail Federation. What they did was ranked each by the dollar amount of retail sales they did in 2021. We took it a step further to see how many locations they have in New York and across the United States.
Total stores were based on figures from Scrapehero. The number of New York stores is based on information collected from a brand's website. It was easier to find that info for some and difficult for others. So be advised.
21 Places You Might Run into a Celebrity in The Hudson Valley
Hollywood on The Hudson is real! It seems like there's a new celebrity sighting in the Hudson Valley. Here are a few of the hot spots that you may run into a celeb while walking around town.
Nearly 50 Children Have Recently Gone Missing From New York State
Close to 50 children from New York State and the Hudson Valley have recently gone missing. You can help a New York family get reunited with a missing loved one.
These 6 New York Counties Have The Most Drug Overdose Deaths
New York State officials are worried because overdose death rates increased by 85 percent. Below are the top 6 counties in terms of opioid overdose deaths per 100,000.
These Counties Have The Most Food Stamp Recipients Per Capita In New York
SNAP usage has increased across the state since the start of the pandemic
More From WZAD-WCZX The Wolf