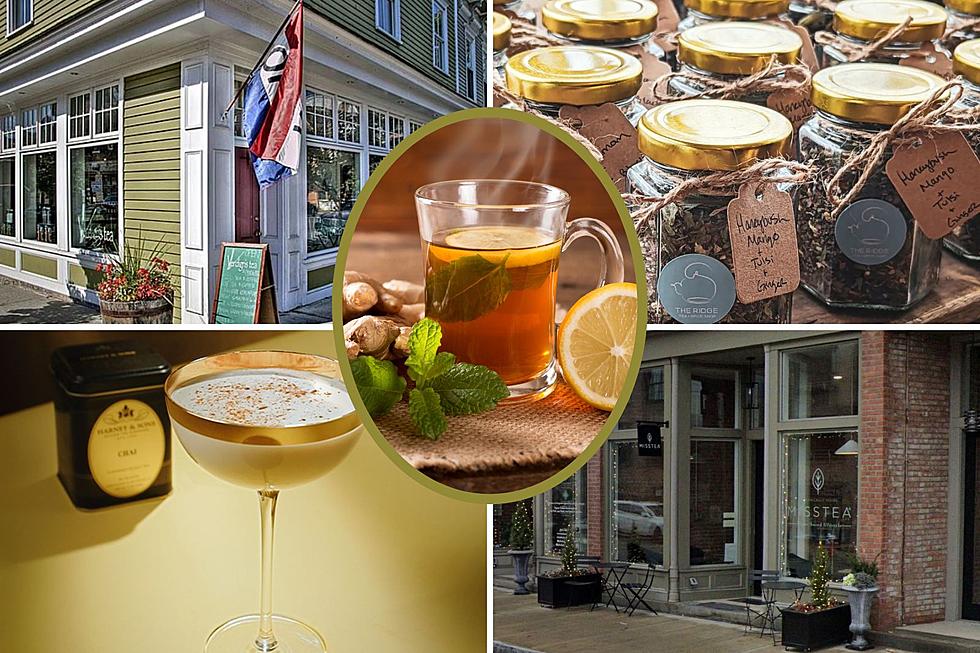 Where to Find Steeping Good Tea in the Hudson Valley
Canva / Verdigris Tea / Harney and Sons / Miss Tea / The Ridge via Facebook and Google
Any time of year is a great time to enjoy a cup, a mug, or even a glass of freshly brewed tea. Lucky for us, there are some spectacular team rooms in the Hudson Valley.
There a many coffee places that serve wonderful teas but if you are looking for places where tea is tops you have to check out the list I put together of places that put tea in the spotlight. The wild thing about this list of Tearooms from around the Hudson Valley is how many of them do more than just tea. Each of these places does something more and it is fascinating to me that all of the tea houses have a different specialty.
Places to Have Tea in Hudson Valley, New York
Charlotte's Tea Room in Warwick, New York prides itself on being a place that has high tea and the fact that they don't have wifi. They invite you to stop by and "Eat, Relax, and Dream". The Ridge in New Paltz, New York is a Tea shop that has almost as many spice blends (almost 70) as they do tea blends (60 Plus). And if Yarn is your thing you have to have your next cup of tea at The Perfect Blend in Saugerties, New York.
If I miss including your favorite tea spot on my list please comment below. I will be happy to add them so that others can enjoy where you like to grab your Hudson Valley cup of tea.
Top Tea Shops in the Hudson Valley
Tea Shops of the Hudson Valley
These aren't your typical tea shops. They are all very traditional while offering something out of the ordinary. Making a Tea Trail to all of these shops would be very rewarding. They all have tea in common but each has something special they offer in addition to fine tea. Explore this gallery then go explore this Trail of Tea.
Places to Eat BBQ in the Hudson Valley
Must Try BBQ Places in the Hudson Valley, NY
BBQ is meant to be eaten year-round and the Hudson Valley has some pretty amazing places to grab your smokin' juicy favorites all year long. From pulled pork to piggy mac these places we found for you won't disappoint your tastebuds or your pocketbook. Pick out what looks the most delicious and start there but make sure you eventually get to every one of these Hudson Valley New York BBQ Joints.
More From WZAD-WCZX The Wolf