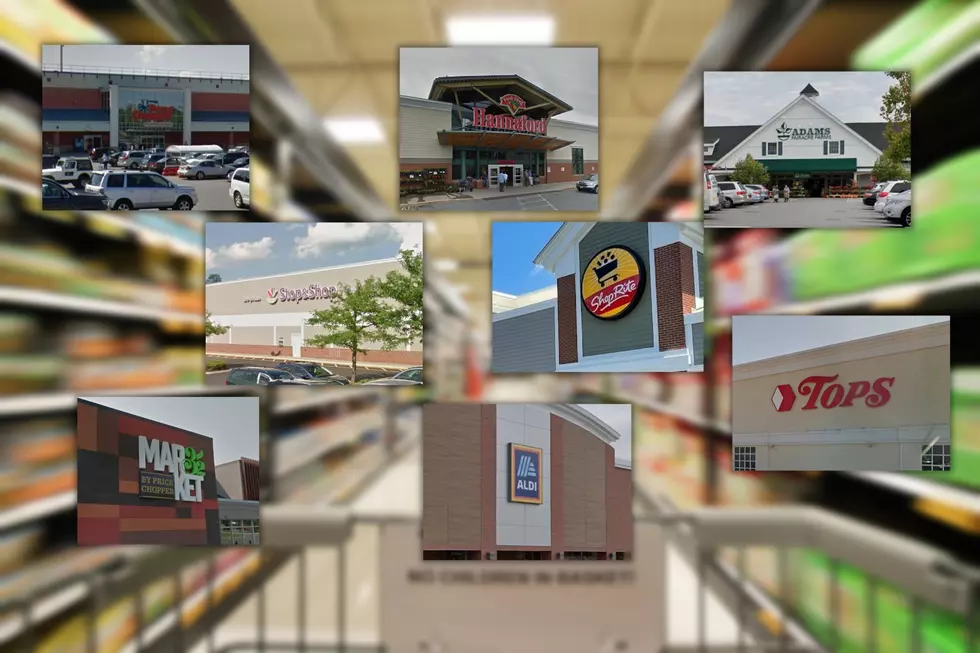 We Rank the Top Five Supermarkets on Route 9 in Dutchess County
Canva/Google Maps
We've spent lots of time in all of the supermarkets on Route 9 and have ranked our favorites from worst to first.
Whether you're looking to do weekly food shopping or just stop in for a quick ingredient, Dutchess County residents are lucky to have so many quality supermarket choices. Before the pandemic, you could probably visit any of these stores and have a similar shopping experience. However, the past few years have really taken a toll on some local stores and their staffs.
We ranked the five best supermarkets on Route 9 in Poughkeepsie on service, cleanliness, price and selection. Only one seemed to score high in all four categories, but each of these supermarkets has its own reason for making the list, which we'll explain below.
5 - Shoprite on Route 9 at the South Hills Mall
This supermarket was recently remodeled in an attempt to modernize the store and bring in new features and services. The aisles, however, remain very tight and the store's layout can sometimes be a bit frustrating. Large bins piled with discounted items are a dream for bargain hunters but can be confusing for shoppers looking for specific items in aisles. Produce quality can be hit or miss with vegetables and fruits organized in a haphazard way, sending many shoppers in circles looking for ingredients.
The store's self-checkout moves very quickly, even when there is a long line and employees are generally friendly and helpful. The deli encourages shoppers to order ahead online which is convenient, but those requesting items at the counter can find themselves waiting for a longer than usual time with no urgency from staff. The store, unfortunately, is lacking many specific brands and varieties of items and we find ourselves having trouble crossing everything off of the list.
All in all, you can easily get your weekly shopping done at an affordable price, but you may find the experience a bit more frustrating than it is at other stores.
4 - Hannaford on Route 9 in Wappingers Falls
Now owned by the same parent company as Stop and Shop, Hannaford has similar "Nature's Promise" generic items which seem to generally be of a higher quality than other stores' bargain brands. Unlike Stop and Shop, however, Hannaford does not offer Boar's Head meats at its deli counter, which for some shoppers could be a dealbreaker.
The Hannaford on Route 9 generally has a pretty good selection of produce which is displayed in an easy-to-find way. The store is laid out well except for the curious decision to put refrigerated bins and aisles perpendicular to the main aisles in the back of the store. This can make it difficult to navigate around, causing traffic jams, especially during busy shopping hours. The fish department is a plus, with lots of options and knowledgeable staff.
When it comes to price, Hannaford's rewards program isn't the greatest but some prices do tend to be a bit lower than other stores and don't require being a card member to take advantage of. Finding specific brands can be a little more challenging than at Stop and Shop.
The self check-out is a bit small and tends to have more hiccups than most other stores. There isn't always someone focusing all of their attention on that area, so if you find yourself in need of assistance it could take a while.
3 - Stop and Shop on Route 9 in Poughkeepsie
In full disclosure, this is the store where I do the bulk of our family's grocery shopping. However, it's recently become a bit more difficult to find everything we need, as the selection and availability of items have become more hit-or-miss over the past couple of years. Stop and Shop scores big points for convenience, as shoppers can take advantage of self-scanners. The check-out-as-you-go system is very convenient, allowing shoppers to essentially pack their bags as they shop and simply scan and pay before leaving.
Stop and Shop has a great produce department with lots of fresh and organic options laid out in a large, easy to maneuver section. The deli department does offer mobile ordering, but it doesn't seem to be as easy or effective as ShopRite's. However, ordering at the counter never seems to be much of an issue. Boar's Head meat as well as some quality store brands are available.
The store does have a good meat department but no real butcher window. Fish lovers will probably want to shop elsewhere, as the seafood offerings are not the greatest. The store does have a good bakery with a nice selection of freshly baked items each day.
Prices can be a bit higher at Stop and Shop, but rewards members can find some significant savings, especially if they're diligent about using the app to load digital coupons and collect rewards points. Selection is usually pretty good, but recently some brands have gone missing, forcing shoppers to search for them elsewhere.
The convenient self-scanner, friendly staff and wide selection of items make Stop and Shop a solid choice for weekly shopping.
2 - Price Chopper on Route 9 in Poughkeepsie
This Price Chopper location, unlike its Market 32 brothers, isn't very updated or modern. However, what the store lacks in aesthetics, it makes up for in service, price and selection. Even though produce quality has significantly dropped at most supermarkets since the pandemic, Price Chopper consistently has some of the freshest vegetables on Route 9.
Like Hannaford, this Price Chopper location lacks good deli options (no Boar's Head) but has a surprisingly great butcher department that will do special orders or find you the cut of meat you're looking for. Not only that, but the store's seafood and bakery sections are some of the area's best. Price Chopper's bagels easily compare in quality with some of the Hudson Valley's better bagel shops.
When it comes to selection, Price Chopper generally has what you're looking for. In addition, the store also stocks some harder-to-find varieties. If you're searching for a specific ingredient, Price Chopper is usually where you'll find it. Prices are generally the same or lower than most other stores, especially when using the AdvangEdge card, but organic or specialty items can get a bit pricy.
The self check-out area is small but is always attended to by someone who's keeping a close eye on things. If you need assistance, an employee has usually already seen you and fixed the issue on the computer before you've even had a chance to wave them down.
1 - ShopRite in Hudson Heritage on Route 9 near Marist
If you're looking for service, price, cleanliness and selection the new ShopRite in Poughkeepsie knocks each category out of the park. It's probably not fair to compare this brand-new, state-of-the-art store with the rest of the supermarkets on Route 9, because all of the others were built decades ago and are limited by space and design.
The difference between shopping at a store specifically built for the modern shopper and one trying to retrofit a new supermarket into an old building can clearly be seen by comparing this ShopRite with the one at the South Hills Mall. It's two completely different experiences. While the store that ranked fifth on our list can be cramped and confusing, the new store was designed intuitively so that even first-time shoppers will have no problem finding what they're looking for.
The new ShopRite is bright, airy and stocked with pretty much every brand and variety of food you could need or want. I was surprised on many occasions to find items that have been difficult to locate at other stores available in abundance on the shelves of the Hudson Heritage ShopRite.
A large self-checkout corral on one end of the store and additional stations on the other end makes for short lines even during busy hours. As for the staff, everyone I've encountered at the new location has been knowledgeable, friendly and happy to assist with any questions or suggestions.
Shopping at this new store is like being at a fancy, gourmet shop while still being able to take advantage of those low ShopRite prices. Unfortunately, the experience WILL spoil you and make visiting any other local supermarket an even more frustrating experience.
Some Stores Missing
You'll notice that Adam's Fairacre Farms is not on the list. While many list the shop as their favorite place for produce, meat and fish (us too!), it didn't make the list because it isn't truly a "supermarket." While Adams has many specialty items unavailable at other stores, it's much smaller than the average supermarket chain store and has a very limited selection of general grocery items, cleaners, paper products and everyday staples. For similar reasons we've also excluded Aldi, which is also much smaller and not considered a "supermarket."
There are also other supermarket chains on Route 9 that didn't rank in the top five including ShopRite and Walmart in Fishkill, Tops Friendly Market in Rhinebeck and Stop and Shop in Hyde Park. While the shopping experience at these locations didn't quite make our top five, they are still generally good options for those who find them more convenient.
What do you think about our list? Did we get it right or are we way off the mark? Let us know your thoughts on our Facebook page or by sending us feedback on our mobile app.
7 Places in Dutchess County Your Out of Town Guests Will Love
Best Places in Dutchess to take Out of Town Guests
9 New Fast Food Restaurants Coming to Route 9
It's a fast-food invasion. There are nine new fast-food restaurants slated to open up soon on Route 9 in Dutchess County. Are you ready to hit the drive-thru?
More From WZAD-WCZX The Wolf