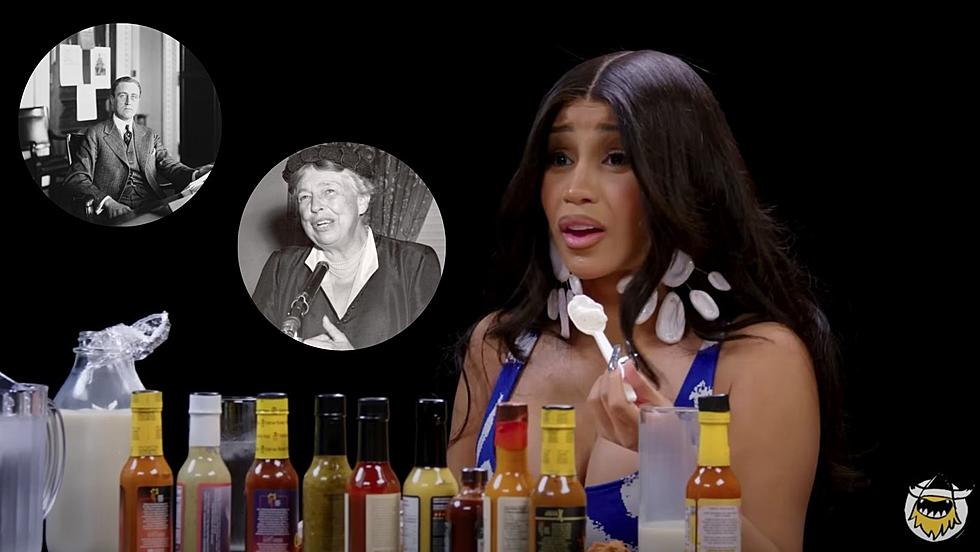 Rapper Cardi B is Obsessed with Huge Piece of Hudson Valley History
First We Feast, Youtube/FDR, Canva/Getty Images
OKURRT. Who's ready for a Cardi B history lesson?!
To be fair, I think if Cardi B taught a class I'd sign up for it. She would definitely make it her own and have the whole class laughing and that's the best way to get a group of people's attention, right?
With that being said, Cardi let her love of Hudson Valley history show when she stopped by the Hot Ones set.
Cardi B Stops By Hot Ones
If you're not familiar with Hot Ones by First We Feast, let us introduce you to one of the best sit-down interview shows you'll ever see. Hosted by Sean Evans, Hot Ones explores the world of hot sauces while trending celebrities and athletes taste-test each sauce on a wing.
Throughout the interview, the hot sauces progressively get spicier so much so that the celebs usually lose track of the questions and need a milk/water/ice cream break.
There are 10 different sauces to try and, usually, the celebs will start to lose their minds at Hot One's own Da Bomb hot sauce, and then they cap it off with The Last Dab which just looks downright painful.
Hudson Valley History Lesson with Cardi B
Cardi B was the latest celebrity to stop by the Hot Ones set and by the end of her taste test you could tell she was struggling. Through the pain of the hot sauce heat, Cardi was able to answer Evans' question about her favorite memory from her sit down with David Letterman.
The hot sauce cleared Cardi's sinuses and she was able to clearly explain that it wasn't the Chopped Cheese she introduced Dave to, it was the trip to Hyde Park, New York, and the Presidential Library.
If you want to see Cardi B explain why she loves FDR and Eleanor Roosevelt you can watch her full Hot Ones visit below (fast-forward to the 16-minute mark if you want to bypass the Hot Ones taste test).
Take This Fascinating History Crawl Through Hyde Park, NY
Hyde Park, NY is located in Dutchess County, NY. It is the home to several prominent figures that played a role in how the world was once formed. Even though these members of society have passed on, their stories and legacies continue in our area.
I have had the chance to visit these historical sites and will always remember what each one meant to me, what I learned on the tours and how guests can continue to visit in 2023.
Gallery Credit: Allison Kay
New York Has 15 of the Most Popular Grocery Stores in America
Out of the top 40 grocery store brands in the United States New York has 15 of the most popular. Here's the list!
Gallery Credit: Karolyi
More From WZAD-WCZX The Wolf