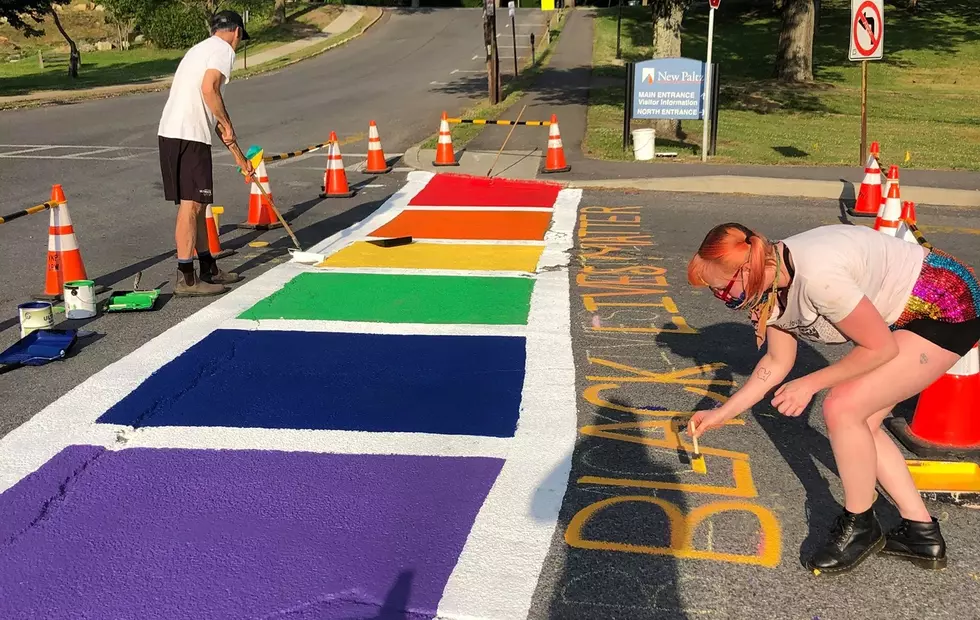 New Paltz Repaints Pride Crosswalk And Adds Black Lives Matter
Photo credit: Village of New Paltz Facebook page
In March of 2018, I told you about the Village of New Paltz installing a Pride Crosswalk. Since then, the Village has continued to maintain the brightly colored crosswalk as a symbol of their commitment to the LGBTQ+ community in not just New Paltz but worldwide.
This past week, the Village of New Paltz decided to repaint their famed crosswalk and add the message, "Black Lives Matter." In a post from June 9th on the Village's Facebook page they shared pictures of the people painting the new rainbow pattern and adding the words Black Lives Matter to the top of the crosswalk.
This new version of the Pride Crosswalk which you can see when you visit Hasbrouck Park in New Paltz is a reminder to the community the over the past two weeks the Village board has passed two memorializing resolutions that acknowledge the history of violence endured by the LBGTQ+ people and Black Americans.
June is Pride month, a time when the LBGTQ+ community and allies come out for parades and events to show their strength and how far they have come in the fight against discrimination. This year due to the COVID 19 Pandemic, most of the celebrations have had to move online to be virtual and many have been canceled. For those reasons, the Pride Crosswalk in New Paltz being brightened up with new colors and with a new message in support of Black Lives comes at a perfect time.
Enter your number to get our free mobile app
Read more:
RELATED: Stunning Photos of the Black Lives Matter Mural in Albany
More From WZAD-WCZX The Wolf