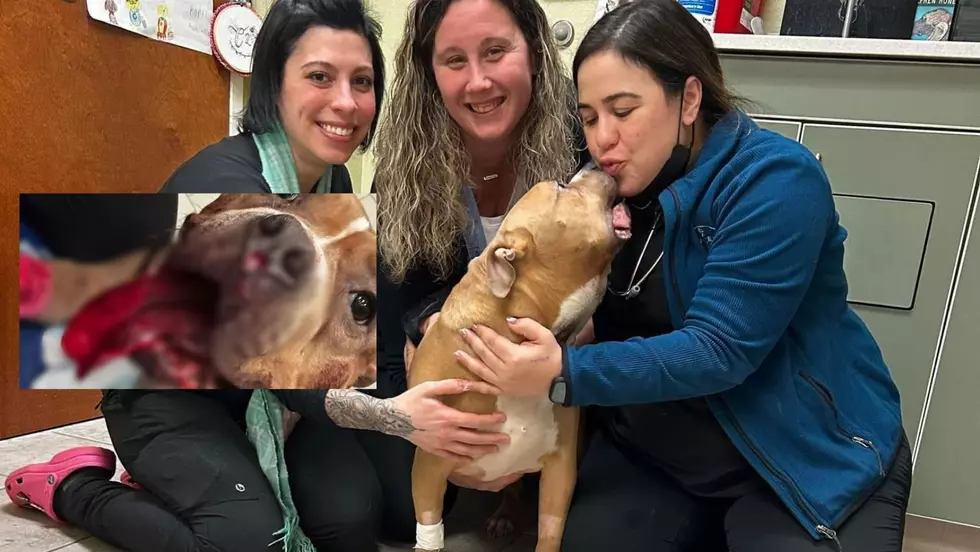 Middletown, NY Dog Allegedly Shot Twice By Local Cop
Devon McCarthy
A Hudson Valley family is asking for help after their dog was shot.
Middletown, New York Allegedly Shot By Cop
Middletown New York resident, Devon McCarthy has shared a GoFundMe account that has been making its way around the Hudson Valley over the last few days. On the page, he alleged that on Saturday, January 28th, 2023 a cop shot his dog, Emmalena, twice.
We are awaiting a response from the Orange County Police department, but here are details shared by the family. McCarthy explains on the GoFundMe page what allegedly went down that day writing:
Today my dog was out playing and a cop came to serve another person papers( one who hasn't lived here for 6 years I've been here for 5) and shot my dog 2 times once in the face and once in the neck!
Thankfully, the dog survived the shooting and according to McCarthy, it will cost about $16,000 to save Emmalena who just turned 5 this past October. The picture below exhibits how extreme Emmalena's wounds were, be advised the picture is graphic:
Middletown, NY Dog Survives Being Shot Twice
We reached out to Devon who tells us that legal counsel has advised him not to talk about the incident, but he did give us an update on Emmalena.
McCarthy tells us that Emmalena is home and:
She had surgery to have the bullets removed. They were going to remove part of her jaw but the bullet already did that. She is able to eat again soft food only as soon as she figures out how.
The dog owner also shares that while it has been a struggle for Emmalena to learn how to eat the family is just happy to have her home.
On the GoFundMe page, it explains that if you're uncomfortable donating through the website you can reach directly out to the veterinary office that is working with the McCarthy family:
Oradell Animal Hospital
1-201-649-0213 extension 205 (mention Emmalena McCarthy).
Devon went on to thank the vet staff for taking such great care of his furbaby. He writes:
I WOULD LIKE TO MAKE A SPECIAL SHOUTOUT TO Oradell Animal Hospital THANK YOU SOOOOO MUCH FOR THE LOVE AND CARE YOU GAVE OUR BABY EMMALENA THROUGH THIS AND FOR YOUR WONDERFUL WORK WITH HER THROUGHOUT THESE PAST FEW DAYS! ALSO THANK YOU TO VCA Flannery Animal Hospital FOR CALLING AHEAD AND CHECKING ON HER! SHE IS HOME NOW ABSOLUTLY LOVING IT AND THE OTHER 2 DOGS MISSED HER SOOOOO MUCH. OUR VERY OWN INDESTRUCTIBLE SUPERDOG IS HOME WHERE SHE BELONGS
You can donate to Emmalena's GoFundMe page HERE. 
We have reached out to the Orange County Sheriff's office for comment and will update the story when we hear back.
Top US Guide Dog School in Hudson Valley, New York Needs Help
Woof, Woof! Check Out the Most Popular Dog Names in New York
Trying to settle on a name for your new pup? You might be able to draw some inspiration from these names which, according to
Wag Walking
, are the most popular dog names in New York
13 PAW-fect Dog Friendly Bars and Restaurants in Beacon, New York
These 13 PAW-fect Beacon businesses allow you to bring your pup along for fun times with friends and family.
More From WZAD-WCZX The Wolf