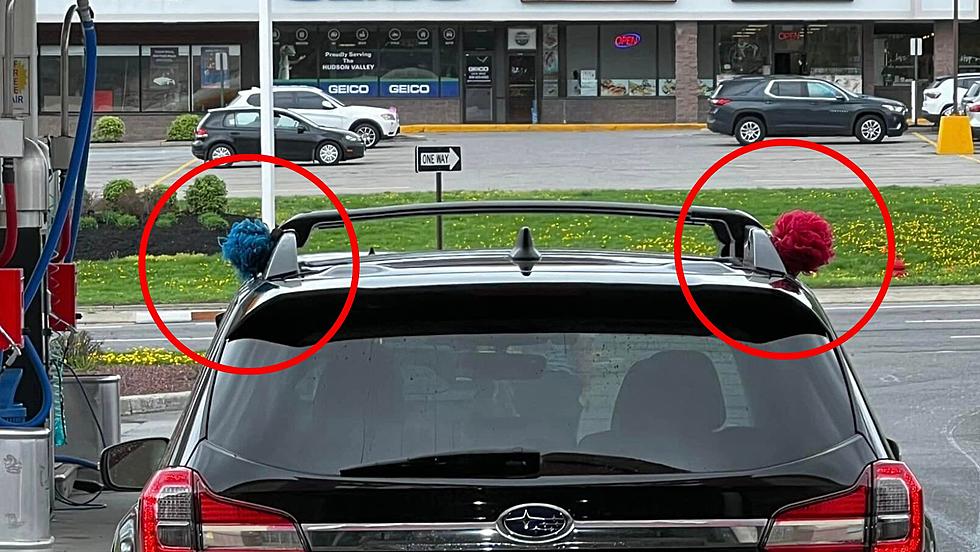 New Yorkers Shocked to Find Out What Loofahs on a Car Means
Glenn Kramer, Facebook/Canva
Well, I have to tell you this was not on my 2023 Hudson Valley Bingo Card, but here we are.
By any chance, have you noticed loofas on top of cars across the Hudson Valley? If so, you're not alone and apparently there is a spicy reason behind it.
While scrolling on Facebook last week, I came across a post from Hudson Valley native Glen Kramer. It was a photo of a car, parked at a gas station on Route 9 in Poughkeepsie. What's so strange about that? Well, this car had 2 different colored loofahs attached to the roof.
Second car today I saw with loofahs hanging on it. so I had to look it up...
And let me tell you...the answer was not what I was expecting.
What Do Loofahs on Cars Mean?
Apparently, colorful loofahs on top of cars signals that the driver  of the vehicle is a swinger and the different colors represent different levels of swinging. Let that sink in for a minute...
I'm not sure where or how this movement started, but many folks on TikTok believe it started at one of the largest retirement communities in North America called The Villages in, you guessed it, Florida. How it made its way up to the Hudson Valley is beyond me. I guess we can blame the snow birds.
If you'd like to check out the color coded loofah chart and what exactly they mean. Head on over to Tik Tok and check out one of the many videos that has been uploaded about the swinging loofahs.
Maybe you're looking to spice things up in your relationship? Grab a colorful loofah! But make sure you get the right color, wouldn't want to send the wrong message, right?
So I guess, upside down pineapples are out and loofahs are in. Do with that information what you will.
Top 9 Secret Menu Items You Can Order at Hudson Valley Restaurants
Did you know that many Hudson Valley restaurants have a "secret menu?" The next time you're at the drive-thru, you may want to order one of these little-known selections that may possibly be tastier than anything on the real menu.
What Do Barn Star Colors Mean?
What are the Meanings of Secret Codes You Might Hear While Shopping
On rare occasions, there will be announcements made using secret codes that only employees understand at the store. Some of these are pretty scary and if you hear them, you will want to exit the store ASAP.
More From WZAD-WCZX The Wolf