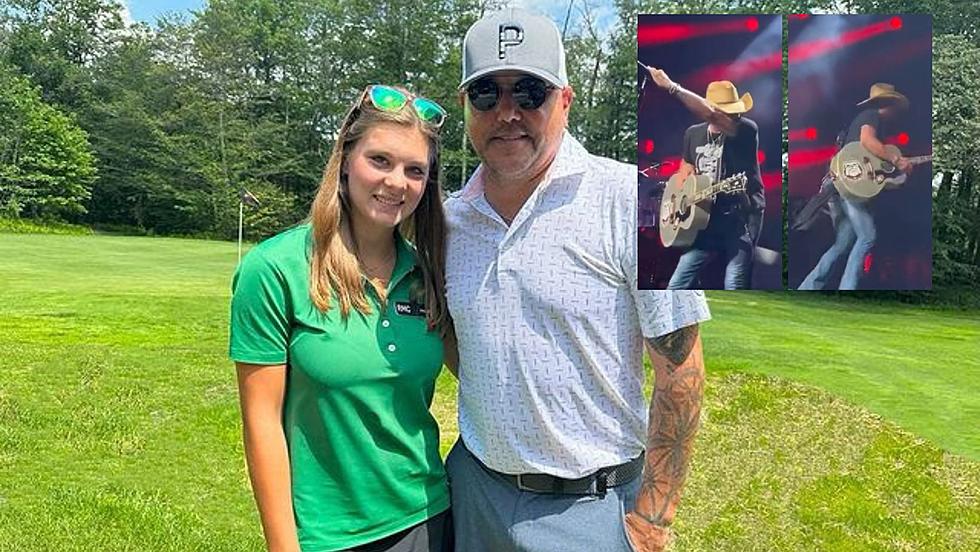 Country Singer Golfs at Roscoe, NY Course, Gets Sick and Blames Golfing
Roscoe Mountain Club, Facebook/K.C. Schweizer, Twitter
Country singer Jason Aldean took in the sights of the Hudson Valley and Catskills last week as he kicked off his Highway Desperado Tour.
On Friday July 14th 2023, country singer Jason Aldean and his crew rolled into town for a packed show at Bethel Woods. The Highway Desperado Tour, that also features Mitchell Tenpenny, Corey Kent and DJ Silver, was set to kick off at the Sullivan County venue.
Jason Aldean Golfs at Sullivan Counties Oldest Golf Course
Before the show it looks like Mr. Aldean, who is an avid golfer, got in a few holes at a local golf course. Roscoe Mountain Club shared a photo of an employee with the country singer and wrote:
"Unforgettable day at Roscoe Mountain Club! We had the incredible honor of welcoming the talented Jason Aldean himself to our golf course! Be sure to catch his show tonight @bethelwoodscenter Jason Aldean
Along with the following photo:
Later that night, Jason Aldean hit the stage and from what we hear it was a fantastic show and Aldean gave it his all.
Golfing in the Hudson Valley Got Jason Aldean Sick?
In a quick turn around, after his show on Friday Jason Aldean and the Highway Desperado Tour headed out to Hartford, CT for a show on Saturday night. About 20 minutes after Jason Aldean hit the stage, he was seen running off said stage and didn't return.
Fans started speculating as to what happened and rumors started to fly that Aldean suffered from heat stroke. It was heat related, but not to that extent. Jason explained on social media that a combination of golfing and being out in the heat lead to heat exhaustion:
Golfing in the Hudson Valley will do that to you I guess. And just so we're clear, Roscoe Mountain Club Club didn't cause Jason to get sick. Hopefully Jason learned that electrolytes and water are important when you hit the links!
But in all seriousness, we're glad he's okay. And here's some good news...
Jason Aldean has rescheduled his Xfinity Theater Show to July 30th, 2023. All July 15th tickets will be honored at the rescheduled event.
See Inside Jason Aldean's Spectacular Florida Beach House
Jason Aldean
's beach house in Santa Rosa, Fla., sits right on the Gulf of Mexico.
Aldean paid $4.1 million for the new 5-bedroom, 5-bathroom, 4,452-square-foot beach house. The spectacular property affords the singer and his family the opportunity to walk out their back door and down a bridge to their own private beach, and the exterior of the villa features a courtyard with iron gates that includes gas lanterns, a swimming pool and a fountain.
The home's interior includes a downstairs with an open floorplan and oversized windows, chiseled stone floors, a gourmet kitchen, a bedroom and study and a fireplace, with coffered ceilings throughout. The upstairs of the home includes two separate master bedrooms that both overlook the Gulf, as well as two more bedrooms that each have their own attached bathrooms.
The stunning home is also set for whatever weather might blow in from the Gulf. Built in 2005, the house features all-impact windows and doors, as well as Geo-Thermal heating and cooling, cellulose insulation, foam ceiling and floor insulation and more.
Like Big Putts? Check Out These 12 Hudson Valley Mini Golf Courses
Try for a hole-in-1 at one of these 12 Mini Golf courses across the Hudson Valley.
Golf Courses in The Hudson Valley with Great Food and Drink
Many of our Hudson Valley golf courses offer great golf and great food. Many of them offer party and catering options too. Even though they can be seasonal breakfast, lunch, or dinner at one of our local golf courses can mean a delicious meal with a guaranteed view.
More From WZAD-WCZX The Wolf