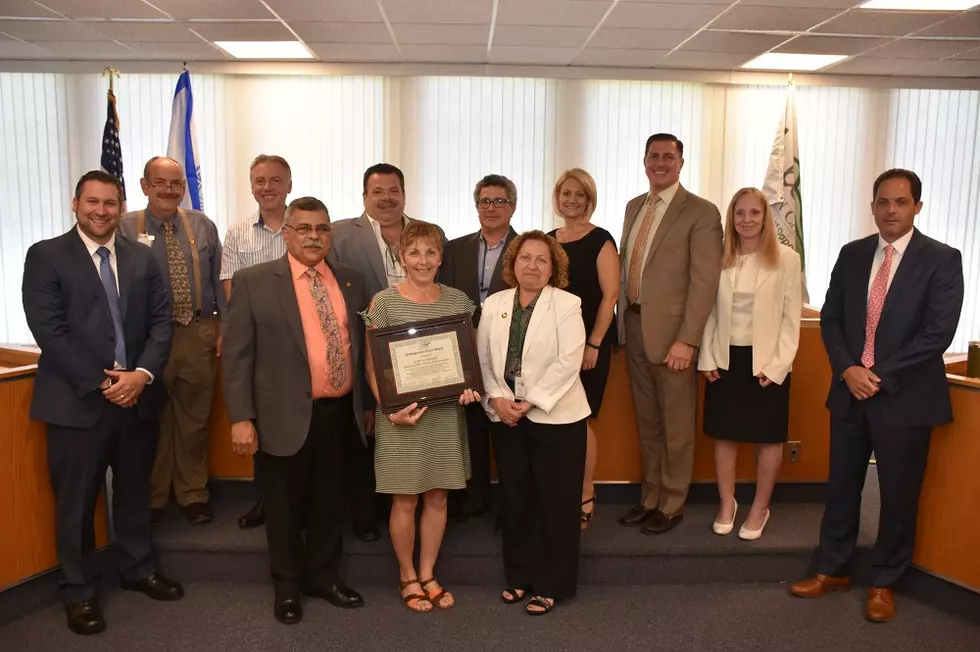 Hudson Valley Educator Who Teaches Kindness Is Citizen of the Year
Mongaup Valley resident and educator June Lombardi, center, was presented with the Distinguished Citizen Award on June 14, 2018 by the Sullivan County Legislature. Standing with her are, from the left, Deputy County Manager Dan Depew, District 3 Legislator Mark McCarthy, District 9 Legislator Alan Sorensen, Legislature Chairman Luis Alvarez, District 7 Legislator Joe Perrello, District 8 Legislator Ira Steingart, District 2 Legislator Nadia Rajsz, District 5 Legislator Terri Ward, District 1 Legislator Scott Samuelson, District 4 Legislator Cathy Owens and County Manager Josh Potosek.
You see it on Facebook, hear it in music, and read about it in books. What the world needs now is kindness, just a little bit of kindness. It goes a long way and it doesn't have to be a big, grand gesture, showing a small kindness can lead to amazing things.
June Lombardi knows this, lives this, and has shared this with hundreds of children throughout her 37-year career of being an elementary school teacher first at Head Start then a local yeshiva, on to Monticello Central School district, and in her current position as a kindergarten teacher at Eldred's Mackenzie Elementary School in Glen Spey.
To several generations, she's been a memorable teacher and mentor, sharing her love of place, of life and of the world not only by teaching but by doing. She can be found at Catskill Regional Medical Center in Harris every Sunday, making the rounds with a certified therapy dog. June credits her parents with instilling these values while she was growing up.
This year, June and teaching partner Cierra Regan created the "Blue Lunch Special," a chance for more than 20 police officers to be honored by and interact with the kids through a luncheon at Mackenzie. She also teaches random acts of kindness such as buying a plant and giving it to someone to show they are appreciated.
This past week, the Sullivan County Legislature awarded June the Distinguished Citizen Award for all of her good work in the classroom as well as outside of it. Teachers have such an impact on our children, thank goodness we have June Lombardi helping children right here in the Hudson Valley. Congratulations!
More From WZAD-WCZX The Wolf