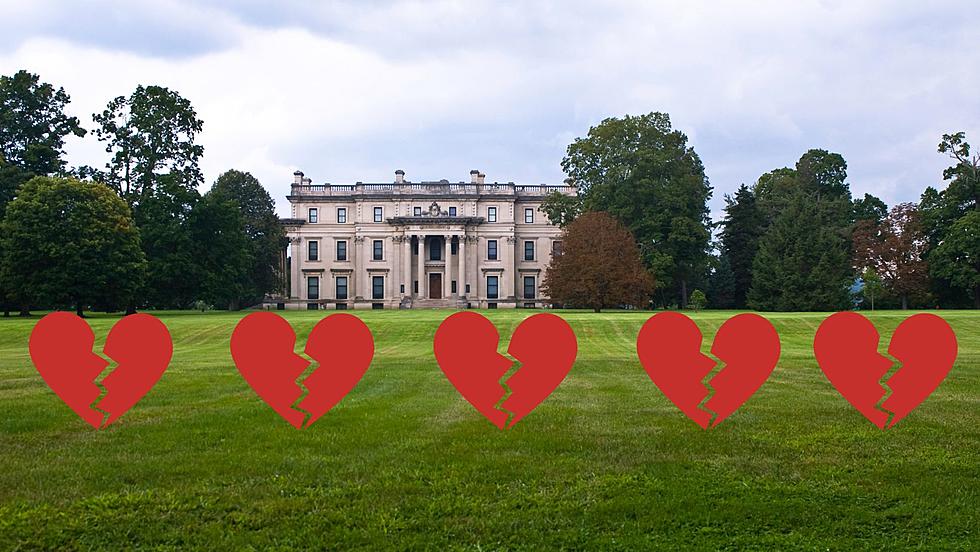 Heartbreak at Hyde Park, New York's Vanderbilt Mansion
Canva
A review of one of the more historic locations in the Hudson Valley turned to heartbreak in the blink of an eye.
It's no secret the Hudson Valley is home to its share of historic locations. One of the most popular historic destinations in Dutchess County is Vanderbilt Mansion.  The mansion was home to Frederick W. Vanderbilt from 1895 to 1938 in Hyde Park. Frederick was the grandson of "America's first multi-millionaire" Commodore Cornelius Vanderbilt.
Year-round the trails are a great escape into nature with views of the rolling hills of the Hudson Valley. It's an easy stroll around the grounds, which makes Vanderbilt Mansion the perfect spot for a day date!
Apparently, it's also a good place to break up. Vanderbilt Mansion Historic Site shared this gem of a review last week:
Hey, at least he still gave them a 5-star review!
Vanderbilt Mansion, The Perfect Breakup Spot?
Dwight Shoot sounds a lot like the fictional character Dwight Shrute from NBC's The Office and this kind of sounds like something Dwight would say. Is it 100% real? We may never know. But it does have us thinking, is Vanderbilt Mansion the perfect breakup spot in the Hudson Valley?
Personally, I think breaking up with someone in the 84 Diner parking lot in Fishkill is the way to go. Get your heart broken and leave with a milkshake. I may or may not be speaking from experience...but I digress.
Also, I don't know if it's just me but I've noticed that the National State Park accounts from across the US have really stepped up their social media game. If you're looking for a laugh, check out the National Park Service social media accounts for gems like this:
In the meantime, if you're looking to make up instead of break up with your significant other check out some of these steamy spots across the Hudson Valley:
12 of the Hudson Valleys Best Make Out Spots
Some of the best locations in the Hudson Valley for a "make-out" session.
Take This Fascinating History Crawl Through Hyde Park, NY
Hyde Park, NY is located in Dutchess County, NY. It is the home to several prominent figures that played a role in how the world was once formed. Even though these members of society have passed on, their stories and legacies continue in our area.
I have had the chance to visit these historical sites and will always remember what each one meant to me, what I learned on the tours and how guests can continue to visit in 2023.
Cozy Up at These 16 Hudson Valley Cabins
Nothing says fall quite like a weekend stay in a Hudson Valley cabin. Check 16 charming cabins across the Hudson Valley.
More From WZAD-WCZX The Wolf