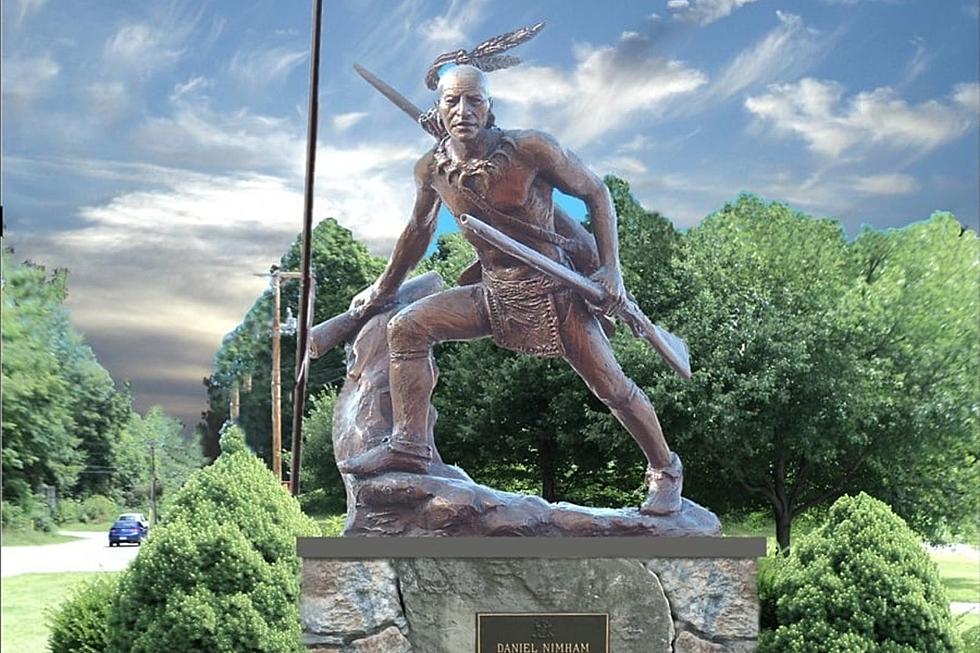 Town of Fishkill Puts Spotlight on Area Statue's One-Year Anniversary
Town of Fishkill/Facebook
The town of Fishkill had a unique way to celebrate the anniversary of one of the town's most famous statue's.
Last year we told you that the Town of Fishkill was ready to unveil a piece of Hudson Valley history in statue form to remember and honor one of Fishkill, NY's great natives. A bronze statue of Chief Daniel Nimham was placed at the Arrowhead intersection of Routes 52 and 82 in Fishkill on Saturday, June 11, 2022, and one year later the town celebrated the anniversary by putting the spotlight on Nimham.
Chief Daniel Nimham Statue in Fishkill, New York
To celebrate the one-year anniversary of the statue, the town of Fishkill revealed an upgrade to the statue's site on Sunday, June 11th, 2023 according to the town's Facebook page. Since the statue was placed in the highly traveled section of Fishkill many have commented about how amazing the statue is,
"Since its installation, residents, and visitors have been stunned by its beauty and taken great pride in the eight-foot bronze statue, which depicts Nimham holding a scroll and a rifle in homage to his status as both an advocate and a respected warrior while leaning against a tree stump which marks his life cut short in battle during the Revolutionary War."
Chief Nimham Shines in the Spotlight
If you've driven past the statue during the day, you've noticed its beauty, but what about folks that drive by a night? For a year it's been difficult to really see the statue past dusk but thankfully that is no longer an issue thanks to Fishkill's buildings and grounds team!
Last week the Town of Fishkill's buildings and grounds staff upgraded the statue by adding spotlights to show off the statue at night, "with the addition of spotlights which illuminate the masterpiece at night, making the Town's new signature installation even more striking."
Fishkill Town Supervisor Ozzy Albra, along with Fishkill's Town Board extended their thanks to director Brandon Knapp and his team on Facebook saying "Great job to help shine a light (literally) on Fishkill history."
Here's a look at how this amazing statute was put together...
Fishkill Honors Chief Daniel Nimham With Bronze Statue
Chief Daniel Nimham statue being cast in bronze.
Popular Fishkill Restaurant For Sale
Athena Gyro on Main Street Fishkill, New York is for sale and could be yours for $325,000.
More From WZAD-WCZX The Wolf