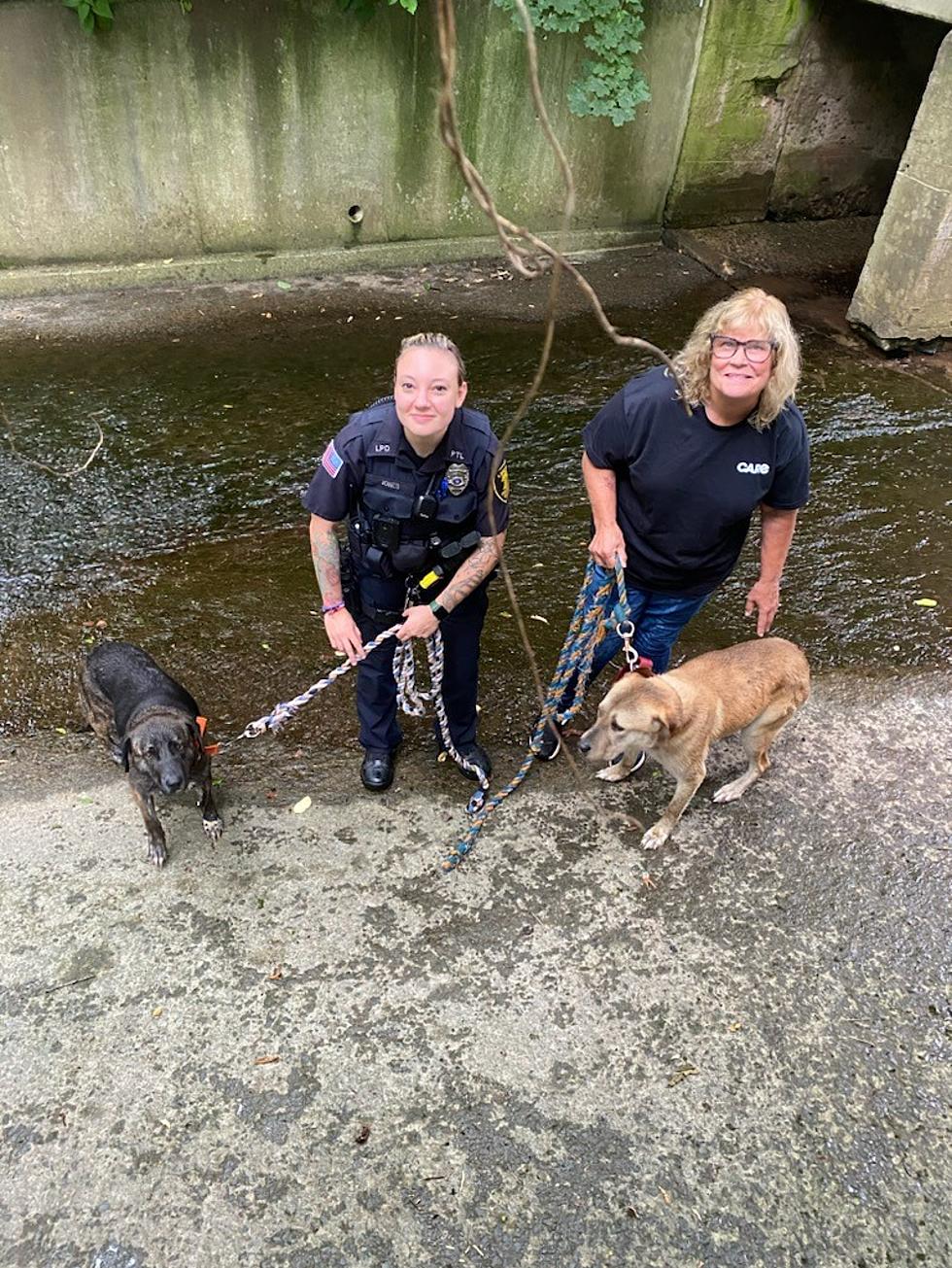 Dogs Rescued From Culvert in Sullivan County [Video]
Village of Liberty Police Department
Authorities are still trying to identify the owners of dogs rescued over the weekend in Liberty, NY.
Two dogs were rescued from a box culvert Saturday in Liberty. According to a press release, the Village of Liberty Police responded to a report on Saturday, July 29 at around 8 am of continuous dog barking for over two hours in the area of Edgar Street in the Village of Liberty. Responding officers were able to follow the sound to an underground box culvert running along Edgar Street. The dogs were inaccessible from one side of the tunnel due to the threat of collapse of an unstable roof.
Police Officer Breann Jones and Dog Control Officer/Constable Joanne Gerow were able to access the tunnel from a different location by climbing through a hole in a chain link fence and sliding down a 7 foot concrete wall. Jones and Gerow were able to maneuver low clearance and reached the dogs about 40 feet into the underground box culvert while following the sounds of relentless barking. One dog was partially submerged with his paws holding onto a rock ledge and was unable to free himself. The other dog continued to bark, refusing to leave the trapped dog's side. As the officers got closer, the dog began to behave aggressively, appearing to protect her trapped friend. With the assistance of a concerned citizen, Tom Lewis, PO Jones and DCO Gerow were able to secure the female dog in order to safely rescue her canine companion from the water.
The team and the dogs were able to successfully exit the culvert together.
Both dogs were then lifted 7 feet up a concrete wall to complete the rescue. The dogs appeared to be in good health and were turned over to DCO Gerow who is currently attempting to identify the owner of the dogs.
Village of Liberty Police Department posted the video online of the rescue which you can view here.
Large Waterfront Retreat in Sullivan County
Built in 2004 this
Sullivan County home in Monticello, New York
is the perfect retreat for a family or even as a corporate getaway. With 5 bedrooms, and 7 baths it has room for many plus it sits on 5 plus acres of inviting waterfront land. Peek inside and see what it would be like to live in this lakefront retreat just minutes from Resorts World Catskill and Bethel Woods Center for the Arts.
More From WZAD-WCZX The Wolf