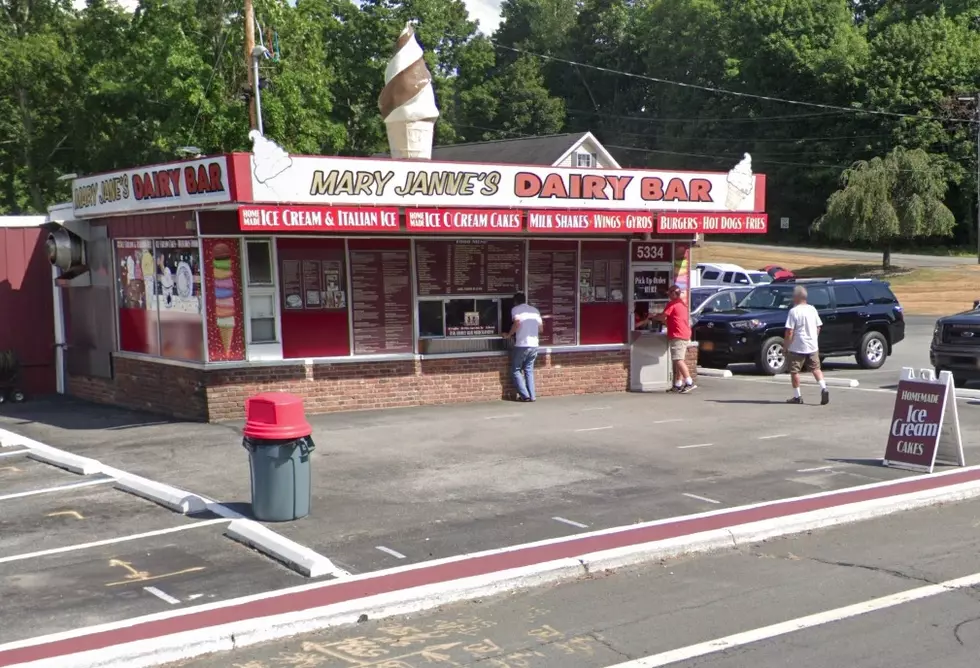 Car Crashes Through Popular Newburgh, New York Ice Cream Bar
Google Maps
A Hudson Valley dessert hot spot is in shambles after an accident over the weekend.
Mary Jane's Dairy Bar is a staple for those looking for a sweet treat in the warmer months. Around the end of October, every year Mary Jane's closes shop for the colder months with plans to open in early spring.
However, this year's opening may be delayed after a car drove through the Newburgh New York ice cream bar over the weekend.
Mary Jane's Dairy Bar Gets Hit By Car
The Middle Hope Fire Department wrote on Facebook on Sunday, February 12th:
Unfortunately our beloved Mary Jane's Dairy Bar had a car drive through it yesterday. We are grateful it is the time of year it was closed or it could have been catastrophic! We are wishing you a quick and speedy repair as you are our "sweetest" neighbor
They added the following photos:

As stated by the fire department, thankfully due to the off-season there was no one in the building at the time of the crash.
What Caused the Accident at Mary Jane's Dairy Bar in Newburgh?
Many community members were curious as to what happened to cause the vehicle to veer off 9W and into the Mary Janes. The Middle Hope Fire Department responded to one Facebook comment writing:
 it remains under investigation at this time.
Other community members allege that the vehicle was seen swerving before leaving the road and heading into the ice cream bar. One alleged eyewitness wrote "I was driving behind him. He was swerving towards the right side of the road for a bit then lost it onto the sidewalk and took out a bunch of mailboxes."
The Middle Hope Fire Department reiterates that it is an "ongoing investigation."
As of Monday, February 13th, 2023, Mary Jane's has not publically made a comment or shared any additional information about opening day 2023. We'll update this story when more information is made available.
33 of The Most Popular Ice Cream Shops in the Hudson Valley
Ice Cream shops across the Hudson Valley are preparing for opening day and the warm weather rush. Did we mention your favorite spot? Let us know who we need to add to the list.
6 of the Hudson Valley's Biggest Ice Cream Cones
Six places where the size of the cone matters!
Hudson Valley Artist Home that once housed an Ice Cream Place
According to a source the property at 1820 Route 82 was once known as Pince Cones Ice Parlor. This property is now it is available for purchase but not as an ice cream store. Now it is a beautifully renovated residence that was last occupied by an owner who is a well-known artist, sculptor, painter, and animation designer. Wait until you see inside. Bring your ideas.
More From WZAD-WCZX The Wolf