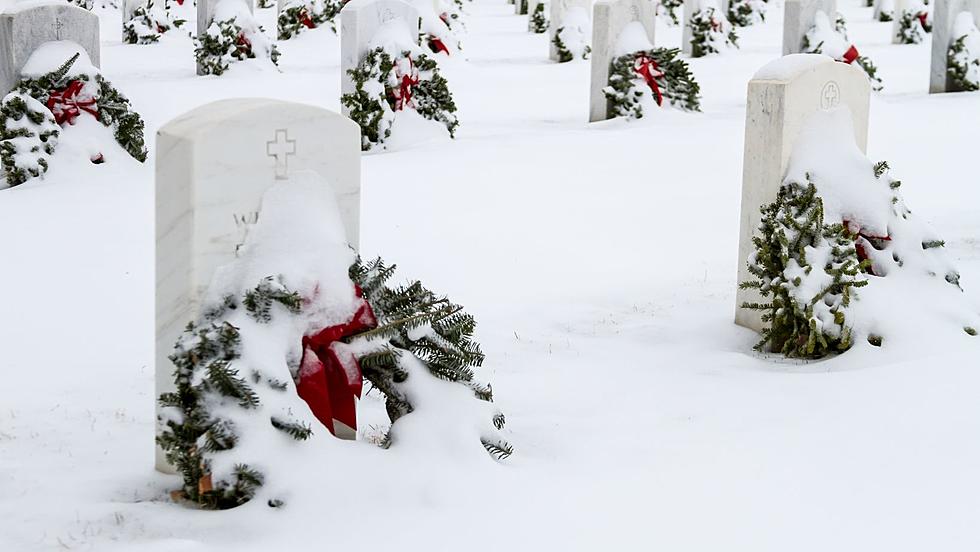 600 Wreaths Needed for Hudson Valley Veterans in Fishkill, NY
Canva
A local police department is asking for the Hudson Valley to come together to honor Veterans from our hometown.
Honoring Hudson Valley Veterans This Holiday Season
The Town of Fishkill Police Department is asking the Hudson Valley community to come together to honor local veterans who are laid to rest at cemeteries in Fishkill and Poughkeepsie. They write
The brave veterans of our nation sacrificed to ensure our freedom. While we can never truly repay them for that gift, we can at least show our appreciation to them and their families with a meaningful gesture. Remember the Fallen. . . Honor those who Served.... and teach our young people the value of Freedoms.
To do so, Wreaths Across America will make a stop in the Hudson Valley this holiday season. Wreaths Across America is an organization thats mission is to simply "Remember the fallen. Honor those who serve. Teach the next generation the value of freedom."
Wreaths Across America relies on their volunteer program year-round to "share this important mission and inspire others to join."
Wreaths Across America Comes Back to Fishkill, NY
Last year Libby Funeral Home and Fishkill Rural Cemetery hosted Wreaths Across America for the first time ever. They were able to obtain 415 wreaths to lay on veterans graves.
For year 2, they are hoping to lay 600 wreaths on every veteran grave. Here's how you can help. Head to the WreathsAcrossAmerica.org Fishkill page and sponsor a wreath or donate your time to laying the sponsored wreaths.
Pricing for wreaths is as follows:
1 Wreath: $17
2 Wreaths: $34
5 Wreaths: $85
10 Wreaths: $170
If you are interested in buying a wreath for a solider, you must make your donation by November 28th. A wreath laying ceremony will be held on Saturday, December 16th at 2 p.m.
Have You Seen the Military Memorial on this Hudson Valley Hiking Trail?
At the top of the Popolopen Torne trail, in Orange County, you'll be greeted with a breathtaking military memorial.
Gallery Credit: J.Buono
Max's Melts Food Truck Finds Permanent Home in Poughkeepsie, NY
The Veteran owned food truck serves up gourmet grilled cheese sandwiches with a twist and tots!
Gallery Credit: Max's Melts
For Veteran's Day - Musicians That Served In The Military
More From WZAD-WCZX The Wolf