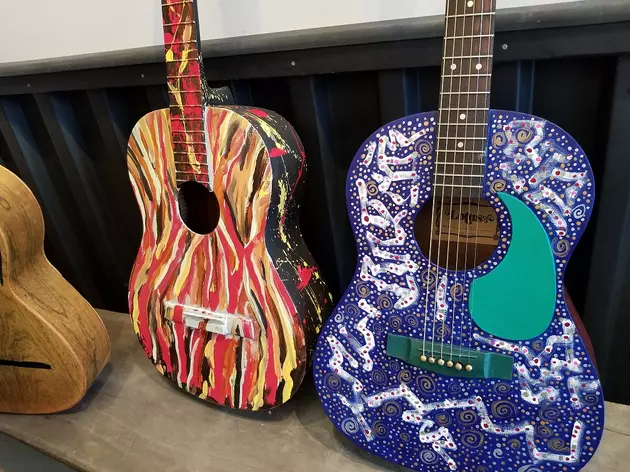 14 Guitars are Playing Their Part
Guitars at Denizen Photo by PQ
These guitars along with others have been transformed into interpretive pieces of art by local Hudson Valley Artists. It is all part of a new art show that opens Monday (Jan 28th) at the Denizen Theatre in New Paltz in conjunction with their latest stage performance of Jaqueline Goldfinger's "The Arsonists".
Matt Maley, a well know Hudson Valley artist transformed this guitar into a dark climbing rose bush with a special mixed media form that he is known for in most of his gallery art. He has taken his mix of clay/resin and paint and turned this guitar into a dark visual beauty that you can actually own. He and the other artists involved in this show were given guitars and told to transform them any way they wished. The results have to be seen in person to fully appreciate the pieces.
At the opening of "Mixed Messages" Monday night from 5:30 to 7:30 you can meet the artist and discuss their interpretations plus you can bid on any of the pieces. 14 individual artists were given guitars and were ask to use the guitars as canvases to explore the themes that run throughout the play. Being able to talk with them will only add to the experience at the art show and the actual play.
Proceeds from "Mix Messages" will go to support the Artists and Family of New Paltz. You could be a proud owner of one of these amazing guitars by participating in the silent auction that will start at Monday's opening and continue through the run of the show.
If you attend the opening take the opportunity to find out more about the Denizen and it's mission to bring live theatre to the Hudson Valley in away that supports and invites in the community. Tickets for the performances are very reasonable and theatre also offers an Insider Membership that gives you a unique access to the Denizen and it performances.
A silent auction for the work will continue through the run of THE ARSONISTS
Visit: denizentheatre.com to follow the silent auction and submit your bids.
More From WZAD-WCZX The Wolf