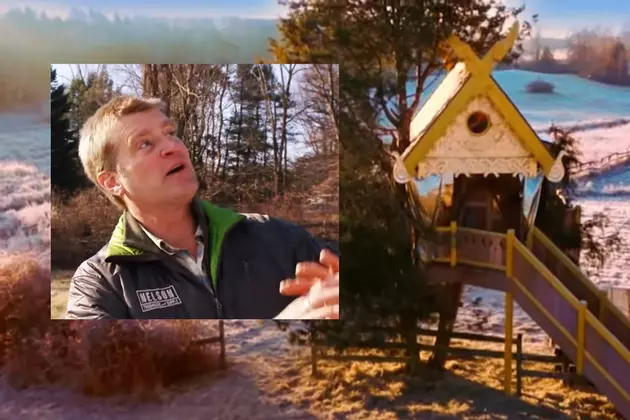 You Can Stay at TV's 'Treehouse Masters' Project in Hudson Valley
YouTube/Discovery Channel
A treehouse that was built and designed on the reality series Treehouse Masters is available for rent, but would you really want to stay there?
Most likely you've caught at least an episode of Treehouse Masters on Discovery.  The reality series follows Pete Nelson and his crew as they design and build luxury treehouses for the rich and famous. I know I get sucked in every time Nelson starts pointing out trees that are strong enough to hold a hot tub and a grand piano in some homeowner's wild fantasy of having their own treetop oasis.
Treehouse Masters film in Rhinebeck
Back in 2013, the show made a stop in Rhinebeck to assist a writer who wanted a hideaway retreat to help battle her writer's block, The episode titled "Spirit House Retreat" transformed a huge cedar tree into a gold-leafed treehouse that is the perfect place to get in touch with your creative side. While it's not as elaborate as many of the other treehouses in the series, it is quite spectacular. You can see the reveal below.
Now, ten years later, the Spirithouse is available for anyone to rent for the night. The treehouse's owner has put the retreat on Airbnb and included all of the details about this unique treehouse. But before you go opening up the app and reserving a week in July there are a few things you should probably know first.
Two-person maximum
The Spirithouse isn't huge. In fact, it's basically just one room with a loft for sleeping. The owner spells out in all-caps on the rental's description that this is a "TINY TREEHOUSE". The loft only holds a double-sized futon mattress and in order to get to it you need to be able to climb a ladder.
No modern conveniences
Much like the castaways on Gilligan's Island, there's no electricity, no running water, no heat, no air conditioning and definitely no wifi. This is a treehouse, after all. The owner warns prospective renters that staying at the Spirthouse should be considered a "camping experience". There is, however, a tiny Juliette balcony and a writing desk that's the perfect place to find inspiration.
About the toilet situation...
If you were paying attention earlier you probably noticed that there's no running water and may be wondering about the toilet situation. Well, the treehouse is listed as a 1 bedroom, 0 bathroom rental. And while there is no bathroom, there is a toilet. According to the listing, "There is a dry-flush toilet, but no or very limited privacy." The portable commode is located right out on the balcony. While some people may be intrigued by the thought of taking a morning constitutional while sitting outside, it could be a dealbreaker for others.
The owner does say that the toilet can be dragged inside the treehouse in bad weather and for those who are looking for more privacy, but warn that it's "somewhat heavy to lift."
Price and availability
The Spirithouse is currently listed for $179 a night with a two-night minimum. Compared to another treehouse that's for rent in Ulster County (which you can check out below), it seems like quite a bargain even though it has no kitchen or bathroom. The good news is that there are many dates still available this summer. In fact, as of the publishing of this article, the treehouse was even unoccupied over the Fourth of July weekend.
So, if you're up for an adventurous getaway in the Hudson Valley and aren't shy about pooping outdoors, perhaps the Spirithouse is the perfect retreat for you.
Spend the Night in an Amazing Ulster County Treehouse
Check Out This Enchanting Tree House in Ulster County
Stay the Night at This Hauntingly Charming Millbrook Castle
Experience the haunted Hudson Valley with a stay at this charming, and allegedly haunted, Millbrook castle.
More From WZAD-WCZX The Wolf